Face of America Producers Honored in North Plainfield, New Jersey
After the screening of their film, Shanksville, PA: A Place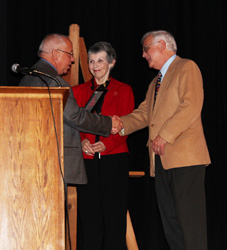 of Transformation, at the North Plainfield High School, Mayor Michael Giordano, Jr. presented Tony & Kitch Mussari with a proclamation.
The proclamation designates every December 6, as Dr. Anthony and Kathleen Mussari day in North Plainfield, New Jersey.
According to Mayor Giordano, it was done so that our students and community will always remember the honor Tony and Kitch have graciously delivered to the Borough of North Plainfield. Accepting the proclamation, Dr. Mussari said we are humbled and honored to be a small part of this wonderful community where we found the Face of America's tomorrow, today.
For the past two years, Kitch and I have been searching for the Face of America on its best day. That journey began here in North Plainfield, and it will continue here in North Plainfield.
As an expression of our gratiutude, we will produce an original documentary ever year to be screened in this auditorium, at this time of the year, until we are no longer able to weather the rigors of producing documentary film.
This will be our gift to the community, the students and the wonderful people who transform lives every day in this building.
We will treasure this moment for the rest of our life.