Couple honor Shanksville 'angels' with documentary and garden
BILL O ' BOYLE boboyle@timesleader.com
Tony and Kitch Mussari believe the victims of Flight 93 are often overlooked.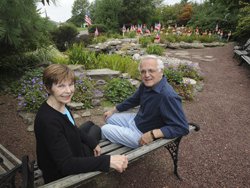 Mussari, 69, of Dallas, and his wife, the former Kitch Loftus, 62, have transformed much of their property on Windsor Drive in Dallas into "Windsor Park" – a walking trail of greenery, ponds, benches and tributes. One of the tributes is to the memory of the 40 passengers of Flight 93.
(Kitch and Tony Mussari of Dallas in their Angel Garden, a memorial to Flight 93 victims of Sept 11. Picture by Clark Van Orden/The Times Leader)
Called "The Angel Garden," it contains markers and names of all the passengers and crew members, a Flight 93 flag and a rock for every life lost at all sites on 9/11. It's a labor of love and deep respect for the victims, their families and friends.
A weather vane near the top of the garden points due west towards Shanksville.
"Shanksville is always somewhat forgotten in the discussions of 9/11," Mussari said. "The 40 people on that airplane prevented it from hitting the Capitol when both houses of Congress were in session. Their act of courage and heroism ranks among the highest and purest forms of heroism and courage in our history."
Mussari leaned back and tried to put himself on the hijacked plane.
"Think about it. You know this plane is destined to crash and you are traveling in the last part of this journey," he said. "You're going about 565 miles per hour and you're at the level where cell towers pick up cell phone calls and you have the kind of courage and determination to try to take over control of the aircraft."
The Mussaris have dedicated much of the last 10 years to remembering Shanksville and the victims of Flight 93. Each year they produce an anniversary video about the crash and this year, the 10th, will be their final edition. They have completed 22 documentary films on Shanksville and Flight 93.
"We will still visit the site; it's only four hours away," Mussari said. "We have many friends there. As much as we don't want to let it go, there comes a time that you must."
Over the past decade, the Mussaris have taken many groups to the site – more than 500 students and adults in all.
"Once you've been there and you meet the people who are trying to keep the memories of those 40 victims alive, you feel much closer to them and the tragedy of Flight 93," Kitch said. "You soon realize that 9/11 is much more than ground zero."
That's not to disparage anyone, the Mussaris quickly note. They honor and respect every victim of 9/11 and their families. But they feel too often Shanksville is not held in the same regard as the other events of 9/11.
Tony Mussari said when he first visited the site of the crash – and on every other occasion he and Kitch have been there – the experience is the same. People coming to see where the plane carrying the "40 angels of freedom" came down. Tony Mussari said the experience is so compelling, nearly every visitor wants to leave some part of themselves behind to pay tribute to the victims.
"In driving rainstorms, the people came," he said. "In winter when the ground was covered with 6 inches of snow and in blistering heat, people came and left things. There is this connection with these brave Americans whose names nobody knew, but did what Americans do in their finest hour.
"We must never permit ourselves to forget not only the act of courage, but the values of the people who were both on the plane and the people of Shanksville," he said.
Around the path from the Angel Garden is the Garden of Life. Here are rocks with words like "imagine, dream, belief and 125 more that speak to life." A 37-year-old Chinese Dawn Maple Tree stands nearby. A bench underneath awaits visitors. Neighbors stop by with their children and grandchildren to watch the fish in the ponds and learn about life and history, including the events of 9/11.
"The selfless, heroic acts of those 40 people, put themselves in harm's way to avoid a tragedy of even larger proportion," Mussari said.
"They made their last moments the most meaningful of service that makes us all proud to be Americans."
The first time he visited the site, Tony Mussari said he just stood there and looked at the large space where the plane crashed.
"Something happened," he said. "I thought, 'What would you do if you were on that plane?' That thought, that feeling was overwhelming."
Reprinted with permission from The Times Leader
www.timesleader.com
In Focus: We still have much to learn from Judge Max Rosenn

Written by Bill O'Boyle, The Times Leader
boboyle@civitasmedia.com
Photography, Aimee Dilger, The Times Leader
March 29. 2015 5:30PM – 1004 Views
WILKES-BARRE — Every chance I get I still watch reruns of "Leave It To Beaver." There's nothing like those life lessons learned from the Cleaver family of Mayfield.
I have always proposed that every family be court-ordered to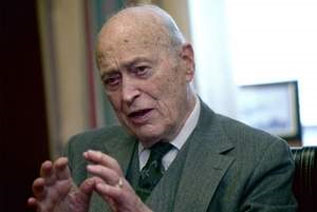 watch "Beaver" with their children. They will learn manners, respect, honesty, integrity, fairness, humility and loyalty. These values are essential to being a good human being — one who is less likely to build a meth lab in the back yard and more likely to finish school, get a job, raise a family and contribute positively to society.
"Leave It To Beaver," I surmise, is a show that the late Judge Max Rosenn also enjoyed. If he didn't, then he sure served as an adviser to the show's producers.
Rosenn died in 2006 at the age of 96.
I attended last week's lecture at Wilkes University given by my friend, Tony Mussari, a former King's College professor and a noted filmmaker. Mussari and his wife, Kitch Loftus, have produced some of the finest documentaries that not only inform, but challenge you to be a better person.
Like Judge Rosenn.
The lecture was part of the Drs. Robert S. and Judith A.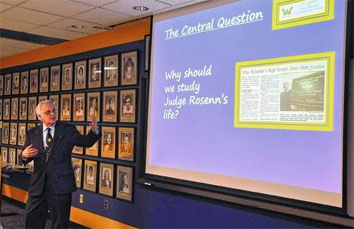 Gardner Educational Forum Series and featured the Mussari-produced documentary "Judge Max Rosenn: A Man for All Seasons." Mussari directed the discussion about honor, service and community leadership — the values lived by Judge Rosenn.
I have to admit, it was enjoyable, yet somewhat melancholy to sit and watch Judge Rosenn being interviewed. Mussari said Rosenn was about 94 when the interview was filmed, about two years before his death. Judge Rosenn was sharp as ever, articulating as only he could about living a good life.
I was fortunate to have many conversations with Judge Rosenn over the years. I know I benefited from all of them, learning something new and thought-provoking every time.
Judge Rosenn once said too many elected officials are more concerned about retaining their offices than serving their constituents.
He also said "the God of money" has taken over our world, especially our political process.
When asked how you mold a person of high moral character and integrity, Judge Rosenn said it all starts at home. He said those formative years, up until 12 or so, are critical in the formation of a person. He said schools and churches are also key in the continuance of the evolution of a genuine, caring human being.
This could explain the importance of "Leave It To Beaver" in my life and the lives of so many others.
Judge Rosenn talked about respect for fellow human beings. He spoke of morality. As someone said, "Judge Rosenn was a good man who lived a good life."
That's about as good as it gets.
Judge Rosenn said the 9/11 terrorist attacks on the U.S. were carried out by people "devoid of humaneness; devoid of compassion." How else can you explain their intent to take so many innocent lives?
The eloquence of Judge Rosenn's words never lessened as the years went by. He always managed to put things in perfect perspective.
Mussari said he worries about the future for his grandchildren. He told the Wilkes students he worries for the lives they will have in this ever-changing, deteriorating world society. He points to Judge Rosenn for guidance.
"The example of Judge Rosenn has to live on," Mussari said. "His words have to be put back on the minds of young people."
Mussari said there is a growing conflict between moral character and performance character. He said the values Judge Rosenn possessed must be instilled in all of us or the world will only get worse.
Mussari said Rosenn was "A Man for All Seasons."
Rosenn once said: "Your value lies not in your status or your title; but in the roots of your character and the depth of your compassion."
Long live Judge Max Rosenn.