'Teachers with a camera'
Husband-wife filmakers traverse the country in pursuit of their latest project

February 23, 2014 10:40PM
By Brad Patton For The Times Leader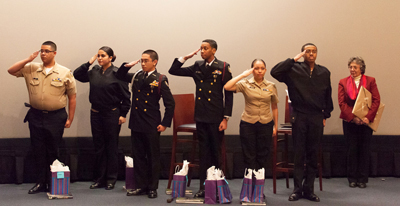 The ROTC cadets from North Plainfield (N.J.) High School salute the Mussaris at the premiere of the 'Four Days of Honor and Valor in Gettysburg' film at the Gateway Theater in Gettysburg on Jan. 18.
Dr. Tony Mussari Sr. and Kitch Loftus-Mussari may no longer have a conventional classroom, but they are still teachers.
After years of teaching communications at King's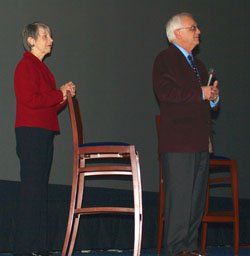 College, the husband-and-wife documentary filmmakers from Dallas now consider themselves "teachers with a camera."
Past projects include the regional television series "Windsor Park Stories," which ran from 1997 to 2009 first on WVIA-TV then on WBRE-TV, an 11-part film series on West Point, a series of films focused on Shanksville, Pa. (the site of the 9/11 crash of Flight 93), and a series on the 25th anniversary of the "Miracle On Ice" from the 1980 Lake Placid Olympic games.
Their latest series, which has taken them to all 48 contiguous states, began in 2010 and seeks to find "the Face of America on its best day," Dr. Mussari said. The newest film in this series, "Four Days of Honor and Valor in Gettysburg," premiered in January.
"We first develop the educational experience," Mussari said in a recent interview with The Times Leader. "Everything else derives from that."
For the past four years, the Mussaris have worked with students from the North Plainfield (New Jersey) High School. As with many things in their lives, that came about rather serendipitously.
"We were in Shanksville for a screening, and we visited the temporary memorial to record scenes for the following year's documentary," Mussari said. "I saw a group of cheerleaders, knew that it was a great scene visually and I recorded it.
"Everything else came out of that. That kind of opened the door, and four years later we have just finished our fourth film with them."
Mussari, now in his 70s, was in graduate school studying American history when he did an interview with Edward P. Morgan, a prominent journalist who hosted "Edward P. Morgan and the News" from 1955 to 1967. Morgan told him he did so well with the interview he should think about going into televised news.
"Those were the days of the 15-minute newscast," Mussari recalled. "Even though I had always wanted to be a teacher, I found (televised news) to be a way to combine two of my passions, the linear word and a visual message."
Mussari eventually became the editorial director at WNEP-TV and crafted his first film from outtakes of the station's coverage of the Agnes Flood.
Mussari began working with Loftus, who was one of the area's first female broadcasters and had reported extensively on Agnes for WARM radio, in 1977, and the pair married a few years later. The couple worked in New York City making corporate video for 17 years, and the proceeds from that enabled them to make documentaries.
"We have been very fortunate to be able to make the films we wanted to make and to do them not for profit but for artistic reward," he said.
Mussari said the couple had its first major breakthrough in documentary around 1981 and the money received from that enabled them to make a film about the Centralia fire. That Centralia film went all the way to the Academy Awards and "opened up a world that most people don't get to see," Mussari said.
As with most films the Mussaris have made over the years, nearly everything that went into "Four Days of Honor and Valor in Gettysburg" was done by the couple themselves.
"We don't have a crew of 12, and we don't have a budget that is unlimited," Mussari said. "Everything you saw in that film comes basically from two people."
Mussari said the response from the premiere has been both overwhelmingly positive and very encouraging.
He said Robert Monahan, Jr., the president and CEO of the 2013 Medal of Honor Convention who gave the Mussaris carte blanche to film whatever they wanted at the ceremonies, was very pleased with the final product and has indicated the Medal of Honor Society may use the film in the future.
Mussari said he also has received inquiries about screening the film for various student groups and schools and has invitations for at least three screenings.
"Right now we are just trying to recover from 15 months of intensive, very rigorous, very demanding work," he said. "There are a lot of possibilities of where we go from here, but nothing has been finalized yet.
"It's very encouraging to see a lot of people working to make sure this film has an afterlife."
(Photographs by Katie Hennessey)
"Four Days of Honor and Valor in Gettysburg" is one of couple's best efforts yet. Film review, Below.