The Newest Faces of America

Written by Tony Mussari, Sr.
Edited by Kitch Loftus-Mussari
Photographs by Tony Mussari
Copyright Mussari-Loftus Associates, LTD 2014
All Rights Reserved
The bosom of America is open to receive not only the Opulent and respected Stranger, but the oppressed and persecuted of all Nations and Religions; whom we shall welcome to a participation of all our rights and privileges…George Washington
The Broome County Courthouse in Binghamton, New York, is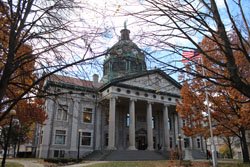 a national treasure. Designed by Isaac G. Perry in 1897, this Renaissance Revival masterpiece with its freestanding Ionic columns, gabled roof, eight-sided copper dome supporting a huge statue of the Lady Justice stands majestically in Courthouse Square. It demands the attention of everyone who visits this historic section of the city.
On a cold November morning, our friends, Uldarico, better known as Rex, and Viola Dumdum joined 20 other men and women who came to the courthouse with their family and friends to pledge their allegiance to America and to be welcomed as the newest faces of America. The majesty of the courthouse was an appropriate setting for the dignity and class of this American moment of moments.
Special Moments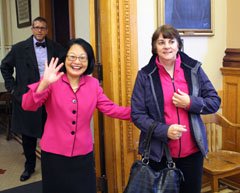 Shortly after we entered the courthouse, Viola was the first person we met. She greeted us with a welcoming wave and a beautiful smile. Together we took the elevator to the second floor. When we entered courtroom 202, we were taken by the feeling of anticipation and excitement. Everywhere we looked people were shaking hands and embracing one another. The sense of community was palpable and priceless.
It did not take Rex but a few seconds to find us. When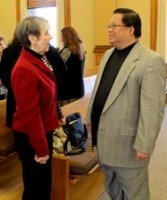 he did, he expressed his appreciation with a warm hug and beautifully chosen words of appreciation and friendship.
Of the 22 people who were to become citizens, there is no question in my mind that Rex's journey to this moment was the longest. He came to the United States in 1977! During the years that followed, he managed to earn an MS, an MBA, a certificate in leadership and a Ph.D. and become a university professor.
Rex and Viola are respected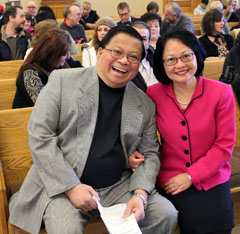 members of their community. They are parents and grandparents who never gave up on their dream of becoming American citizens. They are two beautiful people with hearts of pure gold and friendship forged in platinum.
It was fitting that they occupied the very first seat in the courtroom and the one closest to the judge who would administer the oath.
When I think about their story, the words of Ben Franklin come to mind:
Diligence is the maker of good luck.
The Final Steps
After Gwynne Dinolfo, a representative of the United States Citizenship and Immigration Services, attended to a number of procedural matters in a very helpful and pleasant way, Judge Joseph F. Cawley, County Court Judge & Acting Supreme Court Justice Broome County New York, entered the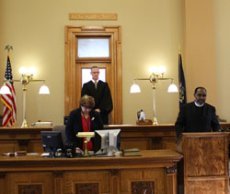 courtroom. He introduced Pastor Elder Arthur W. Jones, Jr., Pastor, Mt. Sinai Church of God in Christ.
Standing beneath an engraved wooden plaque that read "In God We Trust," Pastor Jones offered a kind and thoughtful invocation.
He asked God to bless those who serve in the armed forces, and our leaders who serve here at home. He prayed for world peace.
Making specific reference to the fact that we are in a season of thanks, he thanked God for the 22 people from 14 countries who were about to become citizens of our country and all the members of the committee who made this day possible.
For many of the people in the room, the most memorable line in the pastor's invocation contained eight words:
"Thank you for letting their dreams come true."
When Pastor Jones spoke those words I thought of an adaptation of the words of Aesop that perfectly describes Pastor Jones and the 22 candidates for America citizenship:
Gratitude is a sign of a noble soul.
Welcome to America
It did not take Judge Cawley long to get to the business at hand. He welcomed the candidates, and he introduced Gwynne Dinolfo. She presented the petitions for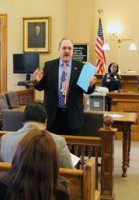 citizenship. Judge Cawley ruled favorably on the petitions. Then Richard R. Blythe, Broome County Clerk, administered the oath.
I hereby declare, on oath, that I absolutely and entirely renounce and abjure all allegiance and fidelity to any foreign prince, potentate, state, or sovereignty, of whom or which I have heretofore been a subject or citizen;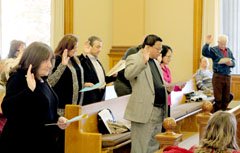 that I will support and defend the Constitution and laws of the United States of America against all enemies, foreign and domestic; that I will bear true faith and allegiance to the same; that I will bear arms on behalf of the United States when required by the law; that I will perform noncombatant service in the Armed Forces of the United States when required by the law; that I will perform work of national importance under civilian direction when required by the law; and that I take this obligation freely, without any mental reservation or purpose of evasion; so help me God.
When this poignant moment ended, Judge Cawley spoke three words:
Welcome to America
The First Vote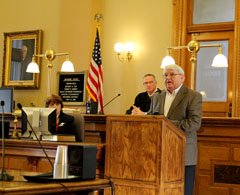 Mr. Carl Wokan is a representative of the League of Women Voters. He knows the significance of this moment. He is a naturalized American citizen with a classic immigration story. His life documents what our first president was talking about when he declared America a place for the oppressed and the persecuted from all nations.
Mr. Wokan talked to America's newest citizens and their guests about their right and their obligation to vote. His story about his mother never missing an opportunity to vote resonated with the audience.
When he finished Mr. Andrew Baranoski, a representative of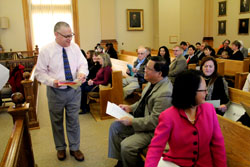 the American Civic Association, reinforced this message, and he led the candidates in the Pledge of Allegiance.
The sound of the candidates enthusiastically reciting the pledge was a beautiful moment.
Mrs. Sharon M. Exley, Executive Deputy Broome County Clerk led the candidates in a reading of a patriotic document entitled The American's Creed:
I believe in the United States of America, as a government of the people, by the people, for the people; whose just powers are derived from the consent of the governed; a democracy in a Republic; a sovereign Nation of many sovereign States; a perfect Union, one and inseparable; established upon those principles of freedom, equality, justice, and humanity for which American patriots sacrificed their lives and fortunes.
I therefore believe it is my duty to my Country to love it; to support its Constitution; to obey its laws; to respect its flag; and to defend it against all enemies.
William Tyler Page, 1918
Closing Thoughts
In his closing remarks, Judge Cawley shared heartfelt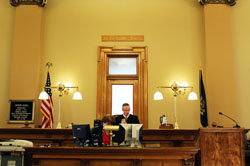 thoughts about American citizenship. He admitted that sometimes he takes for granted our rights and our freedoms. He spoke eloquently about his admiration for the 22 new Americans. "I am inspired by your journey and your dedication that has brought you here today."
He spoke about freedom of speech, religion and assembly, "rights that are sadly not granted or even possible in other parts of the world."
He reminded everyone in the room that democracy is often unpredictable and uncertain. He said the recent elections prove that point, but in his heart and mind, democracy is the best and most stable form of government known to civilization today.
He talked about trial by jury, and the importance of jury duty.
He ended his comments with these words:
We welcome you to this diverse and proud nation of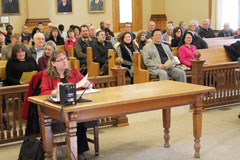 shared rights, freedoms and obligations. Your own unique, diverse backgrounds add to the collective wisdom that is the United States of America. The experiences that you bring to this country, your opinions, your dreams and your commitment will make this country better and stronger.
We are honored to have you join us today as American citizens. I and my colleagues want to welcome you and ask you to enjoy all that this country has to offer and all that you have to offer it.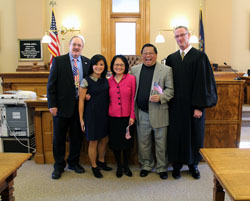 While the judge was speaking, my mind was focused on his words, but my heart was captivated by the expressions on the faces of the new Americans in the courtroom, especially Viola and Rex.
They personify everything the judge was saying about America at its best. They, like the other members of their naturalization group, want to make the most out of their American experience. They want to learn and grow. They want to contribute in positive ways. They want to make the place where they work and the neighborhoods where they live reflect the light of their beautiful faces of America on its best day.
Justice Louis Brandeis said it best with these words:
The only title in our democracy superior to that of President is the title of Citizen.
On November 14, 2014, in courtroom 202, Kitch and I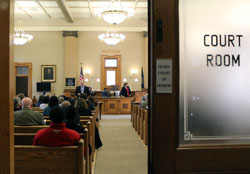 encountered 22 beautiful Faces of America. When we started our journey five years ago, we never dreamed we would experience a moment like this. The people we met and the symbolism of this magical ceremony gives us hope that our tomorrows can be better than our yesterdays.
Thank you, Rex and Viola for making us part of your family. We are blessed to know you, and America is fortunate to have your commitment, determination, example and service. God bless you and the members of your naturalization class, and God bless America
Please provide feedback to:
tony.mussari@gmail.com