Lost and Found in Maryland

Written by Tony Mussari
Edited by Kitch Loftus-Mussari
Copyright 2012
Mussari-Loftus Associates
All Rights Reserved
The Face of America Project
faceofamericawps.com
"It is not until we are lost that we begin to understand ourselves" Henry David Thoreau
Lost
I was on my way to Catonsville, Maryland, by way of the Baltimore Pike in Gettysburg. It was a beautiful fall afternoon, and I was alone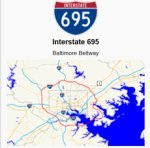 with my thoughts and at peace with myself.
Following the directions I was given by two people who had driven this road many times, my goal was to successfully reach the red, white and blue road sign I-695 West. At that point I had specific instructions on how to reach my destination.
Unfortunately, I could not find the sign for the bypass around Baltimore, and I ended up in the parking lot of Koons Ford on Security Avenue in Baltimore.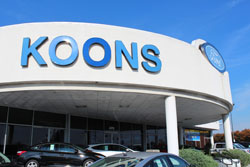 I parked my Toyota Prius where it would not be too conspicuous, and I made my way to the showroom. As I approached the front door, I took a deep breath, and I said to myself, "I hope this is a pleasant experience."
To my surprise and great delight it was one of the best experiences on a day that fit the description, "Practically perfect in every way."
Found
Shortly after I entered, a gentleman in a suit and tie asked if he could help me.
I told him I was hopelessly lost.
He replied, "Aren't we all?"
I explained my situation, and out of nowhere a woman with a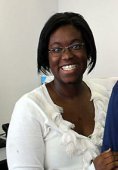 welcoming smile appeared.
"I think I can help you. Where do you want to go?"
I gave her the information and she disappeared behind a computer to search for directions.
While I was waiting, a young man walked into the reception area. He introduced himself, and we engaged in a conversation that included the who, what, when, where and why of my trip. When I told him I lived in Pennsylvania, a broad smile filled his face.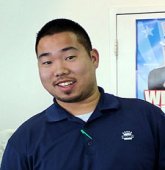 That's where I'm from. Then the improbable happened. The town of his birth and the university he attended are less than an hour away from my home.
The woman at the computer lifted her head, and exclaimed, "I found it. I'll print out the directions."
The young man showed me how I could use the road in the dealership to get to a traffic light that would guarantee my safety when crossing Security Boulevard.
In that place at that time, I felt a sense of community that is hard to describe. We were strangers. There was no commercial advantage in what they were doing, nor was there any likelihood that we would ever see one another again. Nevertheless, they did everything they could to help me.
The kindness of Alona Holland and Matt Stoudt spoke to the goodness of their hearts. It spoke to a kind of service that expects nothing in return.
When I asked them if I could take a picture of them, they did not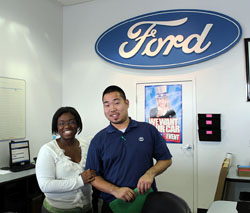 hesitate to say yes. We exchanged contact information so I could send them a copy of the picture.
Recently, I was asked a simple question: "What is this face of America you are looking for?"
My answer brought a look of disbelief from the person who asked the question.
It's not a picture of any one person. It's a mosaic of many people who reflect the spirit of our country at its best. It's many things, but belonging, kindness and service are always at the top of the list that distinguishes America and Americans. It's making people feel comfortable. It's affirming their work, encouraging them, helping them succeed, embracing their differences and expressing gratitude for their contributions and sacrifices. It's about providing opportunities and reconciling differences peacefully.
To paraphrase something I heard Medal of Honor recipient Barney Barnum say earlier in the day, The face of America on its best day is an "us" face not a "me" face. It's a giving face not a taking face. It's a kind face not a cruel face.
That's exactly what I saw at Koons Ford in the classroom of Business Development Officer Alona Holland and Sales Consultant Matt Stoudt. They are the face of America on its best day, and I was so fortunate to be lost and found in their presence.
Please provide feedback to:
tony.mussari@gmail.com