Heroes without Headlines, Gettysburg, 2012

Written by Tony Mussari
Edited by Kitch Loftus-Mussari
Copyright 2012
Mussari-Loftus Associates
All Rights Reserved
The Face of America Project
faceofamericawps.com
"Any nation that does not honor its heroes will not long endure" Abraham Lincoln
Flag of Honor
The headline in the Gettysburg Times read, "Flies with honor."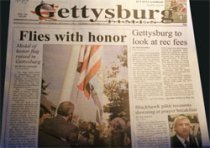 The accompanying picture recorded the moment, shortly before noon, when Barney Barnum and Brian Thacker raised the light blue flag with the impressive emblem under the Stars and Stripes in Lincoln Square on October 17, 2012.
For the people who came to witness this event, it was a very significant moment.
Barnum and Thacker are Medal of Honor recipients. The flag is the simple, but elegant, Medal of Honor flag.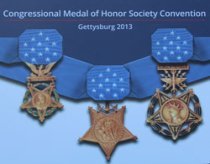 The occasion was a celebration. The Medal of Honor Convention will be held in Gettysburg next September, the place where 63 Medals of Honor were earned in the battle that changed the course of the Civil War.
The flag will fly high above Lincoln Square for one year as a symbol of courage, honor, hope, respect and service.
The flag raising was the highlight of an inspiring ceremony that helped people better understand the Medal of Honor, the veterans who earned it and everything it symbolizes.
For me, it was the beginning of a day, I will never forget.
Serendipity
I did not know about the event when I arrived in Gettysburg on Tuesday, October 16.  My mind was focused on the seven meetings, I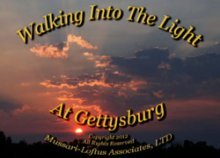 had arranged to finalize plans for the premiere of our documentary, Walking Into the Light at Gettysburg.  I was on my way to a meeting at the Convention and Visitors Bureau when I literally bumped it to a very pleasant man on Steinwehr Ave.
I was lost. When I asked him for directions to Middle Street, he took the time to respond in detail. Before we knew it, we were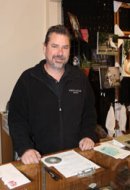 engaged in a wonderful conversation about his work as a photographer and my mission to get the word out about our project.
Del Hilbert is a welcoming person, a kind person, a thoughtful person and a person of faith. He invited me to visit his studio. I accepted, and he put a coin in the parking meter.  That unexpected act of kindness established the foundation and tone of our emerging friendship. We talked about our interests and one of our mutual friends, Frank Orlando, aka General Robert E. Lee. Del gave me one of the pictures he took of Frank, and he invited me to join him on Wednesday morning at the circle by the David Wills House, the home where President Lincoln was a guest during his visit to Gettysburg in November 1863.
A Unique Face of America Moment
Wednesday, October 17, was a magnificent autumn day. When I arrived at the circle, I did not know what to expect.
A crowd was building. The mood was festive, but reserved.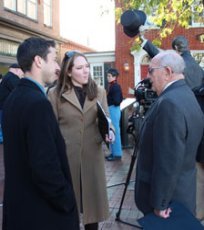 People were talking in hushed tones.  Wherever one looked something was happening.
Two bright yellow school vans transporting 14 members of the Gettysburg High School Band were being parked adjacent to the Gettysburg Hotel.
Junior ROTC students,Emma Bahm, Gabrielle Minor, John Tully and Aaron Scruggs were taking their places under the watchful eye of Thomas A Bores, SFC, U.S. Army retired. 
An Honor Guard was forming, Gettysburg's Mayor, William Troxell, was greeting people with a smile and a firm handshake.
A pleasant young woman named Ashley greeted everyone with her radiant smile as she distributed folders containing information about the event and the Medal of Honor Society.
An incredibly talented senior executive from the Webster Group, AJ Bowanas, helped people make connections. Kristen Holland, Project Manager for the Congressional Medal of Honor Convention in Gettysburg, attended to last minute details with great dignity.
Carl Whitehall, Media Relations Manager, for the Gettysburg Convention and Visitors Bureau, greeted old friends like Frank and Bonnie Orlando and Pastor Steve Herr.
Then it happened, two men appeared to my left. They were quietly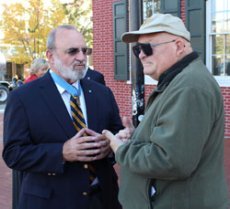 and politely shaking hands with people as they made their way toward the platform where the program would take place. I watched them with great interest. It was the first time I had ever seen a Medal of Honor recipient. In fact, it was the first time I had seen a person wearing a Medal of Honor.
Suddenly I was face to face with Brian Thacker. He was dressed in a blue sport coat and grey dress pants. He was not as tall as I had imagined he would be. Without the medal he was wearing, one could easily misidentify him as a business executive.  He was more reserved than I expected, and he was more generous with his time than I expected.
On March 31, 1971, he earned the Medal of Honor because he was a leader who displayed no thought for himself as he worked courageously and effectively in the face of unimaginable danger to guarantee the safety of others. He was the person who survived eight days in the jungle of Vietnam without food or water. He was the junior officer who years later told a reporter, "I was afraid. Yet fear is a wonderful motivator. It sharpens your brain and then your only objective is to survive."
When my moment came, all I could do was look him in the eye and say these words, "Thank you for your service to America."
His response was polite and grateful.
A few minutes later, I found myself in a similar situation with Barney Barnum. He is smaller than I thought he would be. In my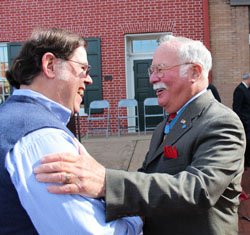 mind, he is a giant for what he did and the way he did it.
Barnum is a man with a perpetual smile on his face. Without the gold medal with the blue ribbon hanging from his neck, you would think he is everyone's favorite grandfather. When you are in his presence the feeling of awe is palpable, but his smile puts you at ease. 
His moment came on December 18, 1965. Like all Medal of Honor recipients in the face of danger, he acted with complete disregard for his own safety. He took the initiative. He gave encouragement. He assumed a leadership position. What he did is best described in his citation:
"His sound and swift decisions and his obvious calm served to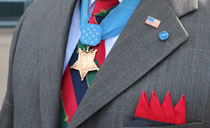 stabilize the badly decimated units and his gallant example as he stood exposed repeatedly to point out targets served as an inspiration to all. Provided with two armed helicopters, he moved fearlessly through enemy fire to control the air attack against the firmly entrenched enemy while skillfully directing one platoon in a successful counterattack in the key enemy positions. Having thus cleared a small area, he requested and directed the landing of two transport helicopters for the evacuation of the dead and wounded. He then assisted in the mopping up and final seizure of the battalion's objective."
When I met Barney Barnum, I offered my expression of gratitude. He responded with a smile, a warm handshake and the words, "Thank you so much."
After that moment, time passed quickly.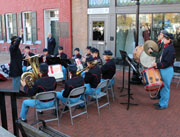 Dressed in their Army of the Potomac uniforms and directed by David Conklin, the high school musicians played popular selections from the Civil War.
Robert J. Monahan, Jr., President and CEO of the Congressional Medal of Honor Convention in Gettysburg, began the program with a well-crafted welcome.
The Gettysburg Area High School Army JROTC Cadets recited the Pledge of Allegiance with conviction and passion.
Pastor Steve Herr delivered his invocation with feeling and grace. The concluding three sentences of his prayer touched the hearts of everyone in the crowd:
"Finally, Lord we also pray for peace among all peoples. For peace in our hearts and minds, among our citizens, and among nations. We pray that you would inspire us with the courage to devote our lives to serving our fellow citizens and caring for your people."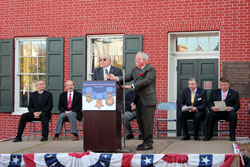 Without warning, the most instructive moment of the ceremony happened. Mayor Troxell came to the podium to offer remarks. For some reason, the microphone moved and he could not be heard.
Without hesitation, Barney Barnum stealthfully made his way to the mike stand. He dislodged the mike from its holder, and he stood next to the mayor holding the microphone in just the right place so that everyone in the audience could hear what he was saying.
That act, that moment, that rescue spoke volumes about Barnum, his values and his medal. Just as he had done in a much more dangerous circumstance in Vietnam all those years ago, his instinctive sense of service to others took over.  He forgot about his role as a distinguished guest. He dismissed his personal comfort. He rushed in to help the mayor and everyone else.
In that moment, with that act, he exemplified why he is the personification of America at its best. His action sent a powerful message to everyone assembled in Lincoln Square. Service to others, kindness to others, helping others and caring about the success of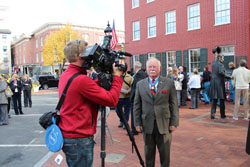 others is central to America at its best.
Shortly before I left Lincoln Square, I noticed a TV cameraman setting up a shot for an interview with Barney Barnum. When I reached the location, I took a picture of the man who saved the moment for the mayor. Then I positioned myself in a place where we could make eye contact. The words I spoke to this unassuming hero came straight from my heart, "You are an American treasure."
He blushed. Then he smiled with an expression of gratitude unlike anything I have ever experienced, and one which I will never forget.
That's what heroes without headlines do. They make indelible impressions on our heart, and they make us want to reach up for our higher angels.
There are 81 living Medal of Honor recipients. Would that every American would have the opportunity to meet at least one of them and experience, in real time, the goodness, kindness, courage,
patriotism and service that makes each of them a model to be imitated, respected and honored.
In my opinion, what makes them so special is not power, wealth, status or notoriety.  On the contrary, they are special because they are just like us. They are human, they have fears, they wonder about their future, they love their children and yearn for their safety, happiness and success. They bear the aches and pains of life, yet they never complain. Their actions are motivated by service not selfishness, grace not greed, humility not pride.
The two men I met in Gettysburg see themselves as a soldier and a marine who did nothing more than serve their country.
The Medal of Honor does not signify perfection. In my mind, it is a statement about excellence. The 3,458 men and one woman who have earned it acted in the best interest of their neighbors, their friends and their country. They thought about others before themselves. In so doing, they established a model of behavior that encourages the weak to be strong, the timid to be courageous, and the powerful to be generous. Their behavior on the battlefield and in the public square gives truth to the words of Abraham Lincoln, "We must rise with the occasion…Leave nothing for tomorrow which can be done today."
Please provide feedback to:
tony.mussari@gmail.com