Marywood University: An Evening of Celebration and Community

Written by Tony Mussari, Sr.
Edited by Kitch Loftus-Mussari
Photographs by Tony Mussari, Sr.
Copyright 2015
Mussari-Loftus Associates
The Face of America Project
Freedom Lies in Being Bold. Robert Frost
Our Face of America Journey took us to Marywood University in Scranton for a wonderful evening of celebration, and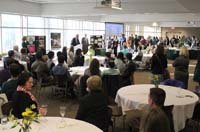 community. On this cold April evening, while snow flurries filled the air outside the Nazareth Student Center, the atmosphere inside the building was warm and welcoming.
More than 150 students, teachers, board members, advisory council members and guests came together to celebrate the creation of Marywood's School of Business and Global Innovation. This is a bold initiative designed to attract students and provide them with unique opportunities that will serve them well when they graduate.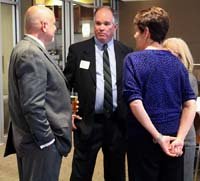 The event was organized by Dr. Christopher Speicher who was assisted by students, staff and other faculty members. From the informative student displays strategically positioned along the parameter of the room to the delightful array of appetizing hors'doeuvres thoughtfully located in a place where everyone had easy access to the food, it was a top shelf event, and that was obvious to everyone who attended.
Context
These are a few of the things we learned about this major development in the School of Business at Marywood:
The president of Marywood University, Sister Ann Munley,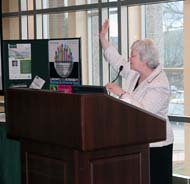 believes that it takes a village to educate a student. In her remarks, she thanked all the members of the Marywood Village including members of the board of trustees, the administration, the Marywood Corporation and cabinet members. members of the Business Advisory Committee, the faculty, staff and community leaders.
She made it very clear that at Marywood University it is all about the students. They are our future she told the audience, and this initiative is designed to create new and meaningful opportunities for them.
Quoting Dr. Art Comstock, Executive Director of The School of Business and Global Innovation, Sister Ann identified three pillars of excellence: to instruct, to instill and to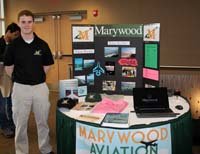 inspire. She said the Marywood University students who placed first in the 2015 DeSales University Fleming Ethics Bowl Competition reflect these pillars of excellence.
She also complimented faculty members who exemplify the pillars of excellence. Every day, she said, they model accountability, integrity and ethical leadership.
She defined the ultimate goal of the School of Business and Global Innovation with these words: "We want to create servant leaders who will make positive contributions to the communities in which they live and work."
She ended her presentation with this thought: "Effective teaching is about transforming lives one at a time. It is about helping students to be their best self, and it is about motivating students to aspire to greater things."
The Question
When Dr. Art Comstock returned to the podium, he asked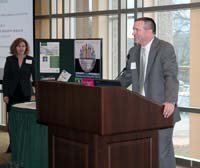 this question:
Why are you here this evening?
His answer was simple and direct. Tonight is about celebrating accomplishments. You are here because you care about Marywood. You want this program to grow and succeed. We are looking back in order to move forward, and we are motivated by the maxim of Dr. Rex Dumdum: "I don't like students. I love students."
He spoke about the eight colorful display tables that highlighted what students are doing to make the most of their education.
He encouraged everyone to engage with the students. Let them tell you about their aspirations. Help them with suggestions that will enable them to get better.
He reminded everyone that it will take a village to reach our goals, and he urged everyone in the room to celebrate all that is and all that could be.
A Quiet Hero
Chris DiMattio is a quiet hero in every sense of the word.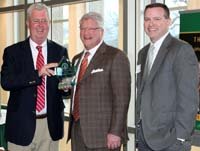 He was born and raised in Dunmore, PA. In 1988, he received a degree from Marywood College. For more than 25 years he has been an accredited investment fiduciary, a retirement plan advisor and a respected officer at FNCB Wealth Management Services. If you are looking for a living example of success, the life of Chris DiMattio has all the moving parts.
Yes, his business resume is impressive. Yes, his awards for community service at the local, regional and national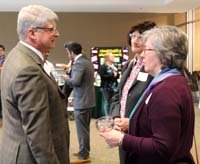 levels are equally impressive. For Kitch and me, the most attractive quality of this extraordinary person is his kind and welcoming way. In short, Chris DiMattio is a nice person. There is a fundamental goodness about him that is reflected in the way he treats people. He is an affirmer, an encourager and a helper. He enjoys what he does. There are no histrionics, no pretentions, no uncomfortable moments when you are with Chris DiMattio. He has mastered one of the main precepts of leadership:
A good leader takes a little more of his share of the blame, and a little less than his share of the credit. Arnold H. Glasow
For this reason and many more, Chris DiMattio was an excellent choice for the Distinguished Alumni Award.
Deep Roots
John Lawless is a big man with a great smile and important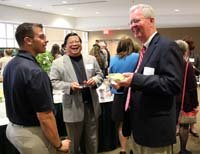 responsibilities. He is the chairman of the Business Advisory Council.
His roots run deep into the soil at Marywood. He met his wife at Marywood. His sister graduated from Marywood. His daughter is an adjunct teacher at Marywood. His oldest son was an accounting major and his youngest son is a marketing major. It is fair to say that the Lawless family is Marywood Proud.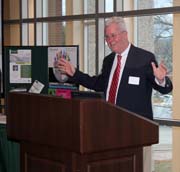 On this special evening Lawless was entertaining, interesting and informative.
He wants to expand the Business Advisory Council and use it as a resource to provide opportunities for students in the School of Business and Global Innovation. He is interested in the executive in residence program. In his mind, an old pro is someone who has been around the block and can show young people the way.
For Lawless, great leaders begin as great followers who follow great leaders.
A Common Purpose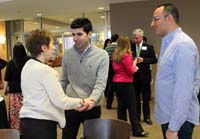 While I was taking pictures for this article, I thought about something H. Jackson Brown, Jr. wrote about community:
Remember the happiest people are not those getting more, but those giving more.
Whenever I looked through the viewfinder of my camera, I saw people giving more. I saw what Alice Waters called the essence of education, people teaching kids by example how to live in a community in a responsible way.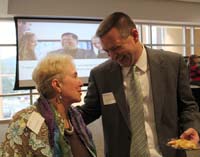 On this special night at Marywood University, I saw a living mosaic of the words of John Winthrop: people delighting in each other, making others'conditions their own, rejoicing together, keeping the unity of spirit in the bond of peace.
Quite frankly, it doesn't get much better than that.
Thank you, Dr. Rex Dundum for inviting us to this event. It is an experience we will never forget.
Please provide feedback to:
tony.mussari@gmail.com