A Christmas Message of Hope, Inspiration and Love
Written by Tony Mussari, Sr.
Edited by Kitch Loftus-Mussari
Copyright 2015
Mussari-Loftus Associates
The Face of America Project
The Christmas heart is an open heart, a wide open heart that thinks of others first.George Matthew Adams
As Kitch and I approach Christmas Day, memories of a difficult year preoccupy our thoughts.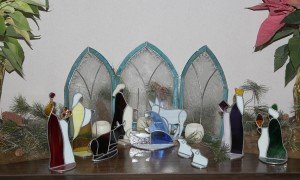 It's been a year of great loss and unthinkable tragedies in America and around the world. It's been a year of significant adjustments to forces over which we have no control. It's been a year of growth in matters of the heart and the soul.
As a special Christmas gift, Kitch and I would like to share ten beautiful, comforting, life changing thoughts written by one of our heroes, Fr. Joseph Girzone.
On the anniversary of the Christ Child's birth, this gift is designed to lift your spirits and give you hope.
God's Message
1. I came into the world as a child because I wanted to teach you the things that will open the gates of heaven to you: trust, simplicity, helplessness, vulnerability, innocence, humility, patience, kindness, and forgiveness. Unless you become like the little child, you will not enter the kingdom of heaven.
2. Most people never realize it, but I want to be your partner.
3. I judge by what I see in people's hearts.
4. I am concerned about your love and care for others.
5. I do not hold grudges.
6. I do not have an obsession to punish people for their sins. I do not condone sin, but I see the pain that leads to sin. I am the Good Shepherd who wants to heal your broken places.
7. I want you to enjoy your humanity. I did not make you perfect. I accept you as you are, and I will give you the grace to become the best that you can be.
8. I will always be your friend. When others walk away, when others do not have the courage to stand with you, when you face opposition, crisis and failure, I will be with you.
9. I understand you even when you give into temptation.
10. If you want to be great, you must be willing to be the servant of all the rest.
These beautiful thoughts remind us that we must live the spirit of Christmas every day of the year.
They lift our spirits when we are down. They give us hope and the desire to keep moving forward. They give us comfort when we are sad. They make us grateful for the opportunities we have. They help us to better appreciate what really is important in life. They cause us to give thanks for your kindness and your friendship.
Kitch and I hope and pray that all your experiences in 2016 will have happy endings.
When you have a few moments, you might want to watch the program we produced about Fr. Girzone and his story about Joshua. You will find it at this secure address:
http://faceofamericawps.com/video/fr-joe-girzone-joshua/
Merry Christmas,
Tony & Kitch