The Refresh Leadership Live Simulcast: An Experience in Community, Friendship and Learning

Written by Tony Mussari, Sr.
Edited by Kitch Loftus-Mussari
Photographs by Tony Mussari, Sr.
Copyright 2015
Mussari-Loftus Associates
The Face of America Project
Leadership and learning are indispensable to one another. President John F. Kennedy
The sixth annual Refresh Leadership Live Simulcast featured three gifted speakers: Liz Murray, Dan Aykroyd and Daymond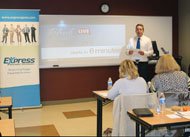 John. They are models of excellence in thought, word and deed. Their lives and their messages give special meaning to the words passion, industry and learning.
Bob Funk, Founder of Express Employment Professionals and Corey Benton, Executive Vice President of Sales and Marketing, promised everyone who attended the event that they would walk away with three gifts: insight in how to lead your business, proven ways to inspire your team and suggestions that will enable people to lead an influential life.
Kitch and I can give testimony to the accuracy of that promise and so much more. These are but a few of the life and leadership lessons we learned from each of the speakers.
From Homeless to Harvard: Liz Murray
Liz Murray is a woman with a compelling and poignant story, a brilliant mind, an iron will, a gift for storytelling and a presence that radiates a glowing inner light. She helps people put things in perspective.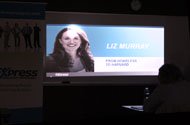 Born to loving parents who became heroin addicts, the first 16 years of her life were anything but comfortable. An excerpt from one of her experiences will clearly establish her credentials as a resilient survivor.
In her world, she told the audience, there were twelve holidays in the year. They came on the first day of the month when the welfare check arrived. When her parents received the money at the "check cashing store" they went straight to the drug dealer to buy drugs. They would use the remaining $35.00 to buy groceries for the month. At home, the syringes were laid out on the table in the kitchen.
After her mother's premature death, Liz Murray met a magical teacher who helped her see beyond the obvious by taking an interest in her, setting high standards for her and holding her accountable for the goals she set and the promises she made.
These are a few of the priceless lessons she learned during her journey from "breaking night" on the mean streets of the Bronx to the courtyard at Harvard University:
1. You must want to be useful;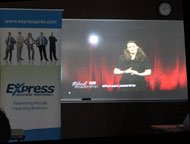 2. Lead with your heart and the rest will follow;
3. Look for higher meaning in your life;
4. Ask yourself this question, "What happens when the party is over?"
5. People can't give what they don't have;
6. There is a blessing in the place where you come from;
7. Everything you do has impact;
8. Don't put it off… avoid the "I will do it later" syndrome;
9. You never know when you will meet the person who will change your life;
10. Another way to love someone is to lift them higher.
Liz Murray is a kind person. She is willing to do her part. She refuses to succumb to what she calls "Paralysis by Analysis."
During the intermission after her presentation, I asked several participants to describe her story in one word. These are the answers I received: Profound, memorable, inspirational, inspiring, heartfelt, thought-provoking, eye-opening, and an in-depth look at reality.
Liz Murray's life gives truth to the words of Henry Ford: If you think you can do a thing or if you think you can't do a thing, you are right.
The Funny Thing About Leadership: Dan Aykroyd
Dan Aykroyd is a big man with an impressive resume and a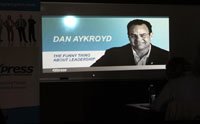 stellar reputation in the world of comedy. When you hear his name, you get the impression that this is a man who owns the proverbial silver spoon. In reality, that is not the case.
As a child he was diagnosed with Tourette's syndrome and Asperger's syndrome. By the time he was 14, these medical abnormalities had disappeared. He has lived with a birth defect called Syndactylism, and he was born with complete heterochromia. His right eye is blue, and his left eye is brown.
Before he became an actor, he dropped out of college. He was employed as a mail sorter for the Canadian national postal service.
On his passport he identifies his occupation as a writer. He is a police buff and he has a deep interest in the supernatural.
On this beautiful April morning he was center stage in Chicago to share his philosophy of leadership.
Calling upon his experience as a writer, producer and actor in 125 films in his 30 year career, he made a captivating case for leadership as collaboration. These are the major points from his presentation:
1. Collaboration is indispensible in a working group;
2. Never underestimate the strength of a team;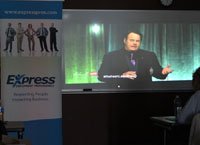 3. The Tao of leadership is this. A good group is better than a spectacular group;
4. A wise leader's touch is light;
5. Good leaders realize how much how little will do;
6. A good leader provides opportunities to others;
7. Working together effectively requires respect for others;
8. A good leader backs off and lets the flow of what is happening occur;
9. A good leader is a good listener;
10. Good Leaders take the time and make the effort to get to know the people they are working with, away from the worksite.
In 1955, When Dan Aykroyd was three years old he had a magic moment. Knowing that he liked to mimic what he saw on television, his dad took a hockey stick and whittled a hand microphone for his son. For Aykroyd that was the beginning of his journey to the academy awards and his membership in the Order of Canada.
Although he did not refer to this quotation in his presentation, it summarizes what he was trying to share with the audience:
A genuine leader is not a searcher for consensus but a molder of consensus.Martin Luther King
Goal Setting: The Secret of Successful Leaders: Daymond John
Daymond John is the quintessential American success story.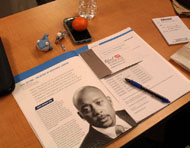 He is a living example of the American dream and American exceptionalism. He has it all, money, fame, power and success. Add to that list a successful television program, Shark Tank, but that is not the best description of this impressive man.
What you may not know, Daymond John was born in Brooklyn and he grew up in Queens. He was raised by his mother and his grandfather. He learned the entrepreneurial spirit while attending a co-op program that allowed him to work a full-time job and attend school on an alternative weekly basis. He is dyslexic. He worked as a waiter at Red Lobster while he was building his company FUBU. Between 1989 and 1992, three times he had to shut down the company because he had no money.
If you want to find the core of Daymond John, pay close attention to the opening line in his presentation, "It's about people. The most valuable asset in the world is people."
Then watch his face glow as he dedicates his presentation to Sophia, a woman who is battling cancer.
Think about the implication of his admission: "I will brag more about my failures than my successes, because I learned the most from my failures." He has had failures including a $6 million loss in an investment that went south.
Count the number of times he says thank you during his presentation, and listen carefully to his 5 Shark Points:
1. Set goals for yourself;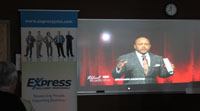 2. Homework, you must do your homework and the analytics;
3. Adore…Love People;
4. Remember you're the brand… Define yourself in 2-5 words. His words are For Us, by Us.;
5. Keep Swimming. Don't give up. He was turned down 27 times before he found support for his idea.
In my opinion, Daymond John is a gratitude person, and that is the root of his success. He celebrates the sacrifices his mother made for him, including mortgaging her home so he could have the capital and the place to start his factory.
When Warren Bennis wrote these words he gave us a perfect description of Daymond John:
Leadership is the ability to translate vision into reality.
For Kitch and me, the sixth annual Express Leadership Live
Simulcast was an experience in community, friendship and learning. We learned invaluable life lessons from the speakers. We connected with friends in a warm and welcoming community environment. The setting at the McCann School of Business was perfect. The atmosphere was positive.
Jeff Doran and Kathleen Nolan Barrett went out of their way to make everyone feel right at home.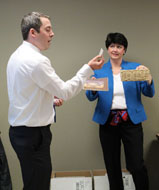 H. Jackson Brown, Jr. told us to remember that the happiest people are not those getting more, but those giving more.
The Refresh Leadership Live Simulcast was a success because everyone involved gave more.
Thank You, Jeff for the invitation.
Thank you, Kathleen for your welcoming way.
Thank You Amy Clegg for making us a part of the Express Employment Professionals family in Northeastern Pennsylvania. It is an honor to work with you.
Thank you, Bob Funk for investing the time, energy and company resources in this wonderful leadership event.
Thank you, Bill Stoller for helping us understand what makes Express a special company.
Thank you, Liz Murray for sharing your inspirational story.
Thank you, Dan Aykroyd for reminding us that collaboration counts.
Thank you, Daymond John for explaining your secrets for success and demonstrating the power of gratitude.
Thank you, Corey Benton for moderating the event with dignity and class.
Those of us who had the good fortune to participate in the wonderful event learned the truth in William A. Foster's dictum:
Quality is never an accident; it is always the result of high intention, sincere effort, intelligent direction and skillful execution; it represents the wise choice of many alternatives.
Please provide feedback to: tony.mussari@gmail.com