Dick Orlowski: A Good Man in All the Ways that Matter

Written by Tony Mussari
Edited by Kitch Loftus-Mussari
Copyright 2013
Mussari-Loftus Associates
All Rights Reserved
The Face of America Project
Dick Orlowski was a man I admired, a man I liked, a man who defined all the things that make life worth living.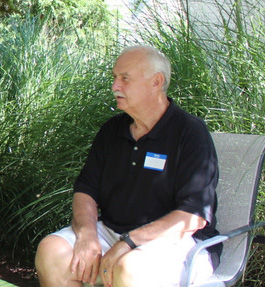 We met many years ago, and then life took over. Recently we were reunited because of the library Dick loved, and the garden Kitch and I built.
We never had a bad moment during our friendship, and he always reminded me how much he enjoyed reading the quotes in the articles I posted in our Face of America blog.
For several months, Dick and his family have been battling a vicious form of cancer. Today he is resting comfortably in the arms of the God he loves.
What follows here comes from my heart.
I want this wonderful man and his family to know the depth of my admiration, affection and gratitude for all the good things I learned watching this genuine Face of America demonstrate what our country and our community is all about on its best day.
When I think about Dick Orlowski, eight words flash through my mind: Character, Community, Family, Friendship, Integrity, Industry, Leadership and Service.
Character
The Dick Orlowski I knew was a person who always did the right thing for the right reason.
He knew and respected William Arthur Ward's fundamental truth of life:
"Greatness is not found in possessions, power, position, or prestige. It is discovered in goodness, humility, service, and character."
Community
Someone once said the essence of community is belonging.  Dick Orlowski cultivated that feeling of belonging.  He built close, warm, harmonious relationships with people.  He did kind things for people.
Last summer, he visited our garden on a day when my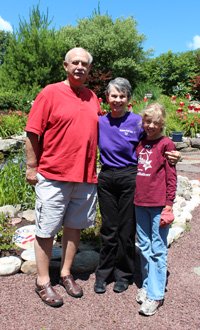 granddaughter was building her rock garden. Dick was welcoming and kind to Julia.  When he left our Angel Garden, he and Ginny went to a shopping center where they bought several little presents for Julia.  Then, they gave these surprises to an eleven-year-old child in a way she will never forget.
That story says more about Dick Orlowski's heart of gold and sense of community than any words I can write. It reinforces the words of Thomas Merton:
In the end, it is the reality of personal relationships that saves everything.
Family
Anyone who had the pleasure of visiting Dick's home felt the healing energy of family. It is recorded in the pictures, the decorations, and the atmosphere that speaks to the advice of Pope John Paul II:
"As the family goes, so goes the nation and so goes the whole world in which we live."
Dick Orlowski loved his family, and he made his friends a part of that family.
Friendship
His friendship was generous and kind. He identified the best in his friends. He accepted their imperfections. He understood their needs. He promoted their strengths. He took time to understand their needs, and he joined hands in good fellowship with them.
He lived the words of Helen Keller:
 "I would rather walk with a friend in the dark, than alone in the light."
Integrity
When our 16th president, Abraham Lincoln, wrote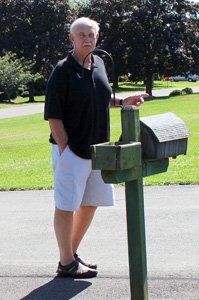 these words, he was writing the subtext of Dick Orlowski's life:
"I am not bound to win, but I am bound to be true. I am not bound to succeed, but I am bound to live by the light that I have."
Industry
He learned early in life the inspirational power of Vince Lombardi's axiom:
"The only place success comes before work is in the dictionary."
Whatever assignment he was given, he worked hard and long hours to complete it with dignity, class and distinction.
Leadership
Anyone who knew Dick Orlowski felt the positive glow of his enormous and effective leadership skills.
He was a quiet, unassuming, caring and competent force for good.
He was a responsible person and he always attended to the little details that people in a hurry often forget.
If Walter Lippmann were alive, he would write these words about Dick Orlowski:
"The final test of a leader is that he leaves behind him in other men the conviction and the will to carry on."
Service
After his love of family, the brightest jewel in the crown of his life was service to his community.
Ask anyone in St Theresa's Parish, the Back Mountain Ecumenical Group, the members who served with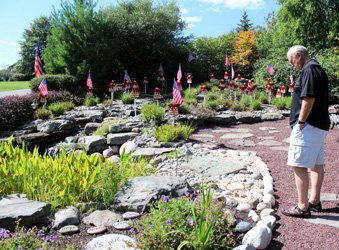 him on the Dallas Area Board of Education, and the Back Mountain Memorial Library Board and they will tell you that Dick Orlowski loved to serve. He did it willingly, joyfully and purposefully.
His own words spoken the night he completed his term on the Dallas Area School Board best describe his thoughts about service:
"I loved every minute of it, and I thank the community for giving me the opportunity to do this."
It was very difficult to watch a giant of a man like Dick Orlowski suffer. It is equally difficult to find words of comfort for his wife Ginny and his daughters Julianne and Sharon
Providence called him home, and he will be missed by everyone who knew him.
Those of us who knew him are better people because of his friendship. We learned from his example, and we grew because of his encouragement.
The words of the immortal Seneca will help heal our broken hearts and fill the void we are feeling:
"The day which we feel as our last is but the beginning of eternity."
Dick Orlowski is now in heaven where he will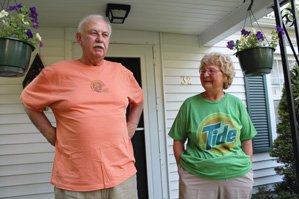 participate in the glory of the God he loves because of the wonderful life he lived and the many people like Kitch and me he inspired.
When Abraham Lincoln's friend William McCullough died, he wrote these words to his daughter. I hope they give Ginny, Julianne and Sharon comfort:
In this sad world of ours, sorrow comes to all; and, to the young, it comes with bitterest agony, because it takes them unawares. The older have learned to ever expect it…
I am anxious to afford some alleviation of your present distress. Perfect relief is not possible, except with time…
You are sure to be happy again. To know this, which is certainly true, will make you some less miserable now. I have had experience enough to know what I say; and you need only to believe it, to feel better at once…
Dick Orlowski will live on in our hearts forever, because his was a good man, a caring man, a thoughtful man, a gratitude man, a welcoming man and a genuine Face of America on its best day.
God Bless you Dick. May God have mercy on your soul, and may God give us the courage, determination, kindness and strength to live in the light of your marvelous example.
Please provide feedback to:
tony.mussari@gmail.com