The Refresh Leadership Live Simulcast: A Unique Learning Opportunity
Written by Tony Mussari
Edited by Kitch Loftus-Mussari
Photographs by Kitch and Tony Mussari
Copyright 2014
Mussari-Loftus Associates
The Face of America Project
Leadership is lifting a person's vision to high sights, the raising of a person's performance to a higher standard, the building of a personality beyond its normal limitations. Peter Drucker

High Expectations
The organizers of the fifth annual Refresh Leadership Live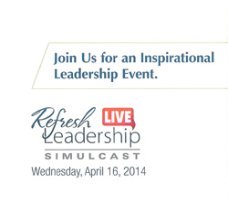 Simulcast promoted the event as an opportunity for people to come together with other members of the business community to learn more about the principles of great leadership.
They told us it would be an inspirational leadership event with outstanding speakers.
Bob Funk, CEO and Chairman of the Board of Express Employment Professionals, assured us that the speakers would be engaging. They would motivate us to want to grow as leaders.
Those words reminded me Robert Frost's definition of a teacher:
I am not a teacher, but an awakener.
Having had some time to think about the event, I can say, without reservation, the organizers delivered on every promise, and Bob Funk's prediction was accurate.
Context
Kitch and I attended the session at the McCann School of Business in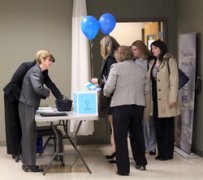 Wilkes-Barre, PA.
The facility was perfect for the event. The people from the school were very pleasant. The room where the event was held was an excellent choice for the session. The members of the Express Pros team were very friendly and willing to do whatever they could to make everyone feel right at home.
The moment we entered the room we felt the warm glow of the welcoming words and the beautiful smiles of Kathleen Nolan Barrett and Kathy Barrett.
Jeff Doran, the MC for the event, greeted everyone with a handshake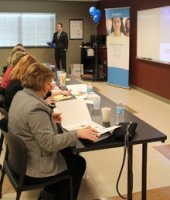 and a pleasant comment.
The attendees were thoughtful people who wanted to talk and share experiences. It quickly became obvious to everyone that there were no strangers in the room. Everyone felt the healing power of community and belonging.
For the next four hours we were united in our purpose. We wanted to learn by listening, watching and sharing.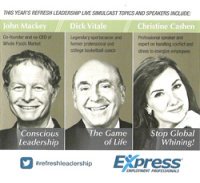 The presentations by John Mackey, Dick Vitale and Christine Cashen gave us a lot to talk about during the breaks. For a detailed assessment of the presentations, please check out our Commentary at this address:
http://faceofamericawps.com/commentaries-america-at-its-best/
The boxed lunches provided all the nourishment we needed to perform at our best.
In a very real way, we were a community of learners. The Refresh Leadership Live Simulcast gave us a great gift. It enabled us to become better leaders and better people, because it did what Max DePree said leaders do. It helped us define reality. It underscored the power of gratitude, and it reinforced the importance of being a servant leader.
A Genuine Leader
The Express Pros brand in Northeastern Pennsylvania is defined by Amy Clegg. Amy is perfect for this job. She is a woman of compassion who
cares about people who are hurting. She is a person who knows how to encourage people who are struggling. She enjoys helping others.
She is a successful leader because she follows Abraham Lincoln's advice:
If you would win a subordinate to your cause, first convince him that you are his sincere friend.
She knows that the essence of friendship is sharing, and she is grateful to have the opportunity to help people who want to work.
What Kitch and I admire most about Amy is best described by an adaptation of a famous quote about leadership.
A leader is best when people barely know she exists, when her work is done, her aim fulfilled, they will say: we did it ourselves.
Thank You, Amy for inviting us to attend the event.
Thank you, Jeff, Kathleen and Kathy for your welcoming way.
Thank you, Bob Funk for investing the time, energy and resources in this wonderful leadership event.
Thank you, John Mackey for teaching us the principles of Conscious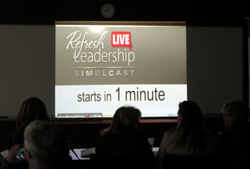 Leadership.
Thank you, Dick Vitale for your beautiful love story about leadership.
Thank you, Christine Cashen for giving us practical suggestions to end Global Whining.
The Refresh Leadership Live Simulcast provided an excellent opportunity to learn and grow. The organizers, the presenters and the people who came to participate formed a memorable portrait of the Face of America at its very best.
Please provide feedback to: tony.mussari@gmail.com