15 Things We Learned About the Power of Good from Dr. Stephen Post
Anthony J. Mussari, Sr.
Kitch Loftus Mussari
Producers
The Face of America Project
faceofamericawps.com
It is good to be good and science says so. Dr. Stephen Post
On June 9, 2016, Dr. Stephen Post will receive the Nonprofit Leadership Award from the Project Pay It Forward organization in New York City.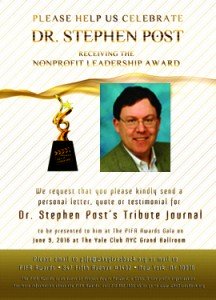 To celebrate Dr. Post's accomplishment, Kitch and I submitted this tribute for all that he has done to make our world a better place.
Dr. Stephen Post has spent a lifetime researching, studying, teaching and writing about the power of good. Dr. Post is a good and decent human being. When we hear his name, five words come to mind: Altruism, Compassion, Happiness, Hope and Love.
Dr. Post is the director of the Center for Medical Humanities, Compassionate Care and Bioethics. He is the president of the Institute for Research on Unlimited Love. More than anyone in our country, Dr. Post knows what the pursuit of happiness is all about.
Our Face of America Journey took us to the Stony Brook University Medical Center for an interview with Dr. Stephen Post, the author of Why Good Things Happen to Good People and The Hidden Gifts of Helping.
These are 15 things we learned about the power of good and the pursuit of happiness From Dr. Stephen Post.
1. Thinking about others, not just living for self, does make us happy.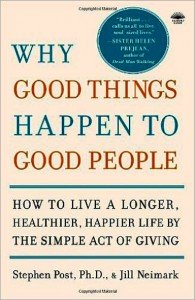 2. People who give generously, generally speaking, live happier, healthier and longer lives.
3. We Americans should always think of ourselves as teachers of caring for others.
4. When people do "unto others" in kindness, it lights up the primitive part of the brain that also lets us experience joy.
5. In the giving of self lies the discovery of a deeper self.
6. People have more today, but we are not happier.
7. To be happy, Americans must learn when enough is enough.
8. The key to happiness is contributing to the lives of others, a simplistic thoughtfulness and moral integrity.
9. We need to learn more about how we can nurture the best in America: courage, faith, gratitude, hope, joy, love, nobility of purpose and wonder.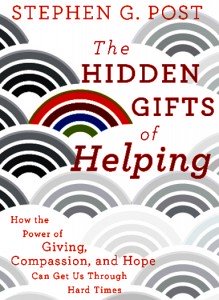 10. No matter how difficult life can be, never give up on the power of love. It is the one thing that can carry us through the difficult times.
11. Love people where you are, and do dig deep and meaningful roots.
12. Make it a practice to help one person every day.
13. The power of giving, compassion and hope can get us through hard times.
14. Helping someone who is hurting not only benefits those we assist, but it is good for us as well.
15. Love is not just a feeling to be hidden away in the heart and enjoyed privately. Love is something we show in everything we say and do; a witness to our families, our friends and the world. We must be on guard to prevent the love of power from overwhelming the power of love.
America is one of the few countries on the planet that guarantees its citizens the right to pursue happiness.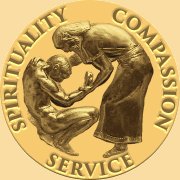 According to Dr. Post, give and you will be happy, give and you will be healthy, give and you will live longer, give and you will fulfill the promise of America. He believes that America is the land of the free and the home of the good.
To paraphrase the words of Cleveland Amory, now more than ever we need a new kind of army – the army of Dr. Stephen Post. He is a classic example of the Face of America at its very best.
Please provide feedback to:
tony.mussari@gmail.com