Thoughts About Hope That Will Lift Your Spirits
Written by Tony Mussari, Sr.
Edited by Kitch Loftus-Mussari
Copyright 2016
The Face of America Project
Mussari-Loftus Associates, LTD
We have to remain hopeful. Dr. Judith Gardner
What is Hope?
As we approach the end of this tumultuous year, we need messengers with messages of hope.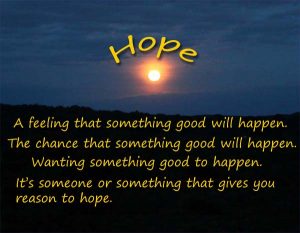 The authors of the Merriam-Webster dictionary tell us there are four aspects of hope:
It's a feeling of wanting something to happen and thinking that it could happen … a feeling that something good will happen or be true;
It's the chance that something good will happen;
It's someone or something that may be able to provide help … someone or something that gives you a reason for hoping.
This is our humble attempt to identify a few of the symbols and words of hope.
Symbols of Hope
The Peace Dove
Wednesday, July 13, was a very difficult day for Kitch and me. We traveled to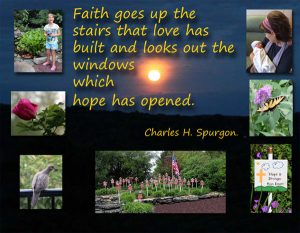 CMC in Scranton for my cardiac catheterization. The results of the test were not good. The cardiologist discovered two blocked arteries in my heart. To make matters worse, in order to fix them, they would have to go through the original graphs from my open heart surgery. The cardiologist told us it was too dangerous to do that. He would try to treat the blockages with medications.
After eight hours in the hospital, we made our way home. Shortly after we arrived, I noticed a beautiful peace dove perched on the railing outside the room where I work. The peace dove is universally recognized as a symbol of hope. The peace dove represents life, hope, renewal and peace.
The Chinese philosopher Lao Tzu wrote these insightful words about peace:
If there is to be peace in the world,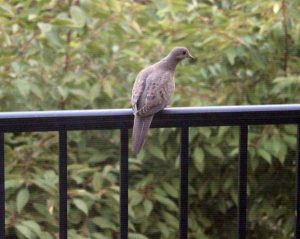 There must be peace in the nations.
If there is to be peace in the nations,
There must be peace in the cities.
If there is to be peace in the cities,
There must be peace between neighbors.
If there is to be peace between neighbors,
There must be peace in the home.
If there is to be peace in the home,
There must be peace in the heart.
The peace dove reminds us there can be no peace without hope.
The Monarch Butterfly
The Monarch butterfly is called the "Symbol of Hope." It also represents change, endurance and life.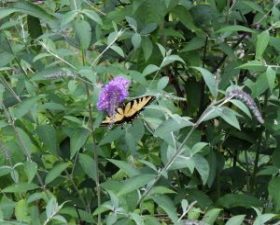 On Saturday, July 16, Kitch and I saw the first Monarch butterfly of the season. Ironically, it was fluttering around a recently planted butterfly bush in the Garden of Life. I was mesmerized by this scene.
The words of Maya Angelou and an Irish blessing came to mind:
We delight in the beauty of the butterfly, but rarely admit the changes it has gone through to achieve that beauty.
May the wings of the butterfly kiss the sun
And find your shoulder to light on,
To bring you luck, happiness and riches
Today, tomorrow and beyond.
There can be no luck, happiness and success without hope.
During the difficult moments of change, inconvenience and failure, hope provides a pathway to success.
The Innocence of a Child
On a beautiful August afternoon Kitch and I received a telephone call from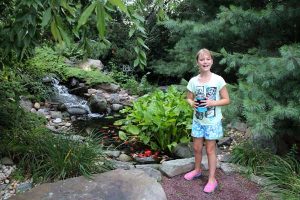 our neighbor Marge Janosik. Her granddaughter was visiting and she wanted to come to the garden to feed the fish. What a pleasant surprise. We obliged, and Rachel's visit turned out to be one the most memorable moments in the garden.
Rachel is full of life. She has a very pleasant disposition, and she is a good conversationalist. She fed the fish in the Angel Garden, and then she walked along the path to the Garden of Life. Her grandmother joined us, and we took some pictures.
Little did I realize when I snapped this shot of Rachel, the fish in the pond are symbols of hope in the Christian tradition.
Rachel is also a symbol of hope of what our future can be. Eric Hoffer said it another way:
Children are the keys of paradise.
Walt Disney amplified that thought:
Our heritage and ideals, our code and standards – the things we live by and teach our children – are preserved or diminished by how freely we exchange ideas and feelings.
The Beauty of a Rose
While walking in the garden in October, I saw the proverbial last rose of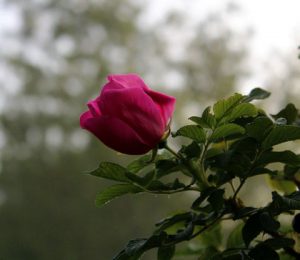 summer. You may be asking yourself how this applies to the symbolism for hope.
The answer is simple and direct.
According to Avia Venefica, in Tarot, the rose is considered a symbol of balance. The beauty of this flower expresses promise, hope, and new beginnings. It is contrasted by thorns symbolizing defense, loss, and thoughtlessness.
When I look at a rose, I am reminded of G. K. Chesterton's famous observation:
To love means loving the unlovable. To forgive means pardoning the unpardonable. Faith means believing the unbelievable. Hope means hoping when everything seems hopeless.
Another famous thought about hope comes to mind:
Live, then, and be happy, beloved children of my heart, and never forget, that until the day God will deign to reveal the future to man, all human wisdom is contained in these two words, Wait and Hope. Alexandre Dumas
A Classic Example of Hope
Shorty before the end of October, we received a very special gift form our dear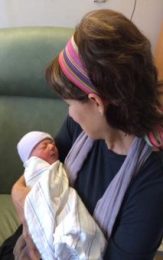 friend Denise Williams. It was a picture of Denise with her grandson Ryder. The picture lifted our spirits and gave us hope. It reminded me of something the author, psychologist and family counselor Eda J. LeShan wrote:
A new baby is like the beginning of all things wonder, hope a dream of possibilities.
It also reminded me of Cicero's famous five-word sentence:
While there's life, there's hope.
This incredible symbol of hope, a grandmother with her new born grandson in her arms, reaffirms this adaptation of the ancient Persian saying:
Children are the bridge to heaven, because they give us hope and happiness.
A Classic Comment about Hope
Some things leave a lasting impression on your mind and in your heart. They become the fibrous tissue that gets you through the most difficult experiences in life.
During one of our visits to the Flight 93 Memorial in Shanksville, we came upon one of those unforgettable images. It was a simple sketch drawn by a student on a ceramic tile. It had two puffy clouds, a golden cross and five priceless words: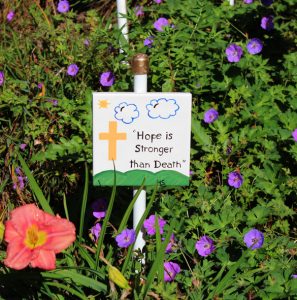 />
Hope is stronger than death.
These words came straight from a child's heart. They were designed to ease the pain of everyone who visited the temporary memorial to the heroes of Flight 93.
During the years that followed this discovery, this profound aphorism encouraged us during medical emergencies like cancer and heart disease, failures, disappointments and many other bumps on the road of life.
This saying gives testimony to healing power of hope.
A Final Thought
On Tuesday, November 8, Kitch and I stood in a long line at our polling place the Fellowship Church. For almost two years, Americans had been waiting for this day.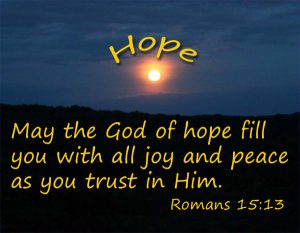 Although we had to wait in line for more than an hour, it was a very pleasant experience. We had conversations with neighbors, friends and former students.
On the way into the polling place, I saw a mural that captured my attention. It summarized hope in a very special way. It reminded me that whatever the outcome of the election, this was the perfect thought for this day and every day that followed:
May the God of hope fill you with all joy and peace as you trust in Him.
Saint Mother Teresa amplified this thought from Romans with her humble and insightful words:
If we have no peace, it is because we have forgotten that we belong to each other.
Let us all walk forward into the uncharted waters of the future with hope, love, respect and an understanding that we belong to each other.
God bless you for taking the time to read this article, and God bless America.
Please provide feedback to: tony.mussari@gmail.com