Starred Thoughts about Leadership, Ethics and Corporate Social Responsibility

Written by Tony Mussari
Edited by Kitch Loftus-Mussari
Copyright 2014 All rights reserved
The Face of America Project
Mussari-Loftus Associates, LTD
Somebody once said that in looking for people to hire, you look for three qualities: integrity, intelligence, and energy. And if you don't have the first, the other two will kill you. Warren Buffett
On a beautiful March day, our Face of America journey took us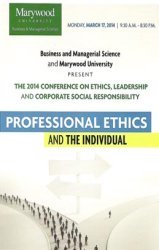 to Marywood University for the 12th Annual Conference on Ethics, Leadership and Corporate Social Responsibility. The theme of the conference was Professional Ethics and the Individual. The setting was pleasant. The participants were welcoming, and the presenters provided a cornucopia of beautiful thoughts about ethical behavior and responsibility.
The featured speakers included Edward K. Krause, Global Manager, External Alliance, Research and Advanced Engineering, Ford Motor Company, Atty. Mark L. Hefter, Vice President, American Technion Society, Dr. Sarah Kenehan, Assistant Professor of Philosophy, Marywood University and Dr. Rodica Milena Zaharia, Fulbright Scholar, Bucharest University of Economic Studies, Romania.
Dr. Uldarico Rex Dumdum, a man with a sharp mind, keen instincts and a joyful approach to life moderated the evening panel discussion.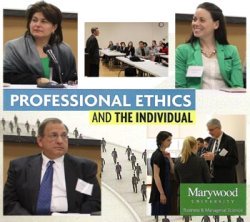 Marywood students told the story about the work of the University's Net Impact Club and the Fleming Ethics Bowl Team.
Dr. Frances Zauhar, Dean of Liberal Arts and Sciences and Dr. Arthur Comstock, Chairman of the Department of Managerial Science at Marywood, offered warm remarks of welcome. They made everyone feel right at home.
Dr. Murray Pyle chaired the committee that organized the conference, and he did a wonderful job as the MC for the event.
Starred Thoughts
These are some of the transformational thoughts offered by the conference speakers:
1. Virtue ethics is a way of living.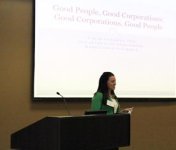 2. Good values contribute to good behavior.
3. There is no dichotomy between being a good person and being a success in business.
4. The rules of ethics do not get in the way of making a profit.
5. We must rethink what a corporation is. It's not just about maximizing profit. It's about servicing societal demands and the public good.
6. There is no one approach to doing the right thing.
7. There is no conflict between doing the right thing and being successful.
8. There is no difference between giving your word and signing a contract.
9. If you say you are going to do something, do it.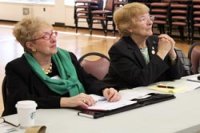 10. You should not quit every time you have two bad days in a row.
11. Determine your ethics before the crisis develops.
12. You are not your job.
13. You can't be honest without courage.
14. Courage is like muscle. The more you use it the more it develops.
15. You can be ethical and prosper.
Magic Moments
For Kitch and me, there were several magic moments during our 12-hour visit to Marywood. These are but a few:
Dr. Sarah Kenehan brought the concept of Virtue Ethics to life in an impressive and unforgettable way. If truth be told, she brought the teaching of the ancients to life, and she established a philosophical foundation for ethics, character and integrity that all students should be taught.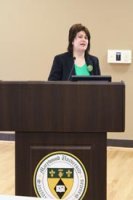 Listening to Dr. Rodica Zaharia talk about the difference between Romania under Communist rule and after the fall of Communism was interesting, inspiration and thought-provoking. Dr. Zaharia is a soft spoken person of great dignity and class. She has lived the story she told about Romania's yesterday and today.
Without breaking the rules of confidentiality, Mark Hefter shared an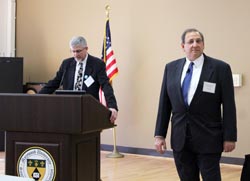 experience he had as a fundraiser with a major donor. It was a compelling story about a difficult decision he had to make even though his colleagues did not think it necessary. In so doing, he served everyone in the room by introducing the dilemmas professionals face in a real world.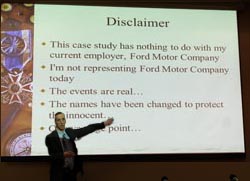 Edward Krause began his presentation with a very clear disclaimer that the story "has nothing to do with his present employer, the Ford Motor Company, and the names have been changed to protect the innocent." Then he walked us through a case study about a faulty product that presented a number of ethical and legal issues for both the company and its higher level managers including himself. In a thoughtful and effective way, he used the "FluidTech" case study to demonstrate the importance of making the right decisions for the right reasons. In this case, it meant his resignation from a position he enjoyed.
Kitch and I were impressed by the students we met at Marywood. The officers of the Net Impact Club were disciplined, thoughtful and respectful.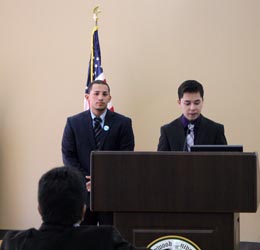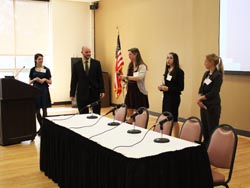 The members of the Fleming Ethics Bowl Team made a wonderful presentation. In a very professional way, they reached out for feedback to strengthen their case. They wanted to learn and grow. They asked good questions and they listened intently to people who offered suggestions. Their teachers and parents have every reason to be proud of their accomplishments.
During her opening remarks, Dr. Zauhar asked this question: "What does it mean to be a good person in business?" Thanks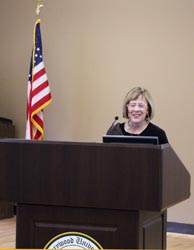 to the pioneering efforts of Dr. Gale Jaeger that question has become the foundation of the conference. For twelve years the administration, faculty and staff at Marywood University has made an honorable effort to answer that question in a way that will give students a competitive advantage in the workplace while guaranteeing them what Dr. Kenehan calls "a way of living, flourishing and being happy in the act of living well."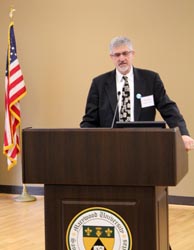 Those of us who have experienced the bumps on the road of life know only too well that sometimes it is difficult to be a good person and do the right thing, but it is the only way to live a life without regrets.
On a cold March day, Kitch and I went to Marywood University in Scranton, Pennsylvania, and there we found a mosaic of the Face of America on its best day. It is an image we will not soon forget.
Thank you, Gale Jaeger.
Thank you, Murray Pyle.
Thank you Rex, Ed, Mark, Sarah and Rodica.
Thank you Amy, Annette, Diane & Bill, Ellen, Jerry and Sister Mariam.
Thank you Marywood students, Net Impact, Prudential and One Point.
D. H. Lawrence said it best:
Ethics and equity and the principles of justice do not change with the calendar.
Kitch and I look forward to our reunion next year.
(Digital photographs by Kitch and Tony Mussari)
Please provide feedback to:
tony.mussari@gmail.com