Four Days of Honor and Valor in Gettysburg: A Gratitude Moment
Written by Tony Mussari, Sr.
Edited by Kitch Loftus-Mussari
Photographs by
Katie Hennessey and Bill Gaydos
What began fifteen months ago with an act of kindness came full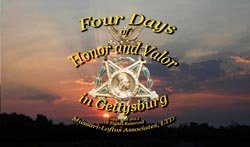 circle in the Gateway Theater in Gettysburg on a cold January evening. In what was designed as a gratitude celebration, Kitch and I had a once-in-a-lifetime opportunity to premiere Four Days of Honor and Valor in Gettysburg.
Robert J. Monahan, Jr., the chairman of the 2013 Medal of Honor Convention, and the person who made the production, the screening and the reception possible, served as Master of Ceremonies.
His comments celebrated all of the events associated with the Medal of Honor Convention. They reflected the light of his goodness, his kindness, his friendship and his heart of gold.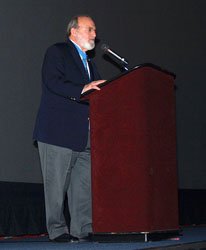 Medal of Honor recipient Brian Thacker offered warm and welcoming comments about the Medal of Honor, the values it represents and the heroes who earned it. He is the living legacy of everything the Medal of Honor symbolizes. When you are in his presence, you can feel the warmth of his caring heart.
After the opening remarks, the lights in the theater dimmed, the huge room went silent as guests from eight states and the District of Columbia were enveloped by the sights and sounds projected on the 56 foot screen that demanded the attention of everyone in the audience.
For Kitch and me, it was a beautiful moment of community and sharing. It was also a moment of anxiety and relief. The documentary had been the focus of our life for more than a year. Now, others would see it and determined if it touched their hearts and souls in the way it was intended.
These are a few excerpts from the notes we received after the event.
Last night hit me with a lot of emotion. Like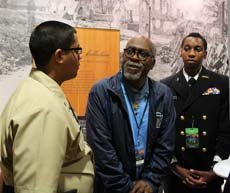 everyone of those Medal of Honor recipients talked about – just do the right thing. If you do the right thing, everything else will fall in place. Thankfully and hopefully I will never experience war and death like all of those men did. But the issues I have been facing over the past few years have been my own personal war.

Your show last night had bigger meaning and importance than me. But I felt like the only guy in that theater last night because it was something that I needed to hear.
No matter how old we get – we all need these reminders that 4 days of honor and valor portray. We all need to stay focused on just Loving – and doing the right thing.
How can one say a proper "Thank You" to people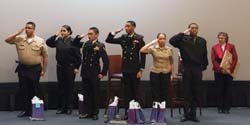 who have touched so many lives in such a positive and heartwarming way? Your exceptional love of and dedication to your family, your friends, your students, your newest "student family" additions, and especially your country cannot be denied. We in North Plainfield are blessed to have had the privilege of making your acquaintance and having received your friendship, your shared commitment to excellence, and your interest in and artistic inclusion of our students in your "Face of America" series.
Great nite last nite, Doc! Thank you so much for the framed photo! A picture is worth a thousand words and a lifetime of memories!
Your documentary was a masterpiece. The ROTC students experiencing the Medal of Honor Convention was extremely moving and touching. It was very enlightening and educational. I learned so much this weekend.
The theatre was a full house! Congratulations. You must be walking on air today.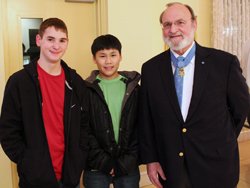 The reception was so warm and welcoming. My son and his friend were impressed to meet Brian Thacker. They asked very good questions and Mr. Thacker showed so much interest in talking to them.
Thank you and Kitch for allowing me to be part of your documentary and your life. I am told over and over by those who saw your piece how amazing it was and how important it is to share it with students. I hope that whatever the future holds, it includes this piece being part of the growth of our youth in America.
Thank you also for the gift you gave me. It is beautiful and a wonderful way to be reminded of the special opportunity you provided to me and to all of us who were involved.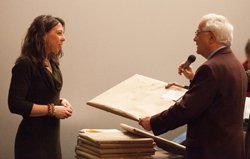 Truly awesome!
With a theater full – you could hear a pin drop.
Also with a theater full I'm sure that only you and Kitch
were the only ones who had a true idea of all the
hours & work put into the production.
It was a wonderful work of art that was truly enjoyed by all.
IT REALLY SHOULD BE SHOWN TO THE SCHOOLS as the majority
of the youth are not exposed to the humility, sincerity and dedication that you presented.
Wow! What an impact your film had on me and obviously the entire audience.
One word that would describe it is LOVE. As you said in the intro it is a love story.
It's been a long, challenging, demanding and emotionally exhausting journey from October 2012 to January 2014. On January 18, the film spoke for itself. In the end, what matters most for Kitch and me is the substance of the story and the impact it has on the people who see it. It's not about celebrity, fame, fortune or notoriety. It's about making people think. It's about giving people hope. It's about providing models and leadership that will enable people to embrace and practice the advice of Abraham Lincoln:
It often requires more courage to dare to do right than to fear to do wrong.
In everything we do and say, we try to honor our responsibilities as teachers. The guiding light of our teaching philosophy was best described by Janette Rankin:
You can take people as far as they want to go, not as far as you want them to go.

That quotation was prominently displayed in our classroom, and it is permanently engraved on our hearts.
Recently someone asked me to describe the theme that permeates Four Days of Honor and Valor in Gettysburg. My response was short and to the point. It's a love story about our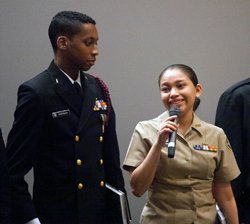 country and the values that speak to America and Americans at their very best.
To everyone who took the time and made the effort to help us when we were struggling, we say thank you.
A special note of thanks to the people who helped us with the organization, planning and staging of the premiere:
General Thomas Wilkerson, President & CEO Congressional Medal of Honor Foundation;
Stacey Fox, Vice President of Marketing Gettysburg Convention & Visitors Bureau;
Kristin Holland, Senior Director the Webster Group;
Carl Whitehill, Media Relations Director Gettysburg Convention and Visitors Bureau;
Ted Chamberlain, Confederation of Union Generals;
Hans Schreiber, Director of Sales and Marketing, Wyndham Gettysburg,
Lindsey Wherley, Convention Services Manager Wyndham Gettysburg,
Lyn Miller: Administrative Assistant to Robert Monahan,
Dan Spence and Courtney Schaeffer, The Gateway Theater:
Our friends at Marquis Art and Frame Shop;
Ellen & Jerry Mondlak, Mondlak Printery.
Michael Sackett, Let's Rock Carved Stone
To Robert J. Monahan, Jr., the words of Kevin Arnold apply:
Over the course of the average lifetime you meet a lot of people. Some of them stick with you through thick and thin. Some weave their way through your life and disappear forever. But once in a while someone comes along who earns a permanent place in your heart.
Thank you for making the dream become a reality.
Please provide feedback to:
tony.mussari@gmail.com