Thank You Geisinger-CMC

Written by Tony Mussari, Sr.
Edited by Kitch Loftus-Mussari
Copyright 2014
Mussari-Loftus Associates
The Face of America Project
Wherever the art of medicine is loved, there is also love of humanity. Hippocrates                  
Destination: Scranton, PA
On a beautiful June morning, Kitch and I took the short route to Geisinger-Community Medical Center in Scranton, PA.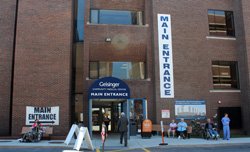 The purpose of the trip was medical. I would have a test that I have avoided and feared for more than twenty years. The consequence of our visit to the hospital was much more than we expected.
Located on Mulberry Street in the Hill section of Scranton, Hahnemann Hospital then CMC, as it was affectionately known to most patients for more than 100 years, opened its doors as a not-for-profit charitable hospital in 1897.  In 2012, it merged with Geisinger, one of the most trusted names in health care. The hospital is currently undergoing a $97.1 million expansion project.
This would be my first experience in the Geisinger system.
The Sky Is Not Falling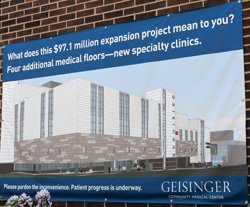 As with most patients who go to the hospital for tests or procedures, I was anxious and on edge. To be honest, I was worried and fearful about what the outcome might be. I think that's the way most people react when they are about to have a colonoscopy.  Adding to my fear was the fact that my father lost his battle with colon cancer.
Frank Herbert's words apply:
Fear is the mind killer.
Caring People Make a Difference
The first person we met after we parked our car was an older gentleman who was sprucing up the floor in the parking garage.  When we approached him to ask for directions, he stopped what he was doing, and he went out of his way to give us directions that would get us to the main entrance.
That's a no brainer some might say.
Not so, we respectfully reply.
Because of the extensive expansion project and our apprehensions, his help and politeness were greatly appreciated.
One of the ancients said it best:
No act of kindness, no matter how small, is ever wasted. Aesop
We quickly made our way to the information desk at the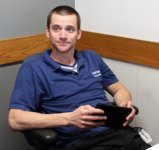 entrance to the hospital. There, we were greeted by a young man who spoke the most important words in the dictionary of customer service:
What can I do to help you?
His voice was pleasant, and his smile was welcoming. He put a human face on the hospital. For the first time I felt a sense of calm.
At the admissions office, we met another pleasant person who made us feel comfortable. Yes, she checked all of the data in her computer, but she did it in a thoughtful way, not a bureaucratic "just the facts," I don't have time for any small talk impersonal way.
Although she had provided the same service to hundreds of other patients, she did it in a way that made me feel comfortable about the uncertainty of this day.
Our Home Away from Home
When Kitch and I entered the GI Lab, we were taken by
the sights and sounds of disciplined professionals working together to help patients. Strange as it may seem, the atmosphere was joyful not frenetic. The doctors, nurses and technicians were warm and welcoming. Everyone we met tried to help us.
Renee Rojenches was the nurse assigned to my case. Calling upon more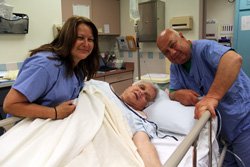 than two decades of experience, she knew exactly what to do and how to do it in a way that put the patients' needs first.  Renee is an impressive person who has mastered what are commonly referred to as "Soft Skills,'' the things relating to feelings and emotions: attitude, adaptability, body language, communication, personal habits, friendliness, and optimism.
The moment we met we had an instant connection. I honestly believed she cared about me, and she wanted to do everything in her power to make this a very successful experience. It enabled us to build a relationship that was best described many years ago by the woman who is most identified with the profession of nursing, Florence Nightingale:
Nursing is an art;
and if it is to be made an art,
it requires as exclusive a devotion,
as hard a preparation,
as any painter's or sculptor's work;
For what is the having to do with
dead canvas or cold marble,
compared with having to do with the
living body – the temple of God's spirit?
It is one of the Fine Arts;
I had almost said
the finest of the Fine Arts   
The Most Important Person in the Room
Based upon previous hospital experiences, I believe that one of the most important people in the room is the anesthesiologist.  Dr. Jamshid Khademi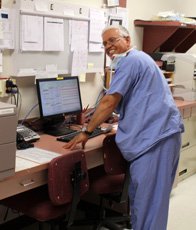 is a board certified anesthesiologist. That speaks volumes about his competence.
He is a person who is blessed with a million dollar smile and an engaging way. He is thoughtful and very down to earth.
Several times he came to my bedside to talk about the procedure and to get to know his patient. He explained the nature and type of anesthesia in a way that would impress the most gifted wordsmith. I understood what he said.
During our conversations, I got the impression that Dr. Khademi is a man blessed with the gifts of humility and kindness.  I felt secure in his care.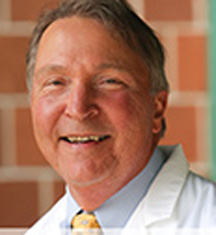 His colleague Dr. Charles T. Grad is the Director of the GI Lab. He is a gastroenterologist who would perform my procedure.  Dr. Grad took the time to walk me through the steps of the procedure, and he explained exactly what would happen. He was confident, but not arrogant. He was professional yet very personable. He was encouraging and very compassionate.  When our eyes met, I saw character, integrity and genuine concern.
Like Dr. Khademi, Dr. Grad made me feel much better about the situation. He personifies in word and deed what Emerson tried to teach us about success:
To know that one life has breathed easier because you have lived, that is to have succeeded.
Dr. Grad has helped thousands of people breathe easier because of way he practices medicine.
The Procedure
When I reached the room where the procedure would take place, I met another part of Dr. Grad's team.  His name is Gary, and he is a nurse anesthetist.  After I was hooked up to all of the monitors, Gary administered the drug that put me into a relaxing sleep. Throughout the procedure, he stood at the head of the bed monitoring the anesthesia.  Kitch told me that after the procedure he helped wake me up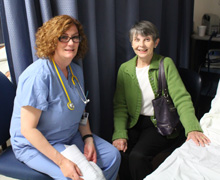 with gentle encouragement.
Once I was fully awake, I was told about the success of the procedure. No cancer and only one suspicious polyp.
Hallelujah!
A wonderful nurse, Debbie Gattens, helped me make the transition from the GI Lab to life as Kitch and I know it.  She is a seasoned professional with a sensitive heart. The good news of this day and the profound gratitude I felt caused me to hug Debbie at least twice before I left the lab.
Going Home
Before an impressive young man named Tony Sandy accompanied me to the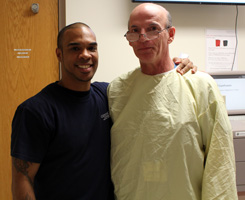 first floor of the hospital, he introduced me to his dad with infectious enthusiasm and pride. Tony works in the transportation department, his father works in the GI Lab. Tony dreams of one day becoming a massage therapist. He wants to start his own business.
I wanted to learn more about Tony's dream. It's the teacher in me.
While we walked to the entrance of the hospital, we talked like two teenagers who were sharing their dreams.
Then it happened. Out of nowhere a voice called out, "Is that you Dr. Mussari?"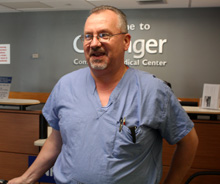 I couldn't believe what I was hearing. A smiling faced that I did not recognize and a voice that I could not remember told me he had taken four of my courses in college. Then he identified himself, Ray Moran class of '83.
What an incredible moment of unexpected celebration and joy.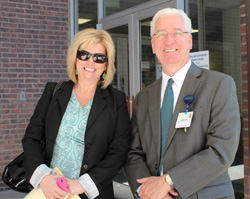 I was about to join Kitch as she made her way out the front door when I met a distinguished man who looked like a hospital administrator. It was my good fortune to meet Dr. Robert Joyce, OPS Director, Cardiology. We had a brief conversation about my desire to write something about my experiences at the hospital.
While we were talking, Wendy Wilson, Media Team Director for the Geisinger Health System, joined us. She assured me that she would help in any way she could. She kept her promise. She provided all of the information I requested.
The Larger Picture
While Kitch drove home, and I ate the peanut butter sandwiches she made for this part of our journey, the effects of the procedure began to diminish, and I began to see the larger picture.
The people I met in the hospital, the way they worked together helping and supporting patients and each other, the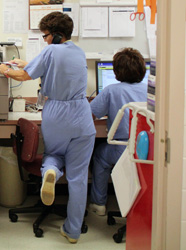 genuine atmosphere of community in the GI Lab, the values of caring, compassion, character, competence, cooperation, empathy, gratitude, kindness and service are central to America at its best. That's what made this experience so special. That's what I will remember about the procedure.
Yes, I came to Geisinger-Community Medical Center for a colonoscopy, but while I was there I saw a mosaic of the Face of America on its best day.  I placed my fate in the heads and hearts of quiet heroes, and they delivered.
Someone once wrote:
The meaning of life is to find your gift.
The purpose of life is to give it away.
Kitch and I came to Geisinger-CMC filled with anxiety, apprehension and fear. We left the hospital with priceless gifts that reflect the radiant light of the Face of America at its very best.
Thank you Geisinger-Community Medical Center for all that you have done and will do to maintain "the finest of the fine art" in medicine…the human connection.
Please provide feedback to: