Gettysburg Gifts, Part 4, Bonnie & Frank Orlando

Written by Kitch & Tony Mussari
Edited by Kitch Loftus-Mussari
Photographs by: Tony & kitch Mussari
Copyright 2013, Face of America Mussari-Loftus Associates, LTD
What a cruel thing war is to fill our hearts with hatred instead of love for our neighbors. General Robert E. Lee
The Civil War arrived at the door of Gettysburg on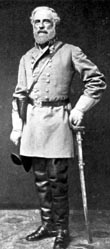 July 1, 1863, when General Robert E. Lee led his Army of Northern Virginia into town and set up camp.
Three days later he was forced to retreat, leaving a large contingent, thirty percent, of his soldiers either dead, dying, seriously injured or captured.
Lee is not an historical figure we talk about much in the North. That is unfortunate. If, however, you are walking the streets of Gettysburg during the 150th anniversary of the battle or attending a function in town, he may become the focus of your attention.
A double-take is in order when you see him and his wife, Ann Custis Lee, walking about and nodding to all they see.  Lee's uniform is just like the one we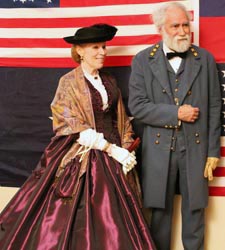 have seen in historical photographs. Mrs. Lee wears a dress similar to the ones we remember from "Gone With The Wind:" six layers of clothing covered by a magnificent silk moire dress, ear bobs, hair caught up in a net topped by an elegant hat carrying a parasol or a cane.
The famous general and his wife are the creation of Frank and Bonnie Orlando who came to Gettysburg when the retired from their careers in education. They are called upon to perform in many venues, and they are exceptional at what they do. They are living breathing experts on the Lees.  They have read extensively-not only the books written but journals, letters, and family histories. This research brings a depth of knowledge and understanding to their performance.
The ten students in our documentary and everyone in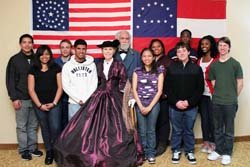 our production crew can give testimony to the many important lessons they teach when given the opportunity to recount the wit, wisdom and insight of the General and his lady.
There is another side to the Orlandos that Kitch and I were privileged to see. They are wonderful people with caring hearts and willingness to help others. From the moment our eyes met, we became fast friends. We recognized their talent, expertise and noble purpose. They believed in our work, and the enormous obstacles we faced in realizing our dream to produce Walking Into The Light At Gettysburg.
During the past nine months we have rendezvoused several times with Bonnie and Frank for coffee, for dinner, for dessert. They opened many doors for us. They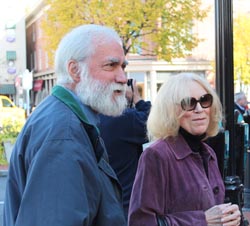 encouraged us and they helped us navigate the bumps in the road during our journey to the screening and the banquet.
Every encounter was joyful and pleasant. Every one of the 185 e-mails we exchanged contained kind words of affirmation.
Every memory we have of Bonnie and Frank is positive. The last sentence in the note Frank sent to us the night after the screening and banquet says everything one needs to know about why Bonnie and Frank Orlando are Gettysburg Gifts to Kitch and me and two radiant Faces of America on its best day for everyone who visits Gettysburg:
"God speed, thank you for your gifts, and never forget that you possess one of the greatest gifts God ever bestowed upon mankind – true friends in Gettysburg, PA."
Thank You Bonnie and Frank for helping us make our dream become a reality.
Thank you for giving your time, effort and energy to teach young people like the students from North Plainfield what really matters in life.
Thank you for the priceless gift of friendship.
Please provide feedback to:
tony.mussari@gmail.com