The Illumined Gifts of a Teacher
Written by: Thomas A. Mazur, Supervisor: Fine, Practical & Performing Arts, North Plainfield School District, North Plainfield, New Jersey
Photographs by: Bill Gaydos & Kitch Loftus-Mussari
Copyright 2013 Face of America, Mussari-Loftus Associates, LTD
A celebration followed the premier of Tony Mussari's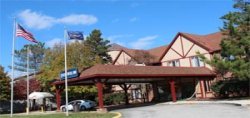 documentary "Walking Into the Light at
Gettysburg" (1/19/13). It was held at the Eisenhower Hotel and Convention Center just outside Gettysburg.
It was an appropriate and characteristic occasion to augment Mussari's artful film, which elicited a
rousing standing ovation at its emotional conclusion in the Lenfest Theater at the Gettysburg National Military Park.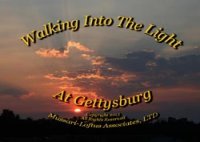 "Walking Into the Light at Gettysburg" was such an uplifting experience, the opportunity to sit, break
bread and chat afterwards was a pleasantry, only to be surpassed by demonstrations of the values that
were offered in the film.
A highlight of the banquet was the address by Dr. Stephen Post, Director of the Center for Medical
Humanities, Compassionate Care and Bioethics at Stony Brook University, New York.
Dr. Post is a man of many honors, awards and innovations. His address centered on the scientific evidence of the value of doing good, and its benefits to one's health and well-being. At the conclusion of his talk, Dr. Post did not hide his best-selling book "The Hidden Gifts of Helping," rather he gave it to everyone to take home as a gift.
Another rare and special highlight came when the Mayor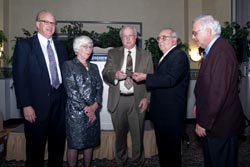 of Gettysburg, William Troxell presented the key to his city to North Plainfield, New Jersey. The key was accepted by North Plainfield Board of Education Vice President, David Branan, Board member Thomas Kasper and North Plainfield Councilwoman, Mary Forbes.
The celebration concluded with a demonstration of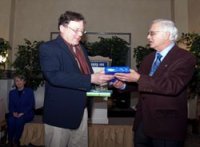 of kindness as Tony and his wife, Kitch presented a
thoughtful gift to everyone who participated in the special occasion. It was characteristic of them to
"walk the walk" and not just "talk the talk."
The old professor paced a larger than usual classroom,
modeling the values he seeks in others, accenting the positive with passion and humility, giving illumined gifts to those who love and support his leadership.
Dwight D. Eisenhower would have approved.