A Gratitude Moment in Gettysburg, Pt 2

Written by Tony Mussari, Sr.
Edited by Kitch Loftus-Mussari
Photographs by Kitch Loftus-Mussari, Katie Hennessey & Bill Gaydos
We can only be said to be alive in those moments when our hearts are conscious of our treasures. Thornton Wilder
As most of the people who read our blog know, the work we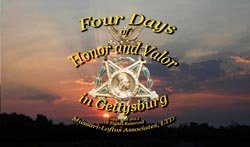 have done in Gettysburg is central to our Face of America project. During this time of digital disconnection, economic dislocation and unsettling news about school shootings and crimes of passion that make all of us wonder about our future, we have decided to continue our search for examples of America at its best. We need them more today than when we started our journey in 2010.
That's why we produced Walking Into the Light at Gettysburg and its sequel Four Days of Honor and Valor in Gettysburg. Gettysburg is where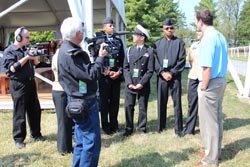 America's past and future meet. So much of the Gettysburg story is symbolic of America at its best. Having an opportunity to tell the story of the Medal of Honor in its Gettysburg setting was something Kitch and I wanted to do, and we were willing to make the sacrifices that were necessary to do it.
Although it is almost two weeks since the premiere of our documentary Four Days of Honor and Valor in Gettysburg, we continue to receive handwritten notes and e-mail messages about the documentary and the event.
These are a few of the priceless comments we received this week.
The atmosphere in the theater was of deep reverence and respect. I was in awe of what the two young gentlemen in the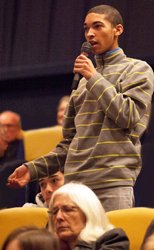 audience had to say about the film- that it gave them hope and should be shown in classrooms. They summed it up so eloquently and from their hearts.
I love what the ROTC student said about the medal recipients never speaking about themselves only others.
I am still uplifted by the whole experience.
The content of the film delivers a very powerful message for those that should choose to receive it, and that in and of itself is the biggest challenge I believe we face as parents in this world today. Getting the right messages through and deflecting the wrong is a challenging task.
The aspect of the documentary that I loved most was defining "character." I know that it is often overlooked in our society these days, but I can assure that I speak of it everyday to my first grade students. I define it a bit differently, but I tell them, "Character is how you act when you THINK no one is watching you."
It can often be upsetting when it seems like most of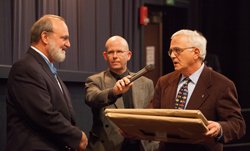 the people these days want to take instead of give. The film restored faith in humanity and reached out to the next generation of students showing them a path that is difficult to travel but a destination that is attainable, thanks to caring, encouraging, and faithful people like you and your wife.
I cannot thank you enough for all the memories you have helped make during our time spent with you and Kitch at Gettysburg. The entire experience has truly been life changing and I am grateful for the fact that I got the chance to go. Again, thank you so much for allowing us six cadets to partake in this life changing experience. We hope to see you again.
For the first time in my life, I can say I became oddly absorbed and as I viewed this screening I felt an almost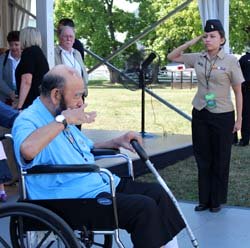 out of body experience. I say this more because my attention became focused not so much on the subject matter, but I sat and became so absorbed in this true labor of perfected love, for a project that you both invested so, so many tireless hours getting every minor detail perfected. I was mesmerized by every bit of attention to detail throughout the entire documentary.
Thank YOU for everything you did. It was a wonderful event and its impact it had on everyone will surely not be forgotten.
Thank you for your kind note and beautiful picture! I have it displayed at home as a reminder to be thankful!!
I am very happy that I was able to make it to the showing of your documentary and I look forward to seeing more of your work.
What a beautiful way to focus some well deserved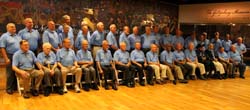 attention on the recipients of the Medal of Honor. The film encompassed a valuable learning experience for those young ROTC Cadets. Keep up the good fight for our country, our veterans and the young students in North Plainfield.
God bless you both.
Thank you so much for the premiere. The special thanks and everything you do. It was really cool to see your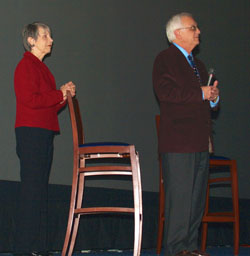 passion on the big screen. I hope it does well and lots of people get to enjoy it as we did. Thank you and Kitch for the gift that you did not have to get me. Seeing how passionate the two of you are is gift enough.
Take care my friend and God Bless
These notes lift our spirits and give us hope. They remind us of a beautiful moment of sharing made possible by the CEO & President of the 2013 Medal of Honor Convention Robert J. Monahan, Jr. This article and the ones that precede it are offered as an expression of gratitude to Bob for his belief in our work and his determination to help us tell this story.
What Kitch and I are feeling was best expressed by Ralph Waldo Emerson:
The purpose of life is not to be happy. It is to be useful, to be honorable, to be compassionate, to have it make some difference that you have lived and lived well.
To everyone who stayed in touch with us when we needed encouragement, to everyone who took the time to share their thoughts about the documentary, and to everyone who helped us do this work, we say thank you. You kind words and deeds give us the energy and the purpose to keep on keeping on, and we are in your debt.
Please provide feedback to: