Gettysburg Gifts: Part 3, Tim Johnson

Written by Tony Mussari
Edited by Kitch Loftus-Mussari
Photographs by Kitch Loftus-Mussari & Tony Mussari
Copyright 2013, Face of America, Mussari-Loftus Associates, LTD
There is incredible value in being of service to others. Elizabeth Berg
Every now and then you meet someone who makes an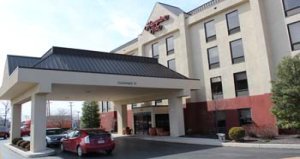 indelible impression on your heart and soul.  That's exactly what happened the day I met Tim Johnson, the manager of the Hampton Inn in Gettysburg, Pennsylvania.
Tim is a quiet man, an unassuming man, a caring man, and a competent man. He has the perfect personality and temperament for the position he holds.
Tim Johnson is all about quality service for everyone who stays at the Hampton Inn.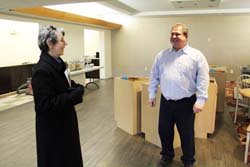 How does he do it? He gives each guest more than they expect when they enter the door.  He puts a face behind the brand so they have a personal connection.  He trains his people in the art of customer service. He attends to the little things that people in a hurry often forget.
He is pleasant to his customers, because he believes they are entitled to a pleasant experience.
I have never had a conversation with Tim that has not included this question from him, "How can I help you?"
Everything about Tim speaks to his willingness to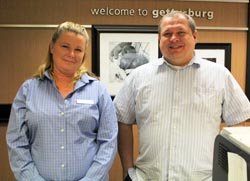 help people. It is not a formula or a strategy; it is a valued principle and a way of life.
During our visit in April 2012, he helped us convert a suite on the first floor into a classroom. We had our meetings there and we constructed a set in that room where living historians could perform and we could videotape their performance.
During our recent visit, the challenge was greater. The lobby of the Hampton Inn was being renovated. Signs of construction and repair were everywhere when we visited one week before our screening. Tim assured us, it would be presentable and functional on January 19, for our guests.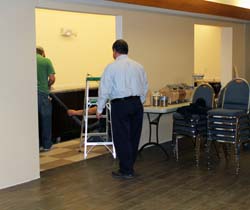 Arriving early to attend to many last minute details, Kitch and I observed Tim supervising the construction crew. He placed two large signs in the entrance; one apologized for any inconvenience the renovation would cause guests, the other welcomed our group from North Plainfield, New Jersey, our friends, family, former students and their parents.
He stayed until 10 p.m. one night to oversee the arrangement of furniture for the meet-and-greet event we had planned for the members of our group. He saw to it that everything was in place for the complimentary breakfast the next morning.
Then he took the extra step, he and his teenage daughter Cassandra attended both the screening and the banquet.
In my opinion, Tim Johnson is a genuine Face of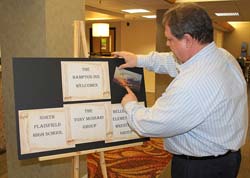 America on its best day. He is a living breathing example of customer service at its best, and he is one of the genuine gifts of Gettysburg that made our screening a success. He and his wonderful staff make every visit to Gettysburg an enjoyable experience.
Would that everyone would attend Tim Johnson's school of customer service. What a wonderful world it would be.
Thank You Tim
Thank You Ann
Thank You Mary
Thank You John
Please provide feedback to:
tony.mussari@gmail.com