Happy Birthday America, 2015
Written by Tony Mussari
Edited by Kitch Loftus-Mussari
Copyright 2015, Mussari-Loftus Associates, LTD
The Face of America Project
faceofamericawps.com
All Rights Reserved
America! America!
May God thy gold refine
Till all success be nobleness                  
And every gain divine! Katharine Lee Bates
America is great because she is good. If America ceases to be good, America will cease to be great.  Alexis de Tocqueville
America Defined
More than a century has passed since Katharine Lee Bates wrote the first version of the poem that eventually became the lyric for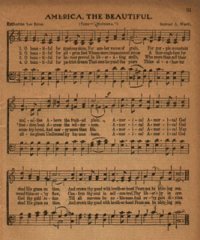 America the Beautiful. According to those who have studied this icon of America music, the final expanded version was written in 1913.
Samuel A. Ward provided the melody for this American anthem.
This musical masterpiece defines our country in 290 words and 8 verses.
In anticipation of our national birthday, I decided to acquire a copy of the lyrics so I could read them, think about what they mean, and compare them with definitions written by men and women who cared deeply about the essence of America, hope and opportunity.
This is a summary of the messages contained in Bates's masterpiece and interpretations of the powerful words she used to describe America at its best.
Brotherhood
America! America!
God shed his grace on thee
And crown thy good with brotherhood  
From sea to shining sea!
Dr. Martin Luther King, Jr. summarized this part of the American credo with these words: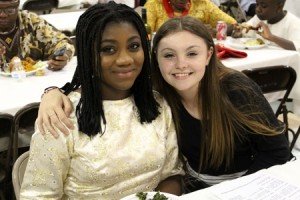 We must live together as brothers or perish together as fools.
We have flown the air like birds and swum the sea like fishes, but have yet to learn the simple act of walking the earth like brothers.
All my adult life I have deplored violence and war as instruments for achieving solutions to mankind's problems. I am firmly committed to the creative power of nonviolence as the force which is capable of winning lasting and meaningful brotherhood and peace
Self-Control
America! America!
God mend thine every flaw,
Confirm thy soul in self-control,        
Thy liberty in law!
Eleanor Roosevelt gave us a priceless aphorism about self control: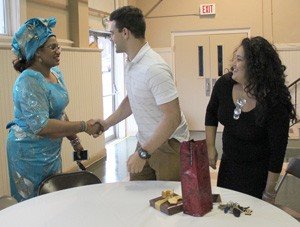 To handle yourself, use your head; to handle others, use your heart.
In her diary, Anais Nin gave a wonderful insight into the power of self-control:
The knowledge that we are responsible for our actions and attitudes does not need to be discouraging, because it also means that we are free to change this destiny. One is not in bondage to the past, which has shaped our feelings, to race, inheritance, background. All this can be altered if we have the courage to examine how it formed us. We can alter the chemistry provided we have the courage to dissect the elements.

Love of Country and More than Self
O beautiful for heroes proved
In liberating strife.
Who more than self their country loved
And mercy more than life!
Two men from Illinois penned words that give meaning to this insight into heroism: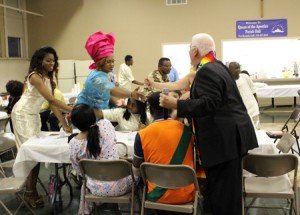 We are not enemies, but friends. We must not be enemies. Though passion may have strained, it must not break our bonds of affection. The mystic chords of memory, stre[t]ching from every battle-field, and patriot grave, to every living heart and hearthstone, all over this broad land, will yet swell the chorus of the Union, when again touched, as surely they will be, by the better angels of our nature. Abraham Lincoln
When an American says that he loves his country, he means not only that he loves the New England hills, the prairies glistening in the sun, the wide and rising plains, the great mountains, and the sea. He means that he loves an inner air, an inner light in which freedom lives and in which a man can draw the breath of self-respect. Adlai Stevenson
Success with Nobleness
America! America!
May God thy gold refine
Till all success be nobleness                 
And every gain divine!
Benjamin Franklin used 13 words to define nobleness: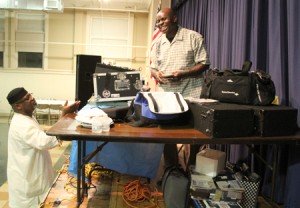 To be humble to superiors is duty, to equals courtesy, to inferiors nobleness.
Harriet Beecher Stowe told us about the duty we owe our friends:
I am speaking now of the highest duty we owe our friends, the noblest, the most sacred – that of keeping their own nobleness, goodness, pure and incorrupt. If we let our friend become cold and selfish and exacting without a remonstrance, we are no true lover, no true friend.

Perseverance
O beautiful for patriot dream
That sees beyond the years
Thine alabaster cities gleam
Undimmed by human tears!
President John Quincy Adams best described the magic of perseverance: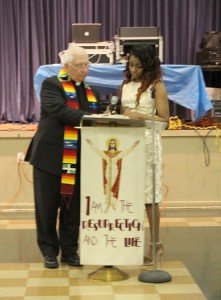 Courage and perseverance have a magical talisman, before which difficulties disappear and obstacles vanish into air.
President Calvin Coolidge helps us understand the uniqueness of perseverance:
Nothing in the world can take the place of persistence. Talent will not; nothing is more common than unsuccessful men with talent. Genius will not; unrewarded genius is almost a proverb. Education will not; the world is full of educated derelicts. Persistence and determination alone are omnipotent. The slogan Press On! has solved and always will solve the problems of the human race.
Harriet Beecher Stowe gave us a very practical insight into perseverance:
When you get into a tight place, and everything goes against you till it seems as if you couldn't hold on a minute longer, never give up then, for that's just the place and time that the tide'll turn.
Fairness
America! America!
God shed his grace on thee
Till souls wax fair as earth and air   
And music-hearted sea!
A brilliant American writer and author of Little House on the Prairie, a popular American President and two Justices of the Supreme Court provide us with personal and poignant definitions of fairness:
Persons appear to us according to the light we throw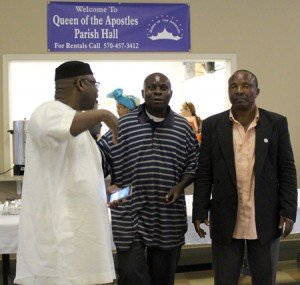 upon them from our own minds. Laura Ingalls Wilder
Though force can protect in emergency, only justice, fairness, consideration and cooperation can finally lead men to the dawn of eternal peace.  President Dwight Eisenhower
Fairness is what justice really is. Justice Potter Stewart
Today's Constitution is a realistic document of freedom only because of several corrective amendments. Those amendments speak to a sense of decency and fairness that I and other Blacks cherish. Justice Thurgood Marshall
Avoid Selfish Gain
The 26th President of the United States said just about everything that needs to be said about avoiding selfish gain
Here is your country. Cherish these natural wonders, cherish the natural resources, cherish the history and romance as a sacred heritage, for your children and your children's children. Do not let selfish men or greedy interests skin your country of its beauty, its riches or its romance. Theodore Roosevelt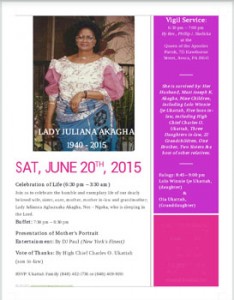 The pictures in this article were taken at a Celebration of Life Ceremony hosted by our friends,Charles and Winnie Ukattah. Charles and Winnie and many of their family members immigrated from Nigeria in the 1990's. They came to America in search of hope and opportunity. They have worked hard and long hours to achieve success in their adopted home for themselves and their children.
This celebration of life in honor of Winnie's mother was held shortly after the horrifying events in Charleston at the Mother Emanuel AME Church.
For Kitch and me, the celebration of life in Charleston and Avoca personified everything that America is on its best day, and it gives truth to the messages in America the Beautiful.  With God's help we can mend our every flaw, because hope is stronger than death, and hate is no match for the amazing grace of forgiveness.
Happy Birthday America.
Please provide feedback to:
tony.mussari@gmail.com