Forewarned Is Forearmed…Nothing Is Sacred in Cyberspace

Written by Tony Mussari, Sr.
Edited by Kitch Loftus-Mussari
Photographs by Tony Mussari, Sr.
Copyright 2015
Mussari-Loftus Associates
The Face of America Project
The essence of community, its heart and soul, is the non-monetary exchange of value; things we do and share because we care for others, and for the good of the place. Dee Hock
On a beautiful May morning, I drove to the Lakeside Skillet

Restaurant. It is one my favorite places in the Back Mountain. The setting is pleasant, the food is delicious, and the people who work there are always welcoming.
The occasion for the trip was the monthly Irregulars Think Tank Breakfast. Started in 2010 by Cholly Hayes, a successful entrepreneur and long-time employee at WBRE TV, the Irregulars Think Tank is comprised of men and women who want to engage with one another in a cultural, social and friendly way.
Hayes invites presenters who have experience, expertise and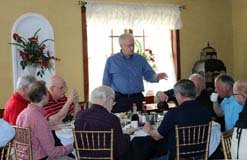 knowledge they are willing to share. He creates a relaxed environment, and he encourages everyone in the group to ask thoughtful questions. His goal is simple. He wants to enable the presenter to share information that will inform, inspire and provide solutions to common and complex issues everyone faces at home, on the job and in everyday engagements with others.
On this Saturday morning, the topic for discussion was Cyber Fraud: Nothing Is Sacred Anymore.
In 2014, former Attorney General Eric Holder issued this ominous warning:
Cybercrime is one of the greatest threats facing our country, and has enormous implications for our national security, economic prosperity, and public safety.
Holder made cybercrime one of the Department of Justice's top priorities.
Interpol reinforced Holder's concern when it issued this statement:
Cybercrime is a fast-growing area of crime. More and more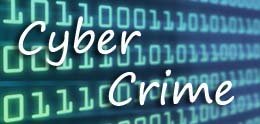 criminals are exploiting the speed, convenience and anonymity of the Internet to commit a diverse range of criminal activities that know no borders, either physical or virtual.
Criminal organizations are turning increasingly to the Internet to facilitate their activities and maximize their profit in the shortest time. The crimes themselves are not necessarily new – such as theft, fraud, illegal gambling, sale of fake medicines – but they are evolving in line with the opportunities presented online and therefore becoming more widespread and damaging.
Riley Walters, a research assistant at the Heritage Foundation, published this alarming report. A recent survey by the Ponemon Institute showed the average cost of cyber crime for U.S. retail stores more than doubled from 2013 to an annual average of $8.6 million per company. In 2014, the annual average cost per company of successful cyber attacks increased to $20.8 million in financial services, $14.5 million in the technology sector, and $12.7 million in communications industries.
No one appreciates the far-reaching implications of this serious threat more than Jim Zardecki.

Jim is Senior Vice President and Director of Security/Facilities at Customers Bank. He also owns and operates Zardecki Associates. When it comes to loss prevention investigations and physical security in the public and private sector, Jim Zardecki is in a class all by himself.
Jim is a big man with a keen intellect, a wonderful heart and a great sense of humor. He is a very good man who cares about his community, and the clients he serves. He has personal knowledge of his topic. His credit card was compromised last week.
In fact before Jim began his presentation, one of the people sitting at our table told us his PayPal account had been compromised. The person sitting next to me had his private information compromised in the Anthem Blue Cross hack.
To help people better understand the magnitude of the problem, Jim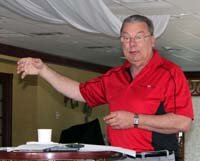 reviewed a short list of some of the most widely publicized cyber attacks:
Target – 70 million customers' contact information and 40 million customers' credit cards and debit card information was stolen;
eBay – 145 million cards compromised;
JPMorgan/Chase – contact information for 76 million households and 7 million small businesses was compromised;
Home Depot – 56 million cards and 53 million customer e-mail addresses compromised;
Michaels – 2.5 million cards compromised;
He provided everyone in the room with a four page glossary of 30 cyber-related terms and a three page handout containing tips to prevent identity theft.
These are a few of the maxims about cyberfraud Jim shared with the audience: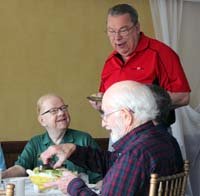 1. Nothing is safe in cyberspace;
2. What is happening now is forever;
3. There are steps one can take to protect sensitive information.
Some of those steps include:
1. Avoid giving personal information to anyone;
2. Carefully check bank statements and credit card statements every month;
3. If you are using a smartphone or other digital devices, make your thumbprint your password;
4. Be very careful when using an ATM machine after bank hours. It is a favorite target of cybercriminals;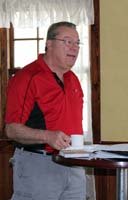 5. If you use on-line banking, carefully check your statements;
6. In restaurants, hand-held scanners are very vulnerable;
7. Gas pumps are another preferred target of cybercriminals.
According to Jim, cyberfraud is here to stay, and all of us must be vigilant.
These are the suggestions Jim made to prevent identity theft:
1. Don't carry your Social Security card in your wallet or write it on checks;
2. Protect your PIN. Never write it on your credit card or on a piece of paper kept in your wallet;
3. Be on the lookout for "shoulder surfers." Use your free hand to shield the keypad when using pay phones and ATM's;
4. Collect mail promptly;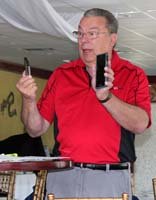 5. Pay attention to your billing cycles;
6. Keep your receipts;
7. Tear up or shred unwanted receipts, credit offers and account statements;
8. Store personal information in a safe place;
9. Don't respond to unsolicited requests;
10. Install firewalls and virus-detection software on your home computer;
11. Check your credit report once a year.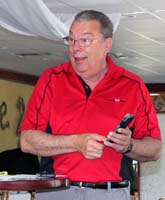 Jim Zardecki is not a crepe-hanger. He is a problem solver.
Yes, the cyber crime problem is very serious, but there are ways to reduce its impact. Again and again he emphasized personal diligence and sophisticated investigative techniques that identify cyber criminals.
Yes, millions of accounts have been compromised, but in most situations "only 3-4 percent of the cards are used by the crooks."
During her tenure as Secretary of Homeland Security, Janet Napolitano asked the American people for cooperation, patience and a commitment to vigilance in the face of a determined enemy.
Wendell Phillips reminded us that eternal vigilance is the price of liberty.
Jim Zardecki gave those of us who attended his presentation much the same advice.
As I was leaving the Lakeside Skillet Restaurant, the words of William Reich provided a perfect description of this meeting of the Irregulars Think Tank:
We live in a community of people not so that we can suppress and dominate each other or make each other miserable but so that we can better and more reliably satisfy all life's healthy needs. William Reich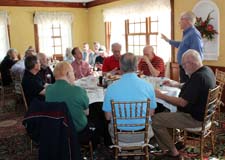 The members of the Irregulars will come together again next month to satisfy life's healthy needs.
Thank you, Cholly Hayes for facilitating this wonderful community group.
Thank You, Bobby Zampetti for the invitation.
Thank you, Jim Zardecki for an interesting and thought-provoking presentation.
Please provide feedback to: tony.mussari@gmail.com