Dr. Marilyn Birnbaum: A Great Leader, A Quiet Hero and An Inspiration with Dignity and Class
Written by Tony Mussari, Sr.
Edited by Kitch Loftus-Mussari
Photographs Kitch Loftus-Mussari,
Tony Mussari, Sr. & Eugene Flood
Copyright 2014
The Face of America Project
Mussari-Loftus Associates, LTD
A great leader takes people where they don't necessarily want to go, but ought to be. Rosalynn Carter
I had the good fortune to meet Superentedent of Schools Dr.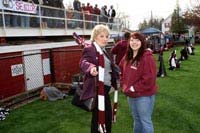 Marilyn Birnbaum on Thanksgiving Day at a high school football game in 2009. We were blessed with an instant connection.
I was taken by her welcoming way and her enthusiastic support for personal growth through hard work in the classroom.
She appreciated our non-commercial approach to documentary filmmaking. She understood our effort to provide challenging and interesting educational experiences for students. She liked our idea to help students make memories that would enable them to find the best edition of themselves.

From that day to this, Dr. Birnbaum has done everything she could to facilitate our search for the Face of America on its best day in North Plainfield, New Jersey.
In a very real way, her leadership style and educational philosophy encompass the key attributes of "Servant Leadership." That is one of the concepts we wanted to share with her students while we were producing documentaries in two Pennsylvania towns that personify honor and valor, Gettysburg and Shanksville.
Dr. Marilyn Birnbaum is the consummate professional.
She knows her strengths and her weaknesses.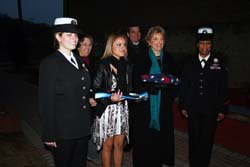 She believes that good teachers are awakeners.
She likes to be with people, and she knows that little things like answering messages in a timely fashion mean a lot. In this respect, she honors the advice of Arthur Conan Doyle and the caution of L.M. Montgomery:
It has long been an axiom of mine that the little things are infinitely the most important.
It's dreadful what little things lead people to misunderstand each other.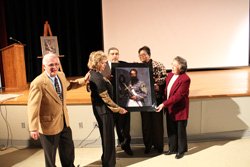 She is a good team member. She is available, dependable and reliable.
She can put things in perspective, because she can see beyond the obvious.
She has the courage and the will to do the right thing, not the easy or pragmatic thing. She follows the example of Maya Angelou:
All of us knows, not what is expedient, not what is going to make us popular, not what the policy is, or the company policy – but in truth each of us knows what is the right thing to do. And that's how I am guided.
She is enthusiastic about learning.
She does not let her critics define her.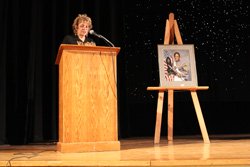 She knows that without risk, there can be no progress.
She is a hopeful and welcoming person who is always willing to open the door to new ideas. She agrees with Anne Lamott:
Hope begins in the dark, the stubborn hope that if you just show up and try to do the right thing, the dawn will come. You wait and watch and work: you don't give up.
She is an excellent communicator.
She takes responsibility for her choices, and she does not blame others for her failures.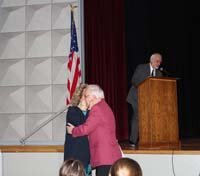 She is quick to apologize when she makes a mistake. She honors Ben Franklin's dictum:
Never ruin an apology with an excuse.
She is goal-oriented, and sensitive to the needs of the people she is leading.
She has a good sense of humor, and she is not afraid to laugh at herself.
For her, flexibility is a key to success.
She actively listens with her heart as well as her head.
She knows that everyone needs encouragement, and she graciously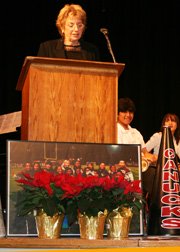 provides it. When Celeste Holm spoke these words, she reaffirmed one of Dr. Birnbaum's deeply held beliefs:
We live by encouragement and die without it — slowly, sadly, and angrily.
She is a gratitude person who appreciates the power of affirmation.
She knows the value of private consultation, mediation and reconciliation.
She is a service-oriented person who has not succumbed to the narcissism of our time.
She knows that success in not a matter of luck. It is the result of attitude, inconvenience, industry, discipline and sacrifice.
She understands the importance of Janette Rankin's words:
You can take people as far as they want to go, not as far as you want them to go.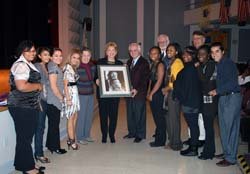 For Dr. Marilyn Birnbaum, "we" is more important than "I," and actions speak louder than words.The words of Marva Collins resonate with her:
If children fail, it's about me, not them. I tell my students, if you think excellence is difficult, you don't want to try failure.
When I think about the priceless moments Kitch and I shared with Dr. Birnbaum, an adaptation of the words of William Penn come to mind:
She understood our desire to be teachers with a camera, and she used her influence and power to help us do what we love to do. She was a courageous defender of our documentary philosophy, and she remains a friend to this day.
The news of her retirement in July of this year created a very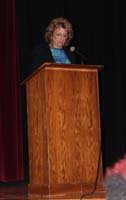 sentimental moment for Kitch and me.
George Eliot gave us a perfect description of Dr. Marilyn Birnbaum, her greatest gift and her legacy: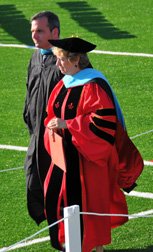 The presence of a noble nature, generous in its wishes, ardent in its charity, changes the lights for us: we begin to see things again in their larger, quieter masses, and to believe that we too can be seen and judged in the wholeness of our character.
Thank you, Dr. Birnbaum for changing the light for everyone in the North Plainfield School District.
Thank you, for your kindness and your belief in our work.
Thank you, for being a quiet hero who went to work every day with a burning desire to help others.
Thank you, for exemplifying America at its best with dignity and class.
May your retirement be blessed with good health, great memories and many joyful moments.
Please provide feedback to:
tony.mussari@gmail.com