Kitch's Total Knee Replacement Surgery, The Final Visit.
Written by Tony Mussari, Sr.
Edited by Kitch Loftus-Mussari
Digital photographs by Tony Mussari, Sr.
Copyright 2015
Mussari-Loftus Associates
The Face of America Project
The good physician treats the disease; the great physician treats the patient who has the disease. William Osler
The Final Visit
On a dreary August morning, Kitch and I drove to Dickson City for our final appointment at Scranton Orthopaedic Specialists. To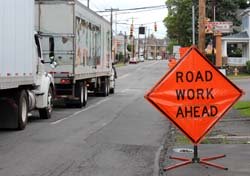 avoid the construction on the interstate highway, we took the blue-lined roads.
Yes, we encountered construction on PA 11, but it was minor compared to what drivers encounter on I-81.
It was the first anniversary of Kitch's total knee replacement surgery, a reunion of sorts with several people who helped her before, during and after her surgery, and an opportunity to discuss her progress and some challenges she is facing.
In our opinion, the medical professionals at Scranton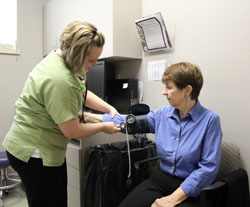 Orthopaedic Specialists are first class. Dr. Harry Schmaltz and his team give special meaning to the words of the Canadian scientist, William Osler. Their treatment is deeply rooted in competence, compassion, camaraderie, caring, community and continuity.
What we experienced during this appointment reinforced our belief about the quality of care of these wonderful people.
They are interested in the person, and this creates a sense of belonging and a high degree of trust. Without trust there can be no healing. One of our greatest Olympians said it best:
The only bond worth anything between human beings is their humanness. Jesse Owens
They are pleasant and they are not in a hurry.
It is wonderful how attractive a gentle, pleasant manner is, and how much it wins hearts. St. Francis de Sales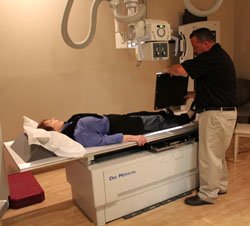 They are willing to talk about the challenges, and they provide proven strategies for relief.
Whoever is in a hurry shows that the thing he is about is too big for him. Lord Chesterfield
Conversation should be pleasant without scurrility, witty without affectation, free without indecency, learned without conceitedness, novel without falsehood. William Shakespeare
A single conversation across the table with a wise person is worth a month's study of books. Chinese Proverb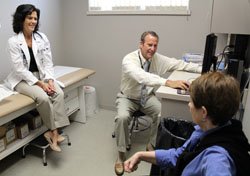 They live the principles of effective teamwork:
A group becomes a team when all members are sure enough of themselves and their contributions to praise the skill of others. (Author Unknown)
At one point during our visit, the words of Harold Kushner came to mind. They accurately describe what Kitch and I felt about the philosophy that permeates the care of Dr. Harry Schmaltz and his team at Scranton Orthopaedic Specialists .
Caring about others, running the risk of feeling, and leaving an impact on people, brings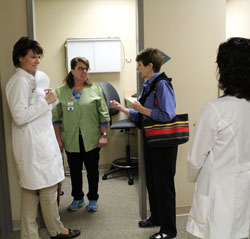 happiness.
Thank you, Stephanie Bewick.
Thank You, Jamie.
Thank you, Ken.
Thank you, Mary Dunleavy.
Thank You, Mary Ann.
Thank you, Dr. Harry Schmaltz.
You and the members of your the team at Scranton Orthopaedic Specialists exemplify the best principles and the best practices of medicine. In our opinion, you are an example of America at its very best.
Please provide feedback to:
tony.mussari@gmail.com