A Review of our Visit to Shanksville

Written by Pat Richel
When my friend Pat agreed to accompany me on the trip this past weekend, I worried that it would be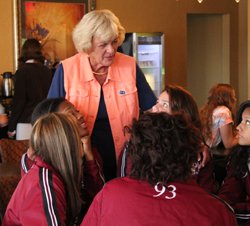 a long three days for her.  I had often talked to her about your work, Kitch's ordeal, and Skip's cheerleaders when we were on the beach, but I still wondered.
From the first time we all met at the restaurant, Pat and I were made to feel so much a part of the group.  Everyone who was there that weekend had an important connection to Shanksville.  (Except us, of course.)  Pat and I were also constantly amazed at everyone's role in the total picture.  We quizzed everyone and by the end of the weekend, knew so much about all.
I was deeply involved with the Twin Towers, because I knew someone who died, and also knew some survivors.  My nephew was late going to work that day, and would have been a casualty if he hadn't overslept.  Our next door neighbor worked in a bank next to the towers.  I was working at Montclair State University at the time and was on my way to teach a 1:00 P.M. class that day.  Montclair is built on a mountain and the road on the way to the college gives a clear picture of the New York skyline.  When I saw the towers and the smoke, I was sickened.  Needless to say, I canceled classed when I arrived.
And so, though I was extremely saddened about what happened at Shanksville, the Twin Towers affected me more.  That certainly changed this weekend!  I learned so much and appreciate what everyone has done to keep the memory of those heroes alive.  Each moment of the weekend was enlightening.  Even if it made us cry.  It certainly transformed two chubby Pats from New Jersey.
After speaking to the cheerleaders, I noticed that they were transfixed with all that went on, and they too, will never be the same.  In my heart, I predict great things for all of them.  They will make their mark on this world and everyone will benefit from it.  I only wish that all students could have the opportunity to have a dose of the Mussaris and develop the "Shanksville Standard".  How much better would our lives be?
My only hope is to make the documentary accessible.  I know that it is not your purpose to commercialize it, but students and adults need to see it.  I can't wait to see it again. 
My last thought is that I wish I had seen the old memorial with the angels, the flags, and the mementos.  The new permanent memorial is cold and almost forbidding.  Maybe that is just my opinion.  Hopefully the wonderful, volunteer Flight 93 Ambassadors will make peoples' visits more meaningful.  The ones I met are prizes!
Thank you again for an unforgettable weekend.  Pat and I are still talking about it and will continue for a long time to come.
(Pat Richel is a school nurse, a teacher and a breast cancer survivor. She Lives in New Jersey.)
Please provide feedback to tmussari@gmail.com