Visiting Candy's Place to Learn about Battling Cancer
Written by, Tony Mussari
Edited by, Kitch Loftus-Mussari
Photographs by, Tony Mussari
Copyright, 2016, Mussari-Loftus Associates, LTD
"The standard treatments for cancer are not meant to heal, but to destroy." Andreas Moritz Cancer Is Not a Disease -It's a Survival Mechanism.
On a damp February afternoon, our Face of America journey took us to Candy's Place in Forty Fort, PA. This is an extraordinary Cancer Wellness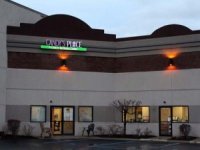 Center where cancer victims and their loved ones can find compassionate encouragement and support.
Kitch and I have experienced the kindness and good will of the people at Candy's Place. They were helpful in 2011 when Kitch was being treated for breast cancer. For the past five years, Kitch and I have participated in several healing events sponsored by Candy's Place.
On this special evening, Nick Pokoluk, the author of Scourge of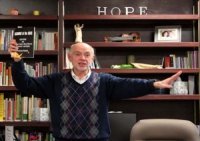 the Ages: Glycation, and Diabetes, Cancer, Heart Disease, Alzheimer's and Aging hosted an information session in the board room about diet and cancer. Nick has been in the pharmaceutical business for 45 years. He is respected for his comprehensive research techniques and his determination to help people deal with health issues caused by glycation.
Motivated by the experiences he had when his sister was diagnosed with cancer, he is taking his message to audiences large and small in an effort to start a conversation about seldom discussed causes of cancer.
What follows here are 20 starred thoughts from his presentation at Candy's Place.
1. Lifestyle changes are important. We must focus our attention on diet as a cancer agent as well as a cancer adjuvant treatment.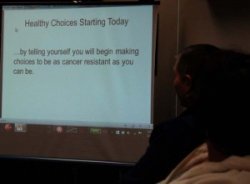 2. We must make changes in our diet that are knowledge and fact based.
3. There are ways to use research based information to make people improve their cancer resistance.
4. We must understand and accept the fact that cancer will change your life forever.
5. 580,000 people in the United States will die from cancer in 2016. The American Cancer Society estimates that 1.68 million Americans will be diagnosed with some form of cancer this year.
The majority of all cancers are not inherited. Two out of every three cancers are lifestyle related. We need to spend more time examining and talking about lifestyle and environmental causes of cancer.
7. The three pillars of health and longevity are: Diet, Physical Activity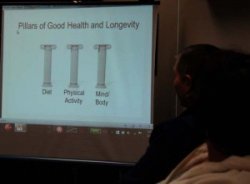 and Mind/Body (Attitudes).
8. The harsh reality is this: one out of every five people diagnosed with cancer today is a person that has had at least one previous cancer diagnosis. 
9. Chemotherapy may be lifesaving, but it also makes a patient susceptible to cardio-vascular disease, neurological disease, cognitive and emotional issues and functional issues.
10. There are 50 trillion cells in the human body. Every day .0001 percent of cells are mutated. One of the miracles of the human body is that every cell knows what it should be doing, and every cell communicates with every other cell.
11. Growth factors are drivers of cancer. There is a correlation between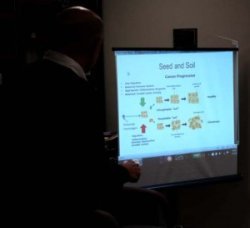 body weight and cancer risk. We must learn to make good choices and manage our weight to minimize risk.
12. The best food choices are whole foods plant based diets, low fat and dairy and modest protein content.   It should also be low in simple carbohydrates, (reduced added sugar, and devoid of sugary drinks).
13. Rely on organic foods as much as possible. Reduce salt intake to 1,500mg a day. Alcohol should be reduced or eliminated.
14. The best food choices are: vegetables, mushrooms, beans and legumes, berries, whole grains and one piece of fruit a day.
15. Consider some very healthful additions such as spices, herbs, cocoa, raw walnuts and almonds, and raw pumpkin seeds.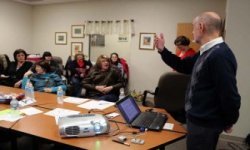 16. Avoid high protein intake from animal sources. You get the best protein from vegetables.
17. Be aware of this important discovery. Bovine growth hormones are linked with cancer initiation in humans and they are banned in 27 countries.
18. Every animal product has glycated proteins, and glycation destroys DNA and HDL.
19. The browning that occurs in grilling, baking, broiling, frying, pasteurizing and smoking produces glycation.  Increase your use of boiling, steaming, sautéing in vegetable broth for food preparation.
20. Cancer is not only caused by DNA mutation. Cancer is caused by glycation, inflammation, unopposed growth factors activity, and immune system dysfunction.
At the end of his presentation, Nick gave everyone in attendance a colorful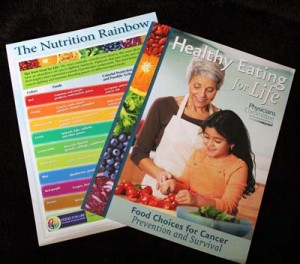 graphic entitled The Nutritional Rainbow, a copy of Healthy Eating for Life: Food Choices for Cancer Prevention and Survival published by the Physicians Committee for Responsible Medicine and his contact information. He volunteered to address any questions during telephone and personal consultations at no cost.
Nick Pokoluk is a man on a mission. He wants to help. He wants to serve. He wants to comfort people who are suffering, and he is willing to inconvenience himself to bring his alternative message to anyone who will take the time to listen and learn.
He understands the insightful and poignant words of Jeannette Rankin:
"We can take people as far as they want to go, not as far as we want them to go."
Nick Pokoluk is a classic example of America at its best.
The people at Candy's Place reflect the light of America at its best. They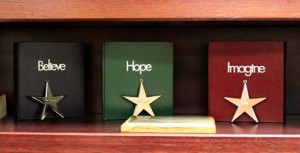 help people believe they can beat cancer. They give people the hope they need to beat cancer and they enable the cancer patient, and the caregiver to imagine a joyful and peaceful life together after cancer.
Thank you, Nick Pokoluk.
Thank you, Penny Cunningham.
Thank you to the staff and volunteers at Candy's Place.
Please provide feedback to: