Expressing Gratitude to the John Heinz Institute of Rehabilitation
Written by Tony Mussari, Sr.
Edited by Kitch Loftus-Mussari
Copyright 2017
Mussari-Loftus Associates
The Face of America Project
Some people come in our life as blessings. Mother Teresa
A Fond Farewell
On December 5, 2016, I entered The John Heinz Institute of Rehabilitation
in Wilkes-Barre, PA. I did not know what to expect.
Almost five months later, April 20, 2017, I had my final session. Because of the caring, compassionate and welcoming environment, I felt compelled to express my thanks in a special way. So I designed a graphic with a picture of our garden and one of my favorite Irish blessings for the 5 therapists who made the experience positive and memorable.
This is but another attempt to express my gratitude:
Mark, my wish for you is best summarized in this Irish blessing:
May the saddest day of your future
be no worse than the happiest day
of your past.
Mark Miller gives truth to the thoughtful words of
James Matthew Barrie:
Those who bring sunshine into the lives of
others cannot keep it from themselves.
Theresa Yaron

Theresa, the words of this Irish blessing reflect
my hope for you and your family:
May your troubles be less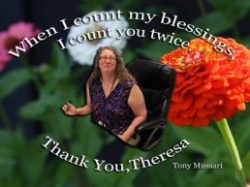 and your blessings be more
and nothing but happiness
come through the door.
The 32nd President of the United States
Franklin D. Roosevelt gave us this great
insight into human nature:
If you treat people right they will
treat you right … ninety percent of
the time.
Theresa Yaron lives the spirit of these beautiful words.
Joanne Orlando:
Joanne, the words of this Irish blessing reflect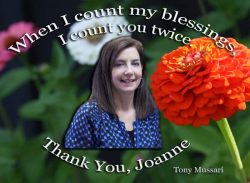 my hope for you and your family:
May the road rise up to meet you.
May the wind be always at your back.
May the sun shine warm upon your face
…and until we meet again,
may God hold you in the palm of His hand.
When Anne Rice penned these words,
she was describing Joanne Orlando:
Be kind. Always if you have a choice, be kind.
Nicole, watching you greet the children with
disabilities reminded me of this Irish proverb:
Mothers hold their children's hands for
just a little while…
And their hearts forever.
The celebrated author Og Mandino defined one
of your greatest assets with these words:
A smile remains the most inexpensive gift
I can bestow on anyone and yet
its powers can vanquish kingdoms.
Flo, your warm greetings make this Irish blessing
appropriate for you.
May you have warm words on a cold evening
A full moon on a dark night;
And the road downhill all the way to your door.
H.Jackson Brown, Jr. gave us a great standard for success:
The best preparation for tomorrow is doing
is doing your best today.
Flo Kohar lives by that standard.
Thank You
Mark Miller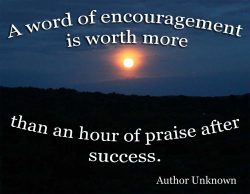 Theresa Yaron
Joanne Orlando
Nicole Pelosi
Flo Kohar
Thank you to all the men and women
who work at the John Heinz Institute of
Rehabilitation in Wilkes-Barre, PA.
This Irish blessing is for you:
May God grant you always…
A sunbeam to warm you, a
moonbeam to charm you,
a sheltering Angel so nothing
can harm you.
Laughter to cheer you.
Faithful friends near you.
And whenever you pray,
Heaven to hear you.
Please provide feedback to:
tony.mussari@gmail.com