Screening Walking Into the Light at Gettysburg in North Plainfield, New Jersey
Written by Kitch Loftus
Digital Photographs Tony Mussari
Copyright 2013
The Face of America Project
Mussari-Loftus Associates, LTD
When four seventh grade girls appeared at the doors to the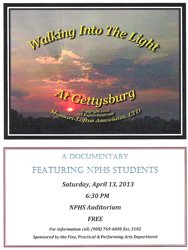 auditorium at 6 p.m. and said, "We're here for the movie," I knew it was going to be a perfect night. They were smiling and shy.  They proceeded to pick out their seats and settle in. It didn't matter that they were 30 minutes early.  There were on a mission, and they would not be deterred or distracted.
For the next 30 minutes, people of all ages streamed in the doors, all in upbeat moods, eager to see a documentary about Gettysburg that featured ten students they called their own.
There was electricity in the air when Master of Ceremonies Tom Mazur, Supervisor of Arts at North Plainfield got the evening started with a brief welcome. Then, he introduced Nabil Twyman, a seventh grade student who quietly and confidently took his position at the  perfectly tuned Steinway Grand Piano to play two songs, "Red" and "Blue." His mother's face beamed with pride as she used her I-pad to record his masterful performance from her seat in then first row.
When Nabil's nimble hands played the final notes, the young pianist received a rousing and well-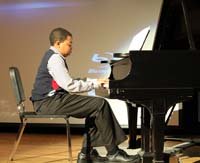 deserved round of applause. Everyone in the room was taken by Nabil's gift. It was obvious that his future will be bright because his talent is enormous and his personality is humble and giving.
While Nabil walked to his seat in the front row next to his mother, Tom Mazur asked Dr. Marilyn Birnbaum,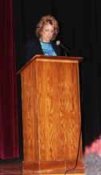 Superintendent of Schools, to come to the stage to share her thoughts about the evening.  As always, Dr. Birnbaum was courteous, thoughtful and very welcoming. She is the perfect person for the position she holds in North Plainfield. She made everyone feel welcome and at home. The words she used to introduce Tony and the documentary were generous and very kind.
As Tony walked to the stage to talk about the production of Walking Into The Light At Gettysburg, I could feel my heart beating faster. I had some idea of what he was going to say, I had no idea about how it would be received.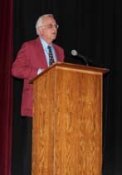 Like his hero, Abraham Lincoln, my husband is an aural thinker. Before a big event, he will talk to me about what he intends to say. While he talks, he listens to the words and the concepts and he refines his message. Rarely does he use a printed document. He speaks best when he speaks from his heart. On this occasion he wanted the words to come straight from his heart. When the amplification system failed, he walked to the center of the stage, and he began to tell his story.
He told the audience why he wanted to produce this documentary.  It was a legacy piece for his brother who took him to Gettysburg when he was 15-years-old.  It was a centerpiece of his Face of America project, the three year ongoing search for the characteristics and the people who represent America at its best.  It was a gratitude piece for the students, teachers, administrators and support personnel in North Plainfield, a place he calls his second home. It was a living prayer for his son.
Tony believes that the people who make up the North Plainfield school system reflect the culture, the essence and the spirit of the Face of America on its best day. The richness of the diverse make up of the student body, the faculty and staff, and the sense of common purpose you feel when you are in North Plainfield energizes him and gives him hope that we can solve our problems in a peaceful way. 
He admires the philosophy that is recorded in motivational sayings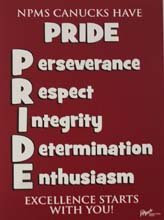 that are displayed on the walls of schools he visits. He enjoys working with the students in the way any effective teacher enjoys interacting with students. He wanted this documentary and the Gettysburg project he suggested to teachers and administrators to empower students to be their best. He does not believe anyone is entitled to anything without hard work and overcoming obstacles. That has been his life experience, and it remains so even today.
When Tony talked about his son it was all heart. "No one ever asked me why I came to North Plainfield," Tony said. "Tonight, I would like to answer that question, because this may be my last opportunity to speak to you in this way."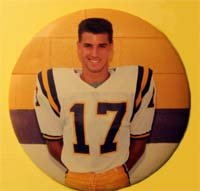 Then he told the poignant story about his son. "In high school he was Mr. Everything. Today he is homeless, living on the streets, haunted by the demons that began to take over his life when he was in high school. He started out just like the ten wonderful students who traveled to the battlefield with him one year ago. "My son was gifted, intelligent, engaging, motivated and successful in all the ways that matter in high school. He was all state in soccer, a  leading field goal kicker in the state of Ohio, selected as a model, but underneath it all he was hurting and he turned to alcohol and gambling for relief.
"Today, those demons control his life and they impact my life in significant ways. I came here to engage you and to introduce you to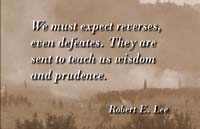 values that will help you benefit from my experience. Everything in this film is designed to help you deal with the bumps in the road, to believe in  yourself and your dreams, to be able to see beyond the temptations and the temporary gratifications that entice people to take the easy way."
Tony encouraged everyone in the audience to read the quotations displayed in the film, to listen with their eyes as well as their hearts to what General Robert E. Lee and President Abraham Lincoln say about failure, and to pay close attention to what the students learned about themselves during their visit to Gettysburg.
Just before he finished his remarks, he said something he has told me privately many times, "I love what I see in North Plainfield, because this is one of the best portraits of the Face of America on its best day."
(To be continued in Part 2)
Please provide feedback to:
tony.mussari@gmail.com