Thinking About Joe Paterno

Written By Tony Mussari
Copyright 2012
Mussari-Loftus Associates
The Face of America Project
faceofamericawps.com
tmussari@gmail.com
In the end, we will remember not the words of our enemies, but the silence of our friends. Dr. Martin Luther king
The news of Joe Paterno's death did not take me by surprise, I expected it. Anyone who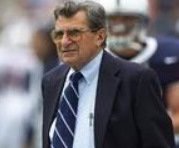 followed his story during the past two weeks knew that Joe Paterno's days were numbered. Nevertheless, I was saddened to read about Joe's passing.
During my lifetime, I had three encounters with Joe Paterno.  All of them were positive.
The first time I called him, he answered his own phone. I invited him to be a speaker at a banquet here in my hometown.  He could not attend because of health problems his wife was experiencing. He graciously volunteered to get us another speaker, and he did.
Our second meeting happened when my brother Ken introduced me to Joe at a recruiting function. He was polite, gracious and very friendly.
The third contact took place 22 years ago. My brother, an avid Penn State fan, died shortly after he left the Blockbuster Bowl in the third quarter.  The cause was a fatal heart attack. Our family was devastated. I wrote to Joe Paterno to tell him about Ken's death. I asked him to write a letter to Ken's wife and children to ease their pain.
The letter he wrote was considerate, kind and thoughtful.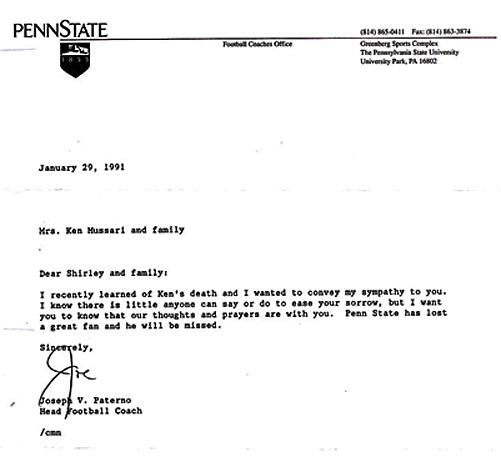 During an interview for Windsor Park Stories in 2007, Lee Lispi, one of Joe Paterno's players, spoke about Joe Paterno the coach and the man. You can watch that interview at this address:
http://www.windsorparktheater.com/index.php?option=com_hwdvideoshare&task=viewvideo&Itemid=27&video_id=102
Much has been written and said about Joe Paterno during the past few months. In my mind's eye, the words William Shakespeare wrote for Mark Antony should be comforting to Joe Paterno's family and instructive to us:
Friends, Romans, countrymen, lend me your ears;
I come to bury Caesar, not to praise him.
The evil that men do lives after them;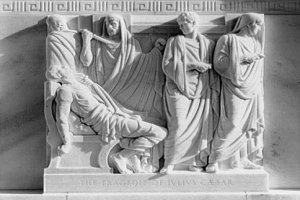 The good is oft interred with their bones;
So let it be with Caesar. The noble Brutus
Hath told you Caesar was ambitious:
If it were so, it was a grievous fault,
And grievously hath Caesar answer'd it.
Here, under leave of Brutus and the rest –
For Brutus is an honourable man;
So are they all, all honourable men –
Come I to speak in Caesar's funeral.
He was my friend, faithful and just to me:
But Brutus says he was ambitious;
And Brutus is an honourable man.
He hath brought many captives home to Rome
Whose ransoms did the general coffers fill:
Did this in Caesar seem ambitious?
When that the poor have cried, Caesar hath wept:
Ambition should be made of sterner stuff:
Yet Brutus says he was ambitious;
And Brutus is an honourable man.
You all did see that on the Lupercal
I thrice presented him a kingly crown,
Which he did thrice refuse: was this ambition?
Yet Brutus says he was ambitious;
And, sure, he is an honourable man.
I speak not to disprove what Brutus spoke,
But here I am to speak what I do know.
You all did love him once, not without cause:
What cause withholds you then, to mourn for him?
O judgment! thou art fled to brutish beasts,
And men have lost their reason. Bear with me;
My heart is in the coffin there with Caesar,
And I must pause till it come back to me.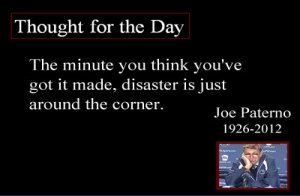 On this day of parting, the words of Joe Paterno ring true for me.  This morning I sent coach Paterno's words as a thought for the day to a friend and former student to ease the pain of a recent setback in his life.
Joe Paterno, coach, teacher, philanthropist, husband, father and grandfather is dead at 85. He achieved greatness. He empowered others to do good work on and off the field. He was human. He made mistakes and one serious and haunting misjudgment. Fortunately, he lived long enough to acknowledge that misjudgment and gracefully accept what resulted from it.
He was, in Shakespeare's words, an honorable man, and I feel obligated to write what I know about him
May God have mercy on his soul.
Please provide feedback to:
Tony.mussari@gmail.com