Gettysburg Gifts: Part 5, Robert J. Monahan, Jr.

Written by Tony Mussari, Sr.
Edited by Kitch Loftus-Mussari
Photographs by Kitch Loftus-Mussari & Tony Mussari
Copyright 2013, Face of America, Mussari-Loftus Associates, LTD
Nothing is more important than creating an environment in which people feel they make a difference. Jack Stack
Robert J. Monahan, Jr., knows something about creating an environment in which people feel they make a difference. He was born,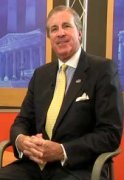 raised and educated in Gettysburg.  It is fair to say that he loves this city and its legacy, and he has spent a good part of his life helping his hometown prosper and grow. 
Today, he is making the last minute arrangements for the 2013 Medal of Honor Convention which will be held in Gettysburg.
Last year, I had the privilege of watching Bob Monahan do what he does best, lead by making people feel they make a difference.
It was beautiful October day. The place was Lincoln Square, and the occasion was the raising of the Medal of Honor Flag. It was a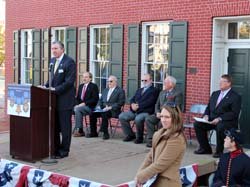 touching symbolic event marking the beginning of a year of activities designed to commemorate the Medal of Honor and its living recipients at the annual Medal of Honor Society convention.
Little did I know then that almost a year later, Kitch and I would be preparing the production of a documentary to be shot on location at the convention. To be very honest, the person who made this possible was Bob Monahan.
He read the article we published in our blog. He took the time to make contact. He showed a genuine interest in our work. He invited us to meet with him. He encouraged us to move forward with the documentary, and he promised to do everything in his power to help us realize our dream. He delivered on his promise.
In my mind, Bob Monahan personifies all of the characteristics of the Face of America on its best day.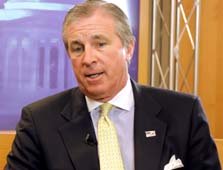 He is helpful, honest, and genuine. He cares about others. He is generous with his time, and he knows how to bring out the best in the members of his team.
Bob Monahan is a service-oriented person who gives to give not to get. His philosophy of leadership is deeply rooted in finding out what people can do, and helping them do it.
He is the person who initiated the idea to have Gettysburg host the Medal of Honor Convention to commemorate the 150th anniversary of the battle that changed America forever. He has worked tirelessly for three years to make this event happen.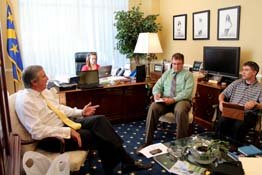 All that being said, one of his most compelling characteristics is his welcoming and friendly way. He is the kind of person you would want to be your neighbor. His life is centered in his family. When you visit his office, the pictures occupying the most prominent spaces speak to family and friendship.  The reception you get from Bob is warm and supportive.
Bob Monahan enjoys making things happen. He does it in quiet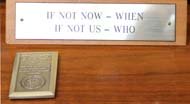 ways with determination and perseverance that is always wrapped in a package of dignity and class.
When Kitch and I think about our best moments in Gettysburg, our visits with Bob Monahan and his correspondence with us always come to mind.
When we think about America at its best, we think about his goodness, his kindness, his concern for others and his willingness to help.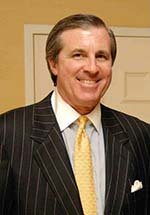 For us, these words of Amelia Earhart provide a perfect description of Robert. J. Monahan, Jr., a classic Face of America on its best day:
No kind action ever stops with itself. One kind action leads to another. Good example is followed. A single act of kindness throws out roots in all directions, and the roots spring up and make new trees. The greatest work that kindness does to others is that it makes them kind themselves.  
Kitch and I would like to adapt the words of William J.H. Boetcker to express our gratitude:
Your greatness is measured by your kindness; your education and intellect by your modesty… and your real caliber is measured by the consideration and tolerance you have for others.
Thank you Bob for making our dream become a reality.
Please provide feedback to:
tony.mussari@gmail.com
For more information about the Congressional Medal of Honor,
please go to www.cmoh2013.org
(The studio pictures of Bob Monahan were taken from his Qurvis Focus Washington interview, http://www.focuswashington.com/2013/08/23/congressional-medal-of-honor-society-convention/)