Magic Moments in North Plainfield, Part 2

Written by Tony Mussari, Sr.
Edited by Kitch Loftus-Mussari
Photographs by Kitch and Tony Mussari, Sr,
Copyright 2014
Mussari-Loftus Associates
The Face of America Project
Nothing is ever really lost to us as long as we remember it. L.M. Montgomery
Creativity and Encouragement
We arrived at the North Plainfield High School earlier than we had planned. Kitch and I wanted to revisit the Holocaust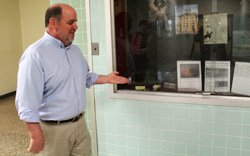 Exhibit, and we wanted to reconnect with a sentimental moment we experienced with Bob Ferraro after the morning screening.
Bob teaches shop. He is a very creative person who used his time and talent to design a beautiful display for our Gettysburg Project. Whenever we meet Bob, he makes us feel like valued members of his team. On this day he took the time to show us his display, and he volunteered to share the contents with us so we could have something more than a memory.
Bob is a giving person who reflects the light of William Arthur Ward's words:
When we seek to discover the best in others, we somehow bring out the best in ourselves.
Patriotism and Pride
The evening screening began when Chief Master Cadet Kyle Pacla walked to the podium to offer words of welcome.
Members of the JR ROTC presented the colors in an impressive ceremony and then Brigiette Garcia offered an inspirational rendition of our National Anthem.
Dr. Marilyn Birnbaum, Superintendent of Schools, greeted everyone with thoughtful comments that were carefully selected to set the stage for the documentary.
The lights in the auditorium dimmed, and for just about an hour the sights and sounds of the 2013 Medal of Honor Convention in Gettysburg helped people better understand the meaning of Robert Ingersoll's words:
He loves his country best who strives to make it best.
Quiet Heroes and Gratitude Moments
The recipients featured in the documentary are quiet heroes. They do not seek the spotlight. They find the cult of celebrity repulsive. They personify courage and good will. They act with honor and valor. They are grateful for the opportunities they have been given. They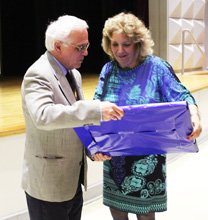 define the meaning of selfless service. They reflect the light of America at its best, because they are men of character and integrity.
This theme resonated with the audience. The enthusiastic response after the film gave testimony to the powerful example of quiet heroes.
To build upon that moment and close the circle, Kitch and I did what comes natural to us. We took the time to affirm and say thank you to Dr. Birnbaum. Without her belief in our work, none of this would have been possible. In a very real way, this was her moment. The gratitude gift we designed for her was both a statement about the quality of her leadership and an expression of our thanks for her kindness to us.
The gifts we designed for Tom Mazur and his colleague Lt. Col. Eric Hansen documented special moments from our location shoot in Gettysburg.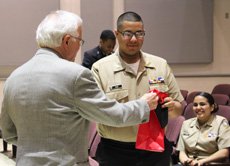 A lot of research and time went into the selection of the gratitude gift for the students who participated in the project. We wanted this gift to summarize the educational experience. More important, we wanted it to inspire and encourage these young men and women when they encounter the bumps on the road of life.
When we found the words of Bernard M. Baruch, our search came to an end.
Whatever task you undertake, do it with all your heart and soul. Always be courteous, never be discouraged. Beware of him who promises something for nothing. Do not blame anybody for your mistakes and failures. Do not look for approval except the consciousness of doing your best.
Memories
Before we left the auditorium a number of people offered their reactions to the documentary and its message. The first person to speak was a Korean War Veteran, Dewitt LaMaire. He enjoyed the story,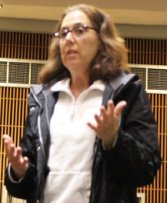 and he was impressed by the message of the film.
A member of the Board of Education, Kathleen Mullen, used a personal story to underscore the way the documentary touched her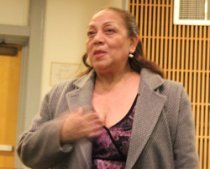 heart.
Two members of the U.S. Marine Corps were unequivocal about their experience. They liked the documentary, and they thought it could benefit students in schools across the country.
Cheryl Jones echoed those sentiments, as did Adriana Miranda's mother Lydia.
Ruel Lindsay's mother was not at all reluctant to stand and tell everyone she cried tears of joy throughout most of the documentary.
Community
The conversation about the documentary continued at the After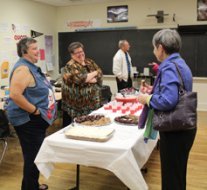 Glow. People were in a celebratory mood, and they wanted to express their feelings.
Thanks to the hard work of Maryann Thorpey and her husband Steve, there were plenty of treats to share with our guests and a several Kodak moments.
It was a privilege to meet the parents of four of the students who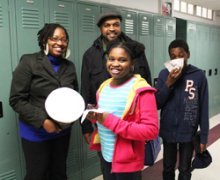 participated in the production, and have an opportunity to tell them how impressive their children are.
The expressions on the faces of Elijah Sheridan's parents as recorded in the picture of them with their other two children were priceless.
The picture taken of Dr. Birnbaum with Eric and Elizabeth Ellis was designed to help this youngster follow her dream. Elizabeth and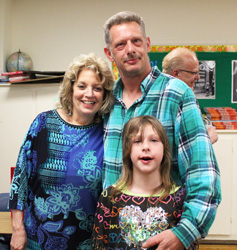 her dad sat in the first row. During our conversation before the screening, she told me she wanted to be a teacher because she likes people and she likes to learn new things.
Her father had been on the go since 4:30 a.m., but he was more than willing to take her to the screening. He knew she would learn some things that would help her later in life.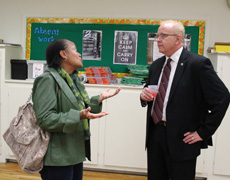 The evening screening was a genuine community moment. The people who came wanted to be there. The four members of the Board of Education were pleased with what the students learned in Gettysburg.
Less than 24 hours after our return home, the sentiments expressed in a note from School Board President Linda Bond-Nelson put everything in perspective:
Just a small note to say thank you again for your gracious hosting of TWO showings of your remarkable film to our North Plainfield audiences. I was not surprised at all but very grateful to hear that our students proffered a spontaneous standing ovation at the end of their morning show…. (At the evening screening you made) us all feel as if we actually were an intimate group sharing observations and thoughts.
Best wishes to you both.
Thanks, again.
A long time ago, John Winthrope defined community with these words: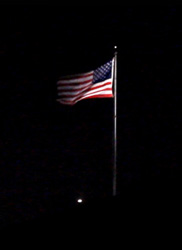 We must delight in each other, make others conditions our own, rejoice together, mourn together, labor and suffer together, always having before our eyes our commission and community in the work, our community as members of the same body.
Four Days of Honor and Valor in Gettysburg is a documentary about a community of Quiet Heroes. The recipients featured in the film represent the Face of America at its very best. The six student cadets who participated in the project, their parents and the residents of North Plainfield who attended the screening reflect the light of the Face of America's tomorrow today.
Our experiences on this special evening in North Plainfield, New Jersey, provided memories that will encourage and inspire us for a long time.
Thank you, Dr. Marilyn Birnbaum;
Thank You, Linda Bond Nelson, Thomas Kasper, David Branan, Kathleen Mullen;
Thank You, Tom Mazur, Lt. Col. Eric Hansen, Sr. Chief Michael de Jean, Bob Ferraro;
Thank you Maryann & Steve Thorpey and Debbie Mayo.
To paraphrase the words of L. M. Montgomery, this evening in North Plainfield will never be lost. Because of your kindness, we will remember it forever.
Please provide feedback to:
tony.mussari@gmail.com