Teachers: Heroes Without Headlines, An Expression of Gratitude

Written by Tony Mussari
Pictures by Kitch Loftus-Mussari
Copyright 2012
Mussari-Loftus Associates
The Face of America Project
faceofamericawps.com
Mr. Mussari when I assign six pages, you will do ten. Sister Mary Hilary R.S.M.
Why?
Wherever we went during our Face of America journey, we met teachers who are making a difference in the lives of their students; teachers who care about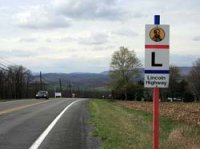 students, teachers who love what they do, teachers who willingly make sacrifices to empower young people to dream dreams of a better life for themselves and others.
During our Face of America project, Kitch and I have spent more time in North Plainfield, New Jersey, than any other place in America. If truth be told, we have visited North Plainfield High School more than 21 times during our project.  This is where we discovered the Face of America's tomorrow, today.  It is an earnest, hopeful, radiant Face of America.
Walking the hallways, visiting classrooms, attending school events we observed, firsthand, a kind of teaching that is designed to bring out the best in these students.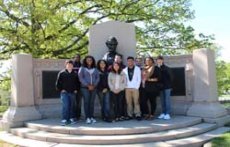 Most recently, we were part of a delegation of ten students and eight adults who visited Gettysburg in search of the greatness of America.
This week is Teacher Appreciation Week, and Tuesday, May 8, is National Teacher Appreciation Day. To celebrate the teachers in North Plainfield, and teachers everywhere, Kitch and I would like to offer 20 thoughts about teachers and teaching that speak to American teachers at their very best.
Every one of these thoughts we experienced in the schools we visited during our journey across America.
What Is A Teacher?
I'm a teacher. A teacher is someone who leads. There is no magic here. I do not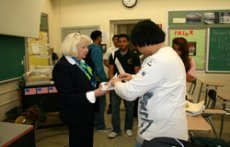 walk on water. I do not part the sea. I just love children. Marva Collins
Teachers believe they have a gift for giving; it drives them with the same irrepressible drive that drives others to create a work of art or a market or a building. A. Bartlett Giamatti  
We become teachers for reasons of the heart. Parker Palmer
In teaching you cannot see the fruit of a day's work. It is invisible and remains so, maybe for twenty years.  Jacques Barzun
A teacher has two jobs; fill young minds with knowledge, yes, but more important, give those minds a compass so that that knowledge doesn't go to wste.  Principal Jacobs to Glenn Holland
The great teacher is not the man who supplies the most facts, but the one in whose presence we become different people.  Ralph Waldo Emerson
What Do Teachers Do?
What all good teachers have in common, however, is that they set high standards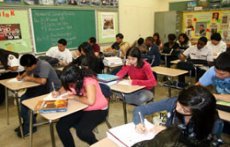 for their students and do not settle for anything less.  Marva Collins
It is the supreme art of the teacher to awaken joy in creative expression and knowledge. Albert Einstein
The dream begins with a teacher who believes in you, who tugs and pushes and leads you to the next plateau, sometimes poking you with a sharp stick called truth. Dan Rather
Educators best serve students by helping them be more self-reflective. The only way any of us can improve, as Coach Graham taught me, is if we develop a real ability to assess ourselves. If we can't accurately do that, how can we tell if
we're getting better or worse? Randy Pausch
I teach you truths. My truths. Yeah, and it is kinda scary, dealing with the truth. Scary, and dangerous… Mark Thackeray
The art of teaching is the art of assisting discovery. Mark van Doren
I have learned that success is to be measured not so much by the position that one has reached in life as by the obstacles which he has had to overcome
while trying to succeed.  Booker T. Washington
Why Do Teachers Do What They Do?
The most important thing in life is to learn how to give out love, and to let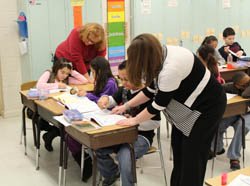 it
come in.   Morrie Schwartz
The essential condition of everything you do must be choice, love and passion. George Parks
Playing music is supposed to be fun. It's about heart, it's about feelings, moving people, and something beautiful, and it's not about notes on a page. I can teach you notes on a page, I can't teach you that other stuff.   Glenn Holland
…only in their dreams can men be truly free. 'Twas always thus, and always thus will be. John Keating
It's not enough to have lived. We should be determined to live for something. May I suggest that it be creating joy for others, sharing what we have for the betterment of person kind, bringing hope to the lost and love to the lonely. Leo Buscaglia
When Does it End?
The education of a man is never completed until he dies. Robert E. Lee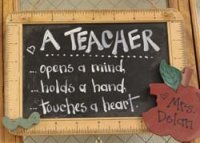 One of the reasons people stop learning is that they become less and less willing to risk failure. John W. Gardner
To all the teachers we met during our Face of America Journey and to their counterparts all over the country we say thank you. You matter.  You make a difference.  You are the link between the dreams of our forefathers and the fulfillment of those dreams by our children and our grandchildren. We admire your dedication. We celebrate your service. We thank you for helping students find the best edition of themselves.
Please provide feedback to:
tony.mussari@gmail.com