Celebrating the Accomplishments of Two Wonderful Teachers
Written by Tony Mussari, Sr.
Edited by Kitch Loftus-Mussari
Photographs by Kitch Loftus-Mussari
Copyright 2016
Mussari-Loftus Associates, LTD
The Face of America Project
On an unseasonably cold and wet May afternoon, our Face of America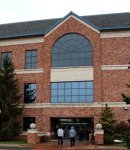 journey took us to Wilkes University to celebrate the accomplishments of two of the finest teachers we have ever known, Drs. Robert and Judith Gardner.
What follows here is the speech I wrote to honor the retirement of Judy and Bob. It includes one comment that was not included in the speech, because it arrived while the speech was being delivered.
A Portrait of a Teacher
This is such a wonderful moment for Judy and Bob, a bittersweet moment for Wilkes University and a memorable community moment for those of us who have the good fortune to be here.
I would like to begin with a thought for this very special day.
If you combine the love and the caring hearts of mom and dad,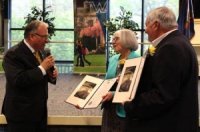 the wisdom of grandmother and grandfather,
the instincts of a physician and a psychologist,
the benevolence of a guardian angel,
the high expectations of a successful coach,
the patience of Job,
the flexibility of a great athlete and the creativity
of a successful actor or musician, you have a portrait of a great teacher.
In my opinion, Bob and Judy Gardner are great teachers. If anyone would question that statement, please listen to the comments of some of their students: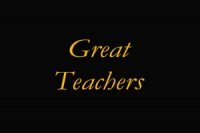 Judy was so helpful this semester. She is one of the sweetest professors I've had, and she is so knowledgeable as a teacher. She always makes sure to get the point across while making others feel good about themselves when responding. Bridget Galle
Bridget's comment gives truth to what Albert Einstein said about good teachers:
It is the supreme art of the teacher to awaken joy in creative expression and knowledge.
Bob and Judy have that supreme art.
The Gardners truly care about students and education. Everything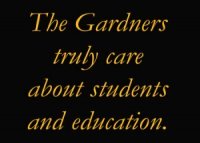 they do is in service to education, whether it is teaching new educators or hosting forums for educators of all ages; they want teachers to be the best they can be. In their classes, they speak only encouragement and constructive criticism. Jason Walker
Jason's words reflect the wisdom of Dan Rather's famous comment about teachers:
The dream begins with a teacher who believes in you, who tugs and pushes and leads you to the next plateau, sometimes poking you with a sharp stick called 'truth'.
Bob & Judy believe in their students.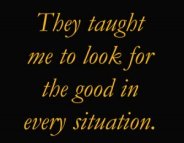 Judy and Bob are such motivating and inspiring educators. They taught me to look for the good in every situation. They taught me that every moment spent both inside and outside of a classroom can be the experience of a lifetime. They taught me most importantly that although we may come from different parents, homes, lifestyles, and cultures…in a classroom we all crave but one thing, and that is knowledge. Josefa Romero
Josefa's thought is similar to something Parker J. Palmer said about good teachers:
Good teachers possess a capacity for connectedness. They are able to weave a complex web of connections among themselves, their subjects, and their students so that students can learn to weave a world for themselves.
The Gardners are great weavers.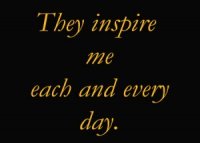 What the Gardners taught me in class goes far beyond what was listed in the syllabus. They taught me what it means to be a positive, responsible leader, an effective, caring teacher, and a genuine, honest human being. Their positive attitudes and unwavering commitment to education inspire me each and every day. They are the epitome of the kind of teacher I can only hope to be one day. Jennifer Baron
Jennifer's thought reinforces the brilliant observation of Henry Adams:
A teacher affects eternity; he can never tell where his influence stops.
Bob & Judy have affected eternity!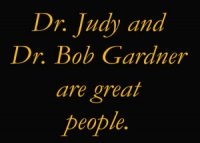 Dr. Judy and Dr. Bob Gardner are great people, along with being effective, caring, and understanding educators. I did not have many classes with them; I was in Dr. Judy Gardner's class last semester and I am currently in Dr. Bob Gardner's class now. The first day of class, I was happy to know I had such compassionate and inspiring individuals with such a love for teaching. They truly care for their students, helping them to achieve their journey to success. It has been a pleasure having them as my instructors. Summer Kubicki
Summer's insight causes one to think about the profound words of John Lubbock:
The important thing is not so much that every child should be taught, as that every child should be given the wish to learn.
Giving students the wish to learn was the first priority in every class the Gardners taught.
I had the pleasure of having them both for my professors for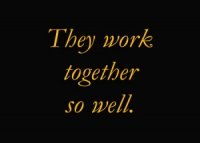 different classes at Wilkes and also was able to see them teaching together. My first encounter with them was a class they taught as a team… educational psychology. They worked together so well, and you could tell that they both had such a strong passion for education. I was ecstatic to find out I was in Dr. Judith Gardner's class the next semester because she made class so enjoyable. Andrea Circelli
I think John Steinbeck would have enjoyed and affirmed Andrea's Comment, for it was he who said this about great teachers:
I have come to believe that a great teacher is a great artist… It might even be the greatest of the arts since the medium is the human mind and spirit.
Kitch and I were blessed to observe the artistry of Bob and Judy Gardner.
When I asked the most important person in my life to describe Bob & Judy Gardner, my wife responded with these words:
They are decent human beings.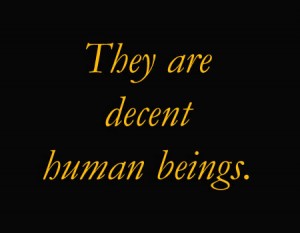 They love what they do.
They are open-minded.
They want to learn and grow.
They are considerate, thoughtful and kind.
They are gratitude people.
They know the power of two of the most important words in the English language, "Thank You."
They are polite people whose actions speak louder than words.
For the past five years, Kitch and I have been privileged to work with Judy and Bob in their classroom and in their educational forum. Because of their kindness, we have experienced many extraordinary and memorable teaching and learning moments here at Wilkes University.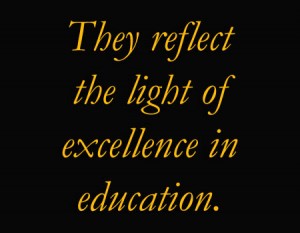 Judy and Bob Gardner reflect the light of excellence in education. They are warm, accessible, caring and competent.
They set high standards for themselves and their students.
Because of his musical background, Bob understands the observation of Dr. Richard Leblanc. In the classroom he is the conductor and the students are the orchestra. It is his job to bring out the best in every student.
Bob and Judy give truth to Charles Kuralt's dictum:
Good teachers know how to bring out the best in students.
How did they do it?
The answer is simple.
They followed the advice of one of my heroes, Fr. Joseph Girizone:
Your work on Earth… is to fill up in the lives of others those things they lack. In that you will find happiness.
I think their legacy is beautifully recorded in this note from Jason LaNunziata:
I came into Dr. Judith Gardner's class as a 28-year-old college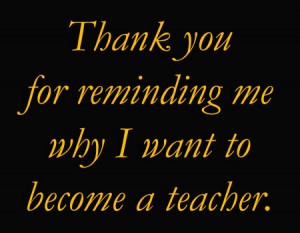 dropout… trying to make up for lost time… I leave it with a deeper understanding of, and caring for, education. It has been a very rare thing in my life to find someone whose mere passion for a subject inspires me to be passionate about it as well…. being in her presence you can feel the joy she gets from teaching her students. She is truly an inspiration to me and an individual I hope to someday be like.
While I understand logically why she is retiring, I'd be lying if I didn't say that it breaks my heart. She is a personal hero of mine, and if someday I can become a tenth of the teacher she is, I will be a great one. She may never know the depths of which she has inspired me, and other students as well, and it falls too short to simply thank her. However, in my making it one of my life goals to be like her, perhaps I can continue her legacy. I feel truly honored to have had Dr. Judith Gardner as one of my teachers, and I wish her, and her husband, all the health and happiness that they so justly deserve in their future endeavors. Thank you Dr. Gardner. Thank you for reminding me why I wanted to become a teacher. And thank you for raising my own personal standards of what to achieve and how to teach.
Jason's note says it all. I think every teacher in this room would agree. It doesn't get much better than that.
At just about the time I was speaking to Judy and Bob and their guests, another student was sending her thoughts to me via e-mail.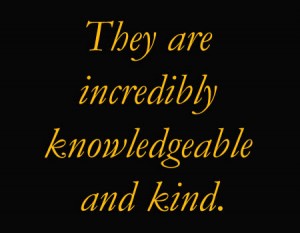 I believe when teachers care about their students and love what they are doing, that's when the most learning is accomplished. The enthusiasm Drs. Judith and Robert Gardner project in the classroom show they care wholeheartedly about their students and their love for teaching. They are incredibly knowledgeable and kind, and as a future educator, I have been really blessed to be able to learn from them. It is difficult for me to put into words how much I appreciate them, so I hope that when I become a teacher myself, I can take what I have learned from them and use it to become just as wonderful and inspiring as they are. Melyssa Laureano
The famous words about teaching that are often attributed to William Butler Yeats capture the spirit of Melyssa's words and Judy and Bob's teaching philosophy:
Education is not the filling of the pail, but the lighting of a fire.
Thank you Judy and Bob for your wonderful example.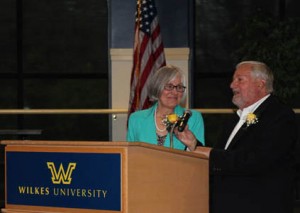 Thank you for opening your classroom to many different voices.
Thank you for giving an old teacher a new classroom.
Thank you for your priceless friendship.
Judy & Bob you are quiet heroes who radiate the light of America at its very best. Those of us who are fortunate to know you are genuinely blessed in all the ways that matter. In your classroom and in your life you have given special meaning to the immortal words of Coach Herb Brooks:
Impossible is just a degree of difficulty.
May Providence bless your retirement with good health and good fortune, and may you always know of our admiration, respect, friendship and love.
Please provide feedback to:
tony.mussari@gmail.com