Exploring the Journey to Success at Wilkes University
The Journey to Success
Written by Tony Mussari, Sr.
Edited by Kitch Loftus-Mussari
Photographs by Kitch Loftus-Mussari
Copyright 2016
Mussari-Loftus Associates, LTD
The Face of America Project
Always bear in mind that your own resolution to succeed is more important than any one thing. Abraham Lincoln.
Success Takes Teamwork
Thursday, April 7, was an unseasonably cold and rainy day. As we were leaving for our Face of America journey to the Marts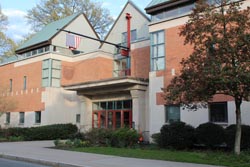 Center on the Wilkes University campus, the rain stopped and the sun began to shine. We didn't know it at the time, but this was a good omen of things to come.
When we arrived at the Marts Center, the first three doors we checked were locked. We could not get into the building.
Just as we were about to check the fourth door, three men, Ryan, John and Gene, approached the entrance. With a pleasant greeting, they showed us how to get into the building. Once inside, Ryan and John accompanied us to Room 214 where they rearranged the tables and chairs transforming the room into a comfortable classroom environment.
These three men from the moving department represented Wilkes University with dignity and class. Kitch and I were very impressed by their attitude and their behavior. They reminded us of something Dave Kerpen, CEO of Likeable Local, wrote in Inc. Magazine: The difference between success and failure is a great team.
Honoring Jennifer's Request
Jennifer Baron is a very impressive student. She is working on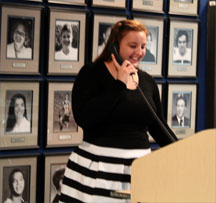 a double major in English and Secondary Education, and a double minor in Women's and Gender Studies and Special Education.
She is a Resident Assistant, an E-Mentor, an Admissions Office Lead Ambassador, Vice President of UNICEF and Secretary of BACCHUS.
In her spare time, Jennifer writes for The Beacon, the University's student newspaper
Kitch and I met Jennifer last year in Dr. Judith Gardner's Cultural Studies class.
On this special afternoon, Jennifer arrived early to do an interview for The Beacon. When I asked her to help us set up the computer and the projector for our PowerPoint presentation, she pleasantly and willingly agreed to help. When all of the elements were working and the lights in the front of the room were dimmed, we went to the back of the room for the interview.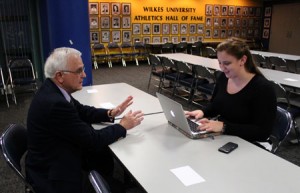 Jennifer asked good questions. She modeled the technique employed by many successful journalists. She humanized the interview with her first question. "Tell me about your background." Her style was soft and relaxed. There were no "Gotcha" questions. She empowered me to be reflective, and she listened attentively to my answers.
It was a pleasure to work with Jennifer. Kitch and I are looking forward to reading her article.
To rephrase a famous quotation, Jennifer conducted a successful interview because she was prepared, polite and patient.
Two Successful Teachers
Just as Jennifer was finishing her interview, Drs. Judith and Robert Gardner walked into Room 214. As always they were welcoming and very personable.
Judy and Bob are two very successful teachers. They love what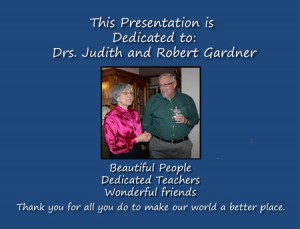 they do, and they do it well. They are innovators. They started the Gardner Educational Forum Series at Wilkes, because they believe education should not be limited to the classroom. They want their students to hear other voices, because they believe those voices will enhance and expand the perspective of their students.
In the classroom, they create a positive learning environment. They encourage discussion, and they provide incentives that encourage students to do more than take notes and memorize data. They are available, courteous, kind and respectful to everyone they meet. They don't talk about teamwork, they exemplify it in everything they do.
Because this would be the last time Judy and Bob would enter room 214 for a Gardner lecture as active members of the Wilkes University faculty, Kitch and I wanted to express our gratitude in a special way. We dedicated the lecture to Judy & Bob, and we had the dedication slide printed and framed. It was the least we could do to express our thanks for their kindness to us.
When William Arthur word wrote these words, he was describing Judy and Bob Gardner:
The mediocre teacher tells. The good teacher explains. The superior teacher demonstrates. The great teacher inspires.
The Journey to Success
The short title for this presentation is The Journey to Success. The academic version of the title is Rules of the Road to Success: Life Lessons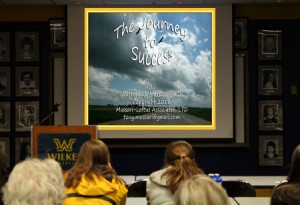 from Experience.
I received the invitation to make the presentation in January, and despite cataract surgery and some health issues, I spent most of my time revising and refining the initial version of this presentation that was given at a Speed Networking Event at Marywood University in February of 2015. I will always be indebted to Matthew Parkyn for that teaching opportunity.
The final edit to the Wilkes version was made on the morning of April 7. Yes, you are not seeing a typo. On the morning of the presentation, I was tweaking my presentation.
Why, you ask?
The answer is very simple. I did not want to disappoint Judy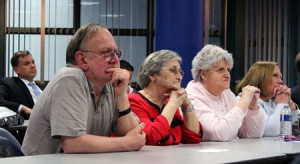 and Bob, their students and our friends who would be attending the presentation. Moreover, I feel deeply about this subject. It is something that is rarely discussed in a formal way in classrooms, and it is something that can be both emancipating and helpful to students.
By the time my research was finished, I had assembled a Success folder on my desktop. It contained 601 files and 29 folders. It was one of three folders containing materials about success. The final version of the PowerPoint presentation had 128 slides with 144 pictures and graphics.
In addition to the dedication slide we presented to Judy and Bob, we presented a framed copy of Jennifer's slide to her.
Magic Moments
There were several magic moments during and after this presentation:
Looking out into the audience and seeing the faces of two of my former students, several of our friends and one of my former colleagues was a scene I will never forget;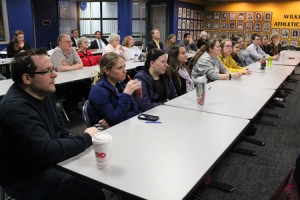 Watching and listening to the students who were in the room, they were fully engaged;
Experiencing the joy of learning that was taking place, and knowing that the messages were resonating with the students and the adults.
Before the event, I asked the students to record their definition of success on a 3X5 note card.
After the event, I sent this note to Jason Walker and a similar note to the students who provided their e-mail addresses:
My wife and I are working on an article about the event, and…I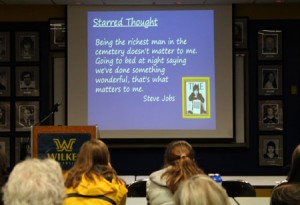 read your answer to the question, What Is Success?
You wrote, "Success is a feeling of self accomplishment, happiness and contentment."
Based on the material you heard and saw in the presentation, would you modify your answer, and what would the modifications be?
What are your thoughts about the presentation?
This is the response I received from Jason Walker.
Hello Dr. Mussari, I would change my answer to (Success is) living with integrity, being surrounded by the ones you love, and a sense of self accomplishment. I found the presentation to be very helpful and insightful. It has definitely helped me to evaluate my choices, decisions, and values. Thank you for giving the presentation.
Those four sentences contained the best definition of a successful classroom experience a teacher could ever expect.
Jason came into the room with one idea. He participated in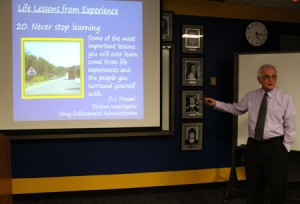 every aspect of the presentation, and he left the room with a different and more refined understanding of the subject matter. What a moment. It doesn't get much better than that.
An adaptation of the words of Peter F. Drucker says it all: No one learns as much about a subject as the person who is asked to teach it.
The celebrated American humorist, Will Rogers, gave us a thoughtful definition of success when he spoke these words:
If you want to be successful, it's just this simple. Know what you are doing. Love what you are doing, and believe in what you are doing.
Kitch and I know that we love to help Judy & Bob Gardner and their students because we believe in what they are doing as teachers and friends.
Thank you, Ryan, Gene and John.
Thank you, Jennifer Baron.
Thank you, Judy & Bob Gardner.
Thank you, John Augustine and Mark Simko.
Thank you, Pam Bird.
Thank you, Bev, Darlene and Ellen.
Thank you, Sean McGrath.
Thank you, Gary Williams.
Thank you, Wilkes students,
Thank you, Wilkes University.
It was one of the most enjoyable and successful learning experiences Kitch and I have ever had, and we will treasure the moments we spent with you.
Please provide feedback to:
tony.mussari@gmail.com