A Special Evening at Candy's Place

By Kitch & Tony Mussari
Copyright 2011
Mussari-Loftus Associates, LTD
"Home is not where you live, but where they understand you" Christian Morgenstern
Anyone who has experienced the anxiety, agony, pain and uncertainty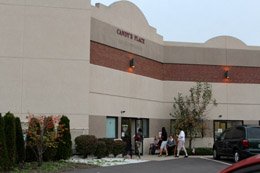 that comes with a diagnosis of cancer knows full well the need for words of comfort, help and encouragement.
They also know that cancer victims, and their caregivers, need safe havens where they can experience what Kitch calls "No 'C' Days."
In our little corner of the world, we are fortunate to have such a place. It is officially known as The Center for Cancer Wellness of NEPA. We prefer its more affectionate and personal name, Candy's Place.
On this October evening, Kitch and I went to Candy's Place to listen to Dr. Dan Kopen talk about breast cancer.
Dr. Kopen and Candy's Place are about as close as any cancer patient will get to perfection. Dr. Kopen represents the best in breast cancer diagnosis and surgery. Candy's Place offers cancer patients a kind,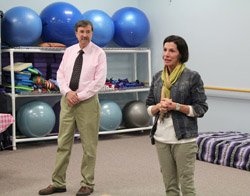 thoughtful, warm and welcoming environment for recovery. You feel it the moment you enter the building, and it stays with you long after you leave.
During our visit, Dr. Kopen emphasized 10 important points about breast cancer.  His presentation began with hope and it ended with reassurance.
1. Cancer is not the disease it used to be.
2. In the 1970s, it was a death sentence. That is not the case today.
3. Advances in digital mammography enable doctors to diagnose early stages with greater accuracy and frequency.
4. Cancer is a scary word; the earlier the diagnosis the better then prognosis.
5. Much of what you hear about breast cancer is not all good information.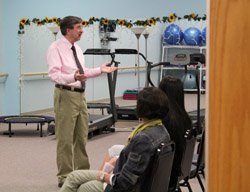 6. More younger women are being diagnosed today.
7. There are 300 ongoing studies about breast cancer.
8. There is a correlation between the environment and cancer, but it cannot be pinpointed accurately.
9. To effectively battle breast cancer the mind and the body must be in sync.
10. A second opinion is one of the best ways to align the mind and the body to combat breast cancer. A patient should not leave any stone unturned in making a decision about the proper treatment. Her physician should do everything possible to get her the best treatment available.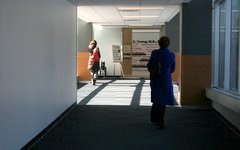 That is precisely what Dr. Kopen did for Kitch.  He encouraged, and he facilitated a second opinion at Fox Chase in Philadelphia. That visit made all the difference for us.
We returned from our visit with Dr. Laurie Goldstein with a very specific plan and renewed confidence. The physiology and psychology were aligned thanks to the wonderful people we met at Fox Chase.
Dr. Dan Kopen is a genuine from-the-heart as well as the mind kind of doctor.  He has treated 3,000 breast cancer patients.  He has performed 2,000 breast cancer surgeries. His credentials are impeccable. His demeanor is quiet, competent, compassionate and welcoming. Just being in his presence makes a patient feel comfortable.
On this evening, he arrived early, and stayed late.  He answered every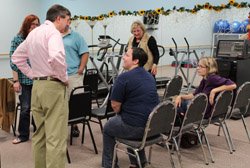 question, and after his presentation he visited with several people who wanted to seek his advice about their situation. Watching him out of the corner of my eye, I saw a person who loved his work because he knew he was in a position to help people successfully navigate the dark gravel road called cancer.
He also made time for three student nurses from Wilkes University, and members of the administrative staff at Candy's Place.
Penny Cunningham, the founder of Candy's Place, was on hand to greet everyone. Penny is an amazing woman.  She has dedicated virtually every minute of her life to the mission of Candy's Place.  The premature death of her sister Candy Vincent Mamary in 1998 closed the door to a priceless relationship with her sister, but it opened the door to Candy's Place for thousands of people who benefit from its programs like yoga, exercise, massage therapy and cancer awareness and treatment information.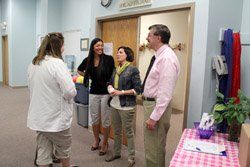 With great skill and due diligence, she has assembled a top notch team of professionals and volunteers headed by Nicole Farber. They are the heart and soul of Candy's Place. They make it what it is by attending to all the little things that matter to patients and caregivers.
At one point in the evening, I saw an image of Dr. Kopen, Penny Cunningham, and Nicole Farber talking with the student nurses and a cancer survivor. As I focused the image for a digital picture, the words of Martina McBride's song, "I'm Gonna Love You Through It" reverberated in my memory:
When you're weak, I'll be strong
When you let go, I'll hold on
When you need to cry, I swear that I'll be there to dry your eyes
When you feel lost and scared to death,
Like you can't take one more step
Just take my hand, together we can do it
I'm gonna love you through it.
It's the perfect description of the people who made this evening so special, and the life- saving blessings of Candy's Place.
During the evening while I was recording video and digital images, I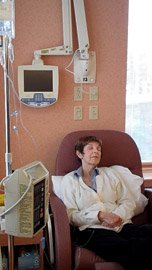 thought about Kitch's battle with breast cancer.
Under the watchful eye of Dr. David Greenwald, she successfully completed chemotherapy. It was difficult, demanding and at times debilitating, but she never gave up and she never gave in.  
When she finished her chemotherapy infusions, she took the extra step to guarantee a successful outcome by taking 33 radiation treatments administered by Dr. Norman Schulman and his wonderful staff of technicians.
To facilitate the transition from treatment to the restoration of a full life, Kitch visits Candy's Place once a week for one-on-one yoga lessons with Theresa Novak. These sessions have been invaluable in her recovery.
Before Kitch and I got into our car for the ride home, I turned to look at the entrance to the building. What I saw in the darkness of the night was a bright moon resting just above Candy's Place.  Below it, three women were sharing stories about the evening. They were smiling and enjoying the comfort of good information, good company, delicious treats and a sense of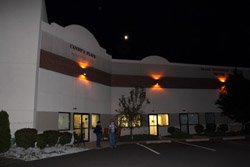 belonging that lifted their spirits and gave them hope.
Oliver Wendell Holmes was right, "Where we love is home."
Thank you, Penny Cunningham.
Thank you, Nicole Farber
Thank You, Dr. Dan Kopen
Thank you, Kitch for giving me the opportunity to love you through it.
You are four faces of America on its best day.
Please provide feedback to: