A Unique Experience of Belonging and Learning at an Express Pros Webinar
Written by Tony Mussari, Sr.
Edited by Kitch Loftus-Mussari
Copyright 2016
The Face of America Project
Mussari-Loftus Associates, LTD
The first responsibility of a leader is to define reality. The last is to say thank you. In between, the leader is a servant. Max de Pree
Destination: Johnson College
Johnson College is one of the premier institutions of learning in northeastern Pennsylvania. It has been serving the need of students since 1912. On this fall morning, Kitch and I drove to this

beautiful campus to attend a special "Lunch & Learn" event featuring Atty. Julie Donahue, a member of the Philadelphia law firm Olgetree and Deakins and motivational speaker and author Eric Chester.
This unique learning experience was organized by Amy Clegg and her staff at the Express Pros office in Scranton.
A Roadmap for Change
Attorney Julie Donahue is a soft-spoken, analytical person. She received her undergraduate degree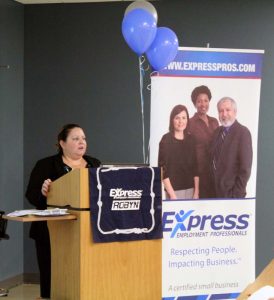 from Loyola College in Maryland and her lawdegree with honors from Temple University Beasley School of Law.
According to her colleagues at the Philadelphia law firm Olgetree and Deakins, "she represents employers in a broad spectrum of employment-related matters including matters involving Title VII of the Civil Rights Act of 1964, the Americans with Disabilities Act, the Age Discrimination in Employment Act, the Family and Medical Leave Act, the Fair Labor Standards Act, the Pennsylvania Human Relations Act, as well as many other federal and state employment discrimination laws."
She also handles matters relating to wrongful discharge, breach of contract and grievance arbitrations.
On this November morning, she informed her audience about the new Department of Labor overtime regulations that will go into effect in December. According to Atty. Donahue, the Department of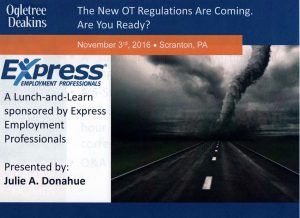 Labor has been broadening the legal rights and protections afforded to workers through its power to administer several statutes.
To help people better understand the complexities of these changes, she provided everyone in the room with a printed copy of her 34 page PowerPoint presentation.
Her presentation was well organized, and she took the time to answer questions and clarify how employers could get prepared for these changes without alienating anyone.
She shared an invaluable a 10 page, 17 point handout that defined all of the new regulations including:
A new Minimum Salary Threshold of $47,476;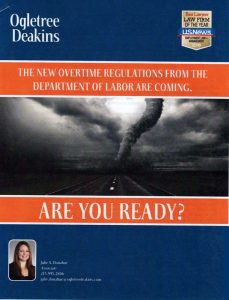 Inclusion of Bonuses and Incentive Pay when
Calculating Salary;
Indexing Every Three Years Starting January 1, 2020;
Total Compensation Requirement for HCE Exemption
Increases to $134,004;
No Changes to Duties Test;
Increasing Salaries to Meet the New Threshold;
Overtime as a Reward;
Updating and Revising Job Descriptions and Job Titles;
Changes in Pay Structures for Employees Converted to Nonexempt;
Job Titles that Now Will Include Both Exempt and
Nonexempt Employees;
Reporting Payroll Errors;
Limitations on Hours Worked;
Adjusting the Worksheet;
Timing;
Who Should Communicate This Information to
Employees;
Individual and Group Communications;
Communications Regarding Timekeeping.
She distributed another 10 page handout entitled "The New Overtime Exemption Regulations Facts and Flowcharts." It outlined the following: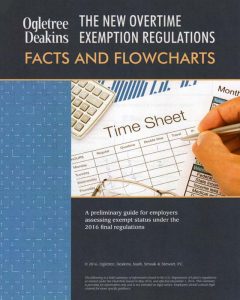 Executive Employee Test;
Administrative Employee Test;
Learned Professional Employee Test;
Creative Professional Employee Test;
Computer Professional Employee Test
Highly Compensated Employee Test;
Outside Sales Employee Test.
The handout also included two pages of Definitions and Examples.
Her topic was complicated, but she found a way to make sure everyone in attendance had a better understanding of the many nuances of the new overtime regulations, but she did not stop there. In her thoughtful way, she made sure that everyone had printed materials that would help clarify the issues long after the conference ended.
When John Ruskin wrote these words, he was describing Atty. Julie Donahue:
When love and skill work together, expect a masterpiece.
How to Attract and Retain the Best and The Brightest
"Everyone should ask themselves everyday… "What am I doing today, to make my craft better?" – Eric Chester.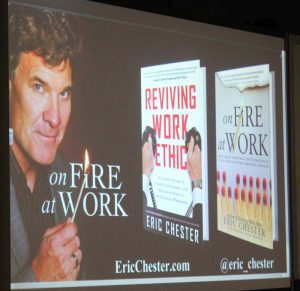 Eric Chester started his professional career as a teacher and coach. Today he is a celebrated motivational speaker and writer. To help leaders end entitlement and restore pride in the emerging workforce, he founded The Work Ethic Development Center. The centerpiece of this popular work ethic training curriculum is a training and certification program entitled Bring Your A-Game to Work. It is used in schools, universities and workforce centers.
These are a few of the books Eric Chester has written:
Reviving Work Ethic – A Leader's Guide to Ending Entitlement and Restoring Pride in the Workforce
Employing Generation Why: Understanding, Managing, and Motivating Your New Workforce
Getting Them to Give a Damn: How to Get Your Front Line to Care about Your Bottom Line
On Fire at Work: How Great Companies Ignite Passion in Their People without Burning Them Out.
On this day, he called upon all of these sources to craft a presentation which he titled From Rookie to Superstar. The foundation for his presentation can be found in these three sentences:
Work has degenerated to little more than a four letter word; a necessary evil. It's no longer viewed as something to be proud of, but rather something to disdain, to shortcut, or to elude all together…It's time to revive work ethic. – Eric Chester.
Setting the Tone
To set the tone for his remarks and to help people better understand his central thesis, he told a story about Bob Knops a Korean War veteran who worked at Twin City Wire Company for 59 years. Mr.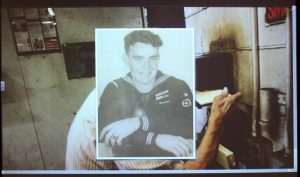 Knops never missed a day of work.
Mr. Knops' accomplishment grew out of his work ethic. He was positive and enthusiastic. He showed up for work on time. He was dressed and prepared properly. He did more than was required of him. He was honest, and he played by the rules. He was pleasant and he gave friendly service.
Several times during his remarks Eric Chester highlighted the seven elements that comprise a positive and productive work ethic:
Being Reliable;
Being Professional;
Taking the Initiative;
Showing Respect;
Having Integrity;
Expressing Gratitude.
Instilling those seven attributes into the hearts and minds of the emerging workforce is the key to keeping our companies, and our country, stable and prosperous.
For America's young employees, work ethic is the key to success, whether they are flipping burgers, roofing houses, checking a patient's blood pressure, or piloting spacecraft or NASA. -Eric Chester
The Importance of Values in the Workplace
For Eric Chester, the essentials of work ethic are core values not skills, "Therefore we can say that knowing the right thing to do, and then doing it."
Using a special graphic, he explained how important values are in the workplace.
When employees know what to do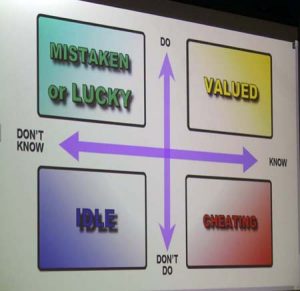 and they don't do anything, they
are idle and not of much value to
anyone.
When employees don't know what
to do but they take a chance and do
something that happens to be of
value, they are lucky.
When an employee knows what to
do and they don't do it or worse
they do the opposite, they are
cheating.
When an employee knows what to
do and they do it, they have value
to their employer.
Great leaders know how to move their employees up and over to the value quadrant. They show their employees how to end entitlement and how to restore pride in the workforce. Eric Chester
Practical Matters
Eric Chester introduced a very important issue with this question:
What do you expect out of your job?
He used an effective slide to answer the question. It had seven elements:
Compensation;
Career Growth;
Learn More;
Autonomy;
Open Communication;
Acknowledgement.

Then he effectively related these objectives to the seven elements of the work ethic. According to Chester, when both sides' needs are met, it is called engagement.
He transitioned to another important matter with these questions:
How do your employees evaluate you and how does your company compare against your competitors? These questions reveal one of Eric Chester's most strongly held beliefs:
The best way to recruit is to offer an unbeatable culture.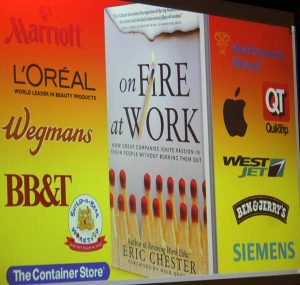 With that fundamental truth in mind, he shared information he obtained by interviewing the executives of companies who repeatedly earn the designation of the best companies to work for in America. Some of his examples were:
The Container Store, a company that believes that one great employee is worth three mediocre employees;
The Mars Company where everyone including executives clock in every day, and you are rewarded if you clock in early rather than disciplined for being late;
Wegman's is considered to be one of the best places to work in America. Everyone in the company has an employee growth path to get to the next level;
The Apple Store is one of Eric Chester's favorite examples. It hires "geniuses" not sales clerks, and its culture is deeply rooted in acknowledgement.
Chester posed another important question: "How do you find the best people?"
At first glance, his suggestion was somewhat unorthodox: "Stop fishing and start hunting;" "Know what you want for each and every position, and what it takes to succeed;" Identify your best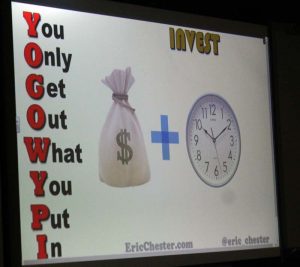 employees and hunt their friends;" "Establish relationships with schools that are in your vicinity, and hunt these schools for their best prospects;" "Hunt the military. There are 20 million veterans in the US;" " Hunt the competition."
He pulls no punches. He is quick to admit that it takes time and money to get good employees, but you only get out what you put in.
The words of Dale Carnegie best describe Eric Chester and his presentation:
Live an active life among people who are doing worthwhile things, keep eyes and ears and mind and heart open to absorb truth, and then tell of the things you know, as if you know them. The world will listen, for the world loves nothing so much as real life.
Eric Chester relates to people of all ages because he is genuine.
One can best describe the atmosphere of this Express Employment Professionals Webinar event by paraphrasing the words of F. Scott Fitzgerald.
The beauty and meaningfulness of this event is found in the reality that your needs are universal needs. You are not isolated from anyone. You belong.
On this special day we experienced America at its very best, and for this wonderful learning experience we want to thank:
Amy Clegg; Owner, Express Pros, Scranton;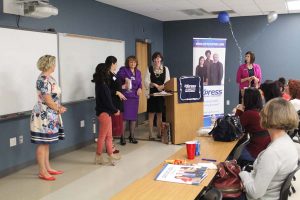 Nikki Schake, Director of Community Engagement, Express Pros, Scranton;
Brittany Pagnotti, Business Developer, Express Pros, Scranton;
Roseann Martinetti- Career Services, Johnson College;
Jocelyn Irizarry- Director of Recruitment, Express Pros, Scranton;
Kate Fajardo- Staffing Consultant, Express Pros, Scranton;
Lee Yeomans- Director of Operations Express Pros Scranton;
Tracey Pratt- Advancement Specialist, Johnson College;
Jessie- Johnson College photographer;
Richard Jalil- Parking Lot Attendant, Express Pros, Scranton; Associate;
Atty. Julie Donahue;
Eric Chester.
You are the Face of America on its best day, and we are in your debt.
Please provide feedback to:
tony.mussari@gmail.com