Happy Anniversary: Our Journey Continues

A Year of Memorable Moments
Written by Tony Mussari, Sr.
Edited by Kitch Loftus-Mussari
Photographs by Kitch Loftus-Mussari and
Tony Mussari, Sr.
Copyright Mussari-Loftus Associates, LTD 2015
All Rights Reserved
To look backward for a while is to refresh the eye, to restore it, and to render it more fit for its prime function of looking forward. Margaret Fairless Barber
The Numbers
On this the last day of February in 2015, Kitch and I celebrate the fifth anniversary of our Face of America Journey.
These are the numbers for 2014: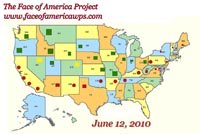 We traveled 5,100 miles visiting 24 cities in eight states;
Eight screenings of our documentaries were held in seven cities;
We posted 36 articles in our blog;
Ten of these articles focused on medical issues as we documented every step in Kitch's total knee replacement surgery and other medical experiences at Geisinger/CMC in Scranton;
Ten articles were posted about our documentary Four Days of Honor and Valor in Gettysburg.
Highlights
As we review our travels, there are several moments that we will never
forget. The naturalization service in Binghampton, New York, on the day Dr. Rex & Viola Dumdum became American citizens is in a class all by itself. Rex and Viola are two people who personify America at its very best, and they define genuine friendship in acts not words.
Celebrating the people we met during Kitch's knee replacement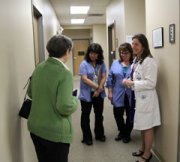 surgery at Scranton Orthopaedic Specialists and Geisinger/Community Medical Center in Scranton brought both of us great joy. The people who cared for Kitch were thoughtful, kind and professional in every sense of the word.
Working with Drs. Judith and Bob Gardner and their associates in the Education Department at Wilkes University was an honor and a pleasure.
The opportunity Dr. Bill Kashatis gave us to work with Dr. Mollie Marti to tell the story of Judge Max Rosenn at the Annual History Conference at Luzerne County Community College was a delightful experience.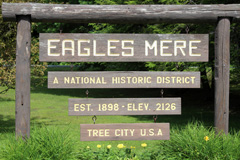 Our visit to Eagles Mere in July was simply beautiful. We enjoyed the setting, and the people we met were delightful. If all goes as planned we will return to this wonderful community again this year.
Our friend, Amy Clegg, invited us to participate in two seminars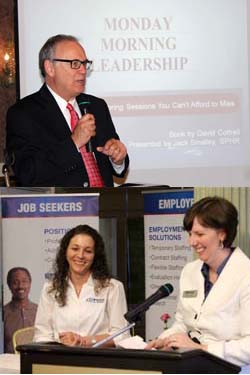 sponsored by Express Employment Professionals. Amy is a consummate professional as is Jack Smalley.
We made two trips to Baltimore, Maryland: one to celebrate Vicki Perez and to present a short film about her heroic daughter, 2d.Lt. Emily Perez; the other to celebrate our friend Mary Jane Norris at the 15th Annual Women in Maritime History Awards Ceremony.
In the spring, we traveled to Marywood University to speak at the annual ethics conference. We returned to Marywood 11 months later to keynote a Speed Networking event. Both experiences produced special moments and new friendships that we treasure.
In May, we screened Four Days of Honor and Valor in Gettysburg at the high school in North Plainfield, New Jersey. Five months later we joined a delegation of wonderful people from North Plainfield at a screening of the same documentary at the Convention Center in Atlantic City.
Endings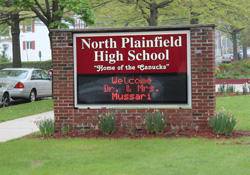 Anyone who has followed our travels since 2010 knows that we have spent more time in North Plainfield, New Jersey, than anywhere else in the country. These are the numbers:
We produced four documentaries about students from North Plainfield and their educational experiences during their visits to Shanksville, PA and Gettysburg PA;
We produced three short videos about North Plainfield students for our website, and we published 44 articles about North Plainfield students, administrators, teachers and school board members in North Plainfield in our blog;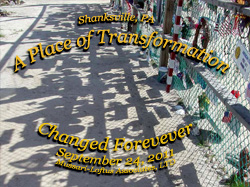 We averaged four trips a year to North Plainfield. If you add the location scouting and post-production trips we made to Shanksville and Gettysburg for location shoots, we have logged over 10,000 miles while working on these projects.
During our first visit to North Plainfield, we saw what we believe to be the Face of America's tomorrow today in the high school. That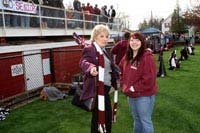 beautiful mosaic has not changed. In fact, it is forever enshrined in a special place in our hearts, in our minds and in our garden.
The road to and from North Plainfield is paved with all the things that life has to offer. There were beautiful moments of discovery. There were challenging moments of obstacles to be overcome. There were community moments of celebration and there were many, many wonderful teaching moments of growth, learning and transformation.
Unfortunately, the prophetic words of Candy Villagomez accurately describe the effort, energy and time we invested in the work we have done in North Plainfield: "Nothing lasts forever."
The day before his death, Leonard Nimoy beautifully expressed this thought about endings with these words:
A life is like a garden. Perfect moments can be had, but not preserved, except in memories.
This is the year our work in North Plainfield came to an end. The perfect moments will live on in our memories of this very special place.
The Dream
When we began our journey, we had three objectives:


We wanted to visit every one of the 48 continental states;
We wanted to build a mosaic of the Face of America on its best day;
We wanted to write and publish a book about our discoveries.
As you know, we accomplished all but one of these goals. We could not find a publisher who was willing to take an interest in our book.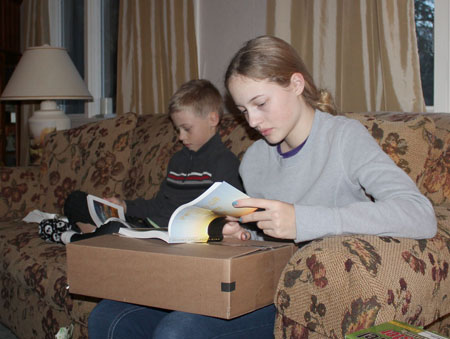 This year we found an alternative.
Knowing that I am in the last quarter of my life, I decided to do something special for my grandchildren this Christmas. With encouragement and help from Kitch, we wrote a book entitled Papa Tony's Gift: Life Lessons from the Heart.
It is a visual narrative. The majority of the pictures in the book were taken during our journey. The 214 graphics in the book speak to all of the values we associate with America on its best day.
The idea for the book is rooted in our experience at the 2013 Medal of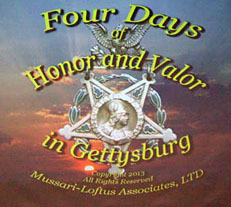 Honor Convention. Four months later during the screening of Four Days of Honor and Valor in Gettysburg, I looked out at the audience and my eyes focused on my grandchildren. Without thinking I spoke these words from my heart:
"I am worried about your future, your generation and the challenges you will face in your lifetime."
I also made the point that we must not permit digital relationships to replace personal relationships.
Shortly after we returned home, I began researching and writing in February 2014. During their Christmas visit, we presented a draft copy of the book to the children. Recently, we picked up the final edition of the book at Offset Paperback Manufacturing, Inc.
Of all the things Kitch and I have had the opportunity to do and see during our journey, writing and publishing the book was the most challenging, difficult and rewarding experience.
Looking forward, we will be doing more writing and less documentary production. To be honest, as much as we enjoy the documentary process, writing is our first love.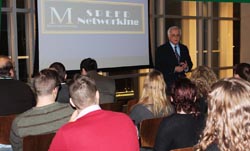 Our year ended with a wonderful experience provided by a student at Marywood University. Matthew Parkyn needed a keynote speaker for a Speed Networking event, and he turned to us for help. That opportunity enabled us to spend five weeks researching and writing a presentation that has opened many doors for future activities.
To everyone who offered encouragement, empathy, help and the steadfast loyalty of friendship and understanding during this transitional year of our Face of America Journey, Kitch and I thank you with a promise. We will continue our search for examples of the Face of America, the people, the places and the values that speak to America at its best. We will continue to write about these experiences.
Looking back on our Face of America Journey in 2014, the words of a great writer and statesman come to mind:
The farther backward you can look, the farther forward you can see. Winston Churchill
Please provide feedback to:
tony.mussari@gmail.com