Walking Into The Light At Gettysburg: A Review
Written by: Gale & Robert Jaeger
Photography: Bill Gaydos & Kitch Loftus-Mussari
January 19, 2013
Lenfest Theater, Visitor Center
Gettysburg National Military Park
Copyright 2013 Face of America, Mussari-Loftus Associates, LTD
On a recent bright and shining Saturday morning, we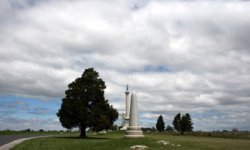 traveled from our home in Waverly PA to a most enchanting and inspiring place… the Gettysburg National Military Park.  Although it has been on our list of places to visit for many years, it was the first opportunity we have had to actually get there, and we were not in any way disappointed.
The purpose of our trip was to attend the premier of a production by Dr. Tony Mussari and his wife and able partner, Kitch Loftus Mussari. We knew that our travels would reward us with an exceptional experience and we were correct in our supposition. It was an evening we will long remember.
As we all assembled in the theater, having been warmly welcomed by Tony and Kitch, people prepared to settle down and see the show. Mr. Frank Orlando, a former public school principal clearly devoted to education and learning, was the master of ceremonies.  He and his wife, Bonnie, were attired in civil war costume and proceeded to act their roles while providing the audience with charming reflections and historical facts of the era.
Following the Orlandos was Mr. William Troxell, long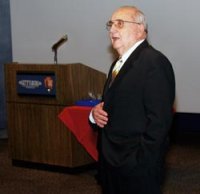 time mayor of Gettysburg. He gave some history of this historic town – really a lovely hamlet of sorts – and told of his many generations of relatives who had resided here before him.  He was most gracious in his welcome and made us all feel quite at home.
Ms. Stacy Fox, VP of Sales and Marketing, Gettysburg Convention & Visitors Bureau, was exuberant in her discussion of the military park and all that it stands for in terms of American history.  It is easy to see why she holds the position she does!
Finally, just before the actual screening, Dr. Tony Mussari gave some reflections on why he and Kitch had decided to produce this documentary.
He spoke about visiting Gettysburg for the first time with his brother. Tony was 15 at the time and the experience, in his words,"changed his life."
A part of the Face of America Project, Walking Into the Light is indeed enlightening. It educates us about the infamous Battle of Gettysburg. As important, as we view the monuments and battlefields through the lens of period photographs and renderings, we feel both the terror and the courage that these 161,000 soldiers must have experienced in this history making three day battle.
We were inspired and moved as the Battle Hymn of the Republic and other very moving music, well selected for this documentary, played in the background with footage of our great flag imposed across the screen, undulating in a stiff breeze. It was truly inspiring and our hearts were filled with pride for our new republic and for what it has become.
Central to this documentary was the presence of ten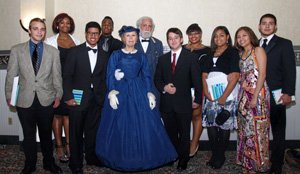 students from North Plainfield High School in New Jersey. A diverse group, there was clearly one thing these students had very much in common: a thirst for knowledge and a true sense of astonishment and amazement at what they learned through this life changing experience – exactly what Tony and Kitch had hoped for.
Articulate and insightful beyond their years and life experiences, these students learned how much their forefathers sacrificed for our collective freedom. It caused them to do some critical thinking and express gratitude for all that they enjoy today. It clearly changed them in very real ways. We wondered how this experience might also move and inspire university level students who might come to Gettysburg with a higher level of understanding and perhaps see things that might have been lost on such young students. Clearly, people of all ages leave this place enriched and inclined to learn much more about our nation's history during those Civil War years.
Also notable were the many comments made by General Robert E. Lee, so nicely interpreted by Frank Orlando.
While we never understood him as well as we did after hearing some of his "commentary," we were reminded that even those whom we might disagree with ideologically, have something to say and, when given the opportunity, it is often something we can admire. We wondered what General Grant might have told us about and what memorable quotes we would have taken away from his commentary had he been a part of the proceedings!
And finally, the memorable quotes from President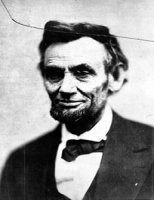 Abraham Lincoln, a man who overcame so many obstacles to be a president who changed the world in so many ways, touched our hearts once again. Some were new to us, other we had known. All were words which are timeless and could have been spoken today with just as much meaning and power.
Iconic in today's world for his many contributions, Lincoln was often misunderstood in his lifetime. One who understood him was T.V.Smith who said:
"This Lincoln, whom so many living friends and foes alike deemed foolish, hid bitterness in laughter, fed his sympathy on solitude, and met recurring disaster with whimsicality to muffle the murmur of a bleeding heart… and won through death what life disdains to bestow upon such simple souls –lasting peace and everlasting glory."
While Lincoln and the soldiers who fought so valiantly at Gettysburg may not have provided for a lasting peace – perhaps humans are not capable of that –they did provide us with everlasting glory.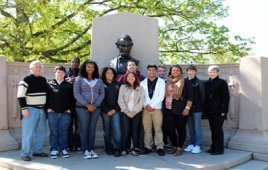 Thank you Tony and Kitch for this extraordinary film and for all the expertise, insight and love that went into it.
Surely you changed the lives of many of us in your audience just as you changed the lives of your ten students, and just,Tony, as your own life was changed when you first visited Gettysburg many long years ago
with your beloved brother. He is surely proud of all that came of that visit and smiles on you today.
Godspeed to you and to all who helped to make this fine documentary a reality.