The Shanksville Standard: America at its Best
Written by Tony Mussari
Edited by Kitch Loftus-Mussari
Photographs by Kitch and Tony Mussari
Copyright 2015
Mussari-Loftus Associates
The Face of America Project
Memory is the mother of wisdom. Aeschylus
In the Quiet of a Garden
I spent the first part of this beautiful September day in our Angel Garden. In the quiet of the morning hours, I looked at each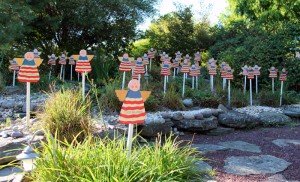 of the 40 angels, and I thought about their courage, their honor and their sacrifice. These are the men and women who gave their lives in a successful attempt to prevent United Flight 93 from reaching and destroying the U.S. Capitol building on September 11, 2001.
Throughout the day, my thoughts took me back to Shanksville, a place that is like a second home for Kitch and me.
Over the years, we have designed educational experiences that enabled us to take about 500 people to this sacred place. These visits gave us the opportunity to produce 16 episodes in our What Is America? Series. They provided opportunities to make friends and learn and grow in ways we never thought possible.
In so many ways, September 11 is a day of national reflection. On this the 14th anniversary of the day the earth stood still for America, my thoughts focused on what I like to call the "Shanksville Standard." It's a standard comprised of 15 elements that were best articulated by people we talked with at the memorial in Shanksville.
1. Reach Out: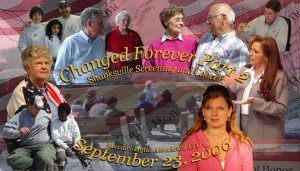 Our friend Doug Macmillan provided a key element when he shared this thought:
"There will always be struggles… every hardship is an opportunity to reach out and make a difference in the lives of people."
2. Remain Positive:
Janie Kiehl is the first person we met when we visited Shanksville in 2001. At the time of our meeting she was at the site volunteering as a Flight 93 Ambassador. Her contribution to the Shanksville Standard was best expressed when she spoke these words:
"Understand that life goes on. Despite the tragedies, you have to stay positive."
3. The Power of Hope:
During one of our visits, we found a ceramic tile inscribed with five of the most beautiful and powerful words I have ever read: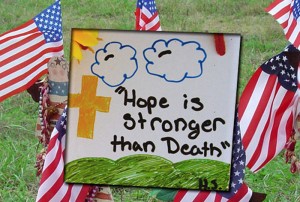 "Hope is stronger than death."
The young student who designed this work of art left a permanent mark on the hearts of everyone who saw this masterpiece.
4. Have Faith:
Chuck Wagner participated in every phase of the temporary and the permanent Flight 93 Memorial. His faithfulness to the heroes of Flight 93 earned him a special place in the history of the memorial. When I asked him to share his thoughts about his life and his volunteer work, he responded with this biblical citation:
"For God so loved the world, that He gave His only begotten Son, that whoever believes in Him shall not perish, but have eternal life."
5. Love and Kindness:
Telk Gohn served as a Flight 93 Ambassador. She and her husband Bob did everything in their power to make people feel welcome at the site. Her beautiful contribution to the Shanksville Standard is deeply rooted in these words:
"Every day should be reserved as a day the Lord has made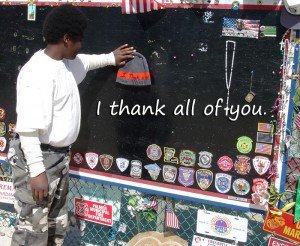 to do something for someone else and to share his love."
6. Gratitude:
On a cold and damp afternoon at the site, we encountered a young man who was with a group of wilderness camp students. This teenager was so moved by what he was experiencing, he used a magic marker to express his gratitude. His message was simple:
"I thank all of you."
I don't know his name, but I will never forget his act of thanks-living.
7. Transformation and flexibility:
Mary Alice Mankamyer and her husband Clay highlighted the importance of transformation and flexibility. Both of these Flight 93 Ambassadors believe the Shanksville experience changes people forever. They are quick to admit it has changed them as well.
"I think the site has changed peoples' lives forever."
8. Peace
One of the most insightful dimensions of the Shanksville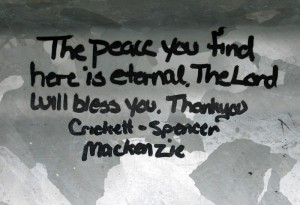 Standard was recorded in a message painted on a guardrail at the temporary memorial:
"The peace you find here is eternal."
If ever there is one recurring theme in Shanksville, it is peace of mind and peace of spirit.
9. Memories
Joanne Galvin and her husband Steve created the National 9/11 Remembrance Flag. Joanne believes in the power of memories. When I asked her to explain her thought, she offered words that came straight from her heart:
"We have to make sure that the memory of these people stays alive."
10. Community
Joanne's son Dan Fitzmaurice identified an important element of the Shanksville Standard.
"The Flight 93 Memorial brings people together."
11. Heroism
Kelsey Lee visited Shanksville with our group in 2008,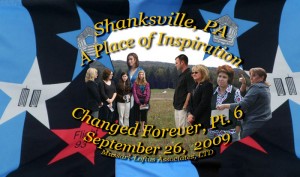 She was deeply moved by the genuineness of the place and the people she met. It inspired her to share this thought:
"It really taught me don't worship false idols when you have real heroes all around you."
12. Perspective
During the same trip, another student Laura Lomascolo offered this poignant observation:
"Out of every bad thing that happens later on something awesome comes out of it."
Her friend Maria Romero used the word perspective several times to explain what she had learned. Visiting Shanksville empowers people to see beyond the obvious.
13. Strength and Perseverance:
Lee Snyder was the first person we interviewed in Shanksville.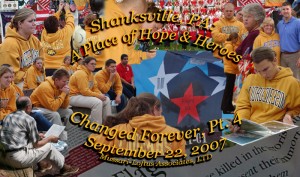 She is the author of a scrapbook of memories and mementoes entitled Patriots of Peace. Her contribution to the Shanksville Standard came out of her writing and publishing experience:
"It taught me to be strong and keep moving forward."
14. Respect
Dana Pienta was a senior at Misericordia University when she visited Shanksville in 2006.
"People respected that site. It is a place of reflection, deep thought and deep prayer. Those 40 people have so many people that love them, respect them and treat them like heroes."
15. Don't Take Things for Granted
Val McClatchey is the person who took the picture that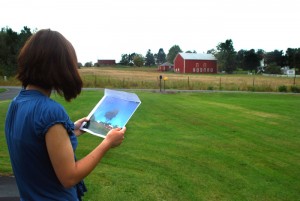 captured what she called The End of Serenity. This picture and everything that happened on the day it was recorded taught Val to take nothing for granted.
"I no longer take little things for granted like a clear sunny day, because you never know when something is going to come up and cloud over those bright sunny skies."
Anyone who is looking for a description of what America is on its best day will find it in Shanksville.
Anyone who wants to see the Face of America on its best day need only look at the pictures of the 40 men and women whose heroic acts of courage and selfless service earned them the admiration and respect of people all over our country and the world.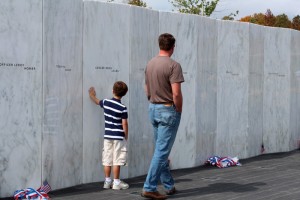 Anyone who wants to improve the quality of their own life and the lives of the people they interact with every day need only embrace the elements of the Shanksville Standard. That is the good that has evolved from the tragedy and suffering of September 11, 2001, when United Flight 93 ended its journey in a bucolic field in Shanksville, PA.
The way Kitch and I see it, "Memory is the Mother of Wisdom."
God Bless the heroes of Flight 93.
God Bless all the people who worked for 14 years to make the dream of a permanent memorial become a reality.
God Bless America.
Please provide feedback to: tony.mussari@gmail.com