Dealing with Disappointment: America at its Best
Written by Tony Mussari,Sr.
Edited by Kitch Loftus-Mussari
Photographs by Kitch and Tony Mussari,Sr.
Copyright 2015
Mussari-Loftus Associates
The Face of America Project
Disappointment to a noble soul is what cold water is to burning metal; it strengthens, tempers, intensifies, but never destroys it. Eliza Tabor Stephenson
Context
For the past six months, Kitch and I have spent a good deal of time conceptualizing and organizing an educational experience for a group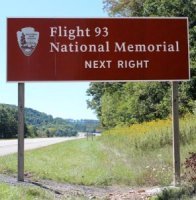 of our friends and ten students who attend Misericordia University. The project was designed to acquaint the participants with the elements of what we call "The Shanksville Standard." The capstone of the project was a visit to the new Visitor Center at the Flight 93 National Memorial in Stoystown, PA.
This may sound like a very simple undertaking, but, believe me when I tell you, it demanded a great deal of time, effort and energy on our part, and cooperation from a number of our friends in Shanksville and beyond.
To give you one measure of the challenges we faced in organizing
this educational experience, there is a folder on my desktop computer labeled Shanksville 2015. It contains 1,424 files in 75 folders. One of these folders contains a PowerPoint presentation Kitch and I designed to help the students better understand the history of the Flight 93 Memorial and the objectives of this experience. This presentation contains 56 slides. To help us tell the story visually, we inserted 61 archival pictures and 35 graphics on these slides.
Our Shanksville 2015 file does not include more than 200 e-mails that were sent, and dozens of telephone calls that were made.
To attend to all the little details that make an experience like this successful, Kitch and I hosted four meetings with food and beverages in our greenhouse for people who made special contributions to the project.
In September, I traveled to Shanksville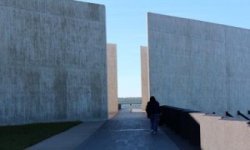 for two days to meet with several people who were essential to various aspects of the trip. We also participated in a meet-and-greet session arranged by Dr. Brian Carso for his students at Misericordia University. Dr. Carso was our partner in this project, and he devoted a good deal of time and energy to make it a success.
Our dear friend Mary Jane Kiehl volunteered her time to help us with all the refinements that have been a hallmark of our visits to Shanksville over the years. She hosted a dinner at her home which was the highlight of my trip to Shanksville in September. It was a celebration of friendship, a planning session and a reunion with our friends Chuck and Jayne Wagner.
Tropical Depression 9
While I was driving home from Shanksville on September 15, a tropical depression was forming in the Atlantic Ocean. TD 9 was located about 1200 miles east of the Lesser Antilles and about 1300 miles west of the Cape Verde Islands. It was moving slowly with maximum winds of 30 miles per hour.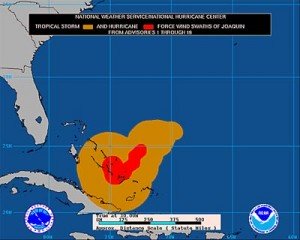 TD9 eventually became Hurricane Joaquin, a Category 4 storm with 130 mph winds.
On September 30, Kitch and I composed a note for all of the people we invited to join us in Shanksville:
Kitch and I have been researching weather conditions for Friday, Saturday and Sunday.
As you probably know the weather conditions for Friday, Saturday and Sunday are not good.
This morning I made contact with our coordinator in Shanksville, and she told me the prediction for Saturday is 100% rain for most of the day with high winds, cold temperatures in the low 40s, and flooding.
In the interest of safety for everyone who will be traveling to Shanksville, we have decided to cancel the trip.
In our opinion it is the right thing to do.
Please know that Kitch and I appreciate everything you did to make this trip a success.
The note produced thoughtful and encouraging responses: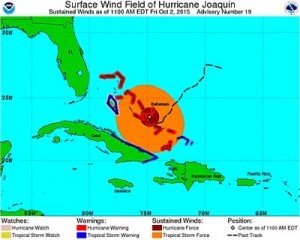 "Bummer!
It's probably for the best…if the power goes out, you'll have even bigger problems.
Thanks for letting me know so quickly…"
"You made the right decision to cancel. This could be bad… I know you must be disappointed considering the herculean effort you put into making it happen."
"No problem…I understand…I look forward to working with you again."
"I know this is a disappointment when you have worked so hard to put this together, but there is always another date and time."
"Sorry you have to change your plans after all that you have done with the preparations. I am sure you have made the correct decision when personal safety is the issue."
"Thanks for the messages about the cancellation on the computer and by phone. You absolutely made the right decision.
It was a hard decision, but the right decision in regards to the safety of us all."
Our dear friend Bill Gaydos added this insight: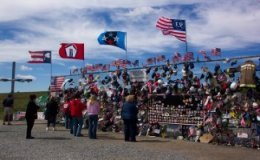 I did want to see how much things have changed since those former years when the feelings about Flight 93 rose up from one's soul. We had a very special bond with the people of Shanksville and family members of Flight 93. You were really in the forefront in shining a light on the heroism of Flight 93.
He ended his note with the poem he wrote for the visit:
We travel to Shanksville to honor the heroes of Flight 93
Their courage and action forever lives in the hearts of you and me.
Those immortal words of action "Let's Roll" Todd Beamer was heard to say
They live forever in our hearts and minds right up to this very day.
God Bless America
God Bless the Heroes of Flight 93
Lessons Learned
One of the most important lessons I learned from this experience was best described by Henry David Thoreau:
If we will be quiet and ready enough, we shall find compensation in every disappointment.
Paulo Coelho, a Brazilian lyricist and novelist, provided another insight into disappointment:
When you find your path, you must not be afraid. You need to have sufficient courage to make mistakes. Disappointment, defeat, and despair are the tools God uses to show us the way.
Disappointment is something all of us can expect. It's an essential part of life. It's how we deal with it that matters most. Focusing on the good that can be found in every situation, the lessons we learn, the kindness we experience, the people we meet and the way we can grow from what we have experienced enables us to accept what has happened and move on.
William James put disappointment in perspective with 15 words:
Accepting what has happened is the first step to overcoming the consequences of any misfortune.
Beverly Knight was right: "Shoulda woulda coulda can't change your mind." They can't change the situation, because in the end, disappointment teaches us to accept what is and why.
Organizing the Shanksville Experience 2015 was a wonderful opportunity with many beautiful moments of connection and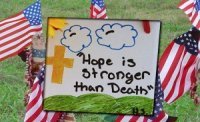 confraternity. Even though Hurricane Joaquin disrupted our plans, it gave all of us a better understanding of how to deal with disappointment.
To everyone who tried to help us make this dream become a reality, we thank you. Your kindness and your friendship give us hope, and that is the best medicine for disappointment of any kind. It is also a characteristic of "The Shanksville Standard" and America at its best.
Graphics of Hurricane Joaquin were provided by the National Weather Service.
Please provide feedback to: tony.mussari@gmail.com