Graduation 2012: Making the Earth and Everything in it Yours

Written by Tony Mussari
Edited by Kitch Loftus-Mussari
Copyright 2012
Mussari-Loftus Associates
The Face of America Project
faceofamericawps.com
Success is to be measured not so much by the position that one has reached in life as by the obstacles which he has overcome. Booker T. Washington
Context
It seems like only yesterday when Kitch and I met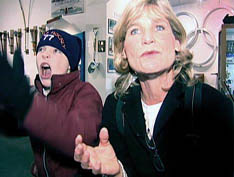 Julie Marvel and her son James in the Olympic Museum at Lake Placid, New York. It's hard to believe that seven years have passed since that fateful day. During that time, Julie, Kitch and I have developed a wonderful frendship.
Julie has been central to our Face of America journey. She invited us to speak to her class at St. Mary's College. She went out of her way to make our visits to California memorable and productive. She has opened doors, offered wise advice, and she provided encouragement and inspiraton when Kitch was battling cancer.
In our opinion, Julie is everything a friend should be and more. She is a model of the Face of America on its best day.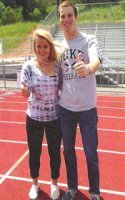 Recently, Julie invited us to attend James' high school graduation in California.  Unfortunately, we were not able make the trip.  In addition to the traditional graduation gift, I decided to write something about graduation for James and his parents.
The writing process here is a simple one. I do the research and I write the articles. Kitch is the proofreader and editor. When she finishes her refinements, I always ask her this question: "What do you think?"
I trust her Judgment, and I value her insights.
Her response to the article I wrote for James was direct and very encouraging: "This is beautiful.  It has universal appeal.  You should post it in the Face of America blog so everyone can read it, especially your friends in North Plainfield, New Jersey."
For every high school student we met at North Plainfield High School in New Jersey, the students we joined during the Tyler Winstead Memorial at GAR High School in our home town, the students From Dallas, High School who visited our garden and the students we met at Central High School in Little Rock, Arkansas, during our Face of America journey this is for you.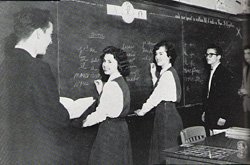 More than 50 years ago, I sat where you will be sitting on June 9.  Like most teenagers about to graduate from high school, I was anxious, confident, excited and filled with a feeling of accomplishment and relief. I made it, and I was about to move on to the next phase of my life, a job as a maintenance man in a cemetery so I could earn some money for college.
What you are about to experience provided me with an opportunity to look back on that magical event and think about the things I wish I had known in 1959. It was a much different time and place: no internet, no smart phones, no texting, no social media, no digital divide.
To be sure, you live in a much different world, and yet some things remain unchanged. You and your classmates want to be happy and successful. So did we.
So what are some of the things I wish someone had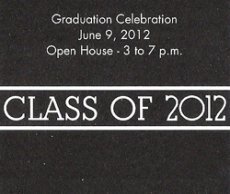 told me about happiness and success? What are some of the things I learned the hard way? What are some of the things I learned about life?
As a graduation gift, I would like to answer these questions with candor and honesty so that you might benefit and thus avoid some of the bumps on the road that are waiting for you and your classmates.  I hope the quotations and the life experiences recorded below will give definition and meaning to some of the most important lessons I have learned about life since my high school graduation.
Lessons Learned
1. There is no such thing as perfection. Do the best you can whenever you can. No one can expect more from you, and you should expect no less from yourself.
Salvador Dali gave us sound advice with these words: "Have no fear of perfection – you'll never reach it."
Coach Vince Lombardi put it another way: "Perfection is not attainable, but if we chase perfection we can catch excellence."
2. Don't fear the unknown. Embrace it, and learn from every mistake you make.  Believe me, you will make many. Most often in life, mistakes are the portals to discovery and success.
Follow the advice of Eleanor Roosevelt: "You gain strength, courage, and confidence by every experience in which you really stop to look fear in the face. You must do the thing which you think you cannot do."
3. Don't define yourself by what you don't have. Be thankful for what you have and make the most of it.
Cicero gave us a great gift when he wrote these words: "Gratitude is not only the greatest of virtues, but the parent of all the others."
The advice of William Arthur Ward will transform your bad days into good days: "Gratitude can transform common days into thanksgivings, turn routine jobs into joy, and change ordinary opportunities into blessings."
4. Be kind to yourself by being kind to others. Self indulgence eventually will destroy you. Every kind act you do for someone else will enhance you and make you feel good about yourself.
Dr. Leo Buscaglia's words are central to a happy life: "Too often we underestimate the power of a touch, a smile, a kind word, a listening ear, an honest compliment, or the smallest act of caring, all of which have the potential to turn a life around."
Harold Kushner provided an invaluable insight when he described the personal effect of an act of kindness. "When you carry out acts of kindness you get a wonderful feeling inside. It is as though something inside your body responds and says, yes, this is how I ought to feel."
5. Accept rejection gracefully. It's the part of life no one wants and few of us are prepared for. It's the feeding ground of resilience, and without resilience there will be no success, and very little happiness.
The words of Kelly Cutrone apply; "When you're following your inner voice, doors tend to eventually open for you, even if they mostly slam first."
6. Don't buy into what Kitch calls the "controlled frenzy" of our world. Being busy to be busy will deprive you of many of the most life-sustaining pleasures of life.  Take time to think, reflect, and act with care and personal investment not reflex.
Coach John Wooden said it best in five words: "Don't mistake activity with achievement."
7. Fame and fortune do not guarantee peace of mind. Rather than belaboring this point, I offer the priceless words of Albert Einstein:
"Try not to be a person of success but rather a person of value."
8. There is no substitute for working hard and smart. Every time I took a shortcut, every time I felt entitled, I paid a heavy price.
"There are no shortcuts to any place worth going."  Beverly Sills
The legendary Babe Ruth put it another way: "It's hard to beat a person who never gives up."
Make this Latin proverb your motto: "Per ardura et astra (through hardship to the stars)."
9. Family matters. There is no substitute for quality family life, and you cannot have it without making time for the people you love. Follow the example of your wonderful parents.
"The only rock I know that stays steady, the only institution I know that works is the family." Lee Iacocca
"I know why families were created with all their imperfections. They humanize you. They are made to make you forget yourself occasionally, so that the beautiful balance of life is not destroyed." Anais Nin
"The family is one of nature's masterpieces." George Santayana
10. Character counts. Character is not about getting, having and taking.  It is often about what you will not do, what you will not take.
Larry Holmes made this point in a memorable way when he told a group of students in Scranton, PA: "There is some money that ain't worth making."
"Character cannot be developed in ease and quiet. Only through experiences of trial and suffering can the soul be strengthened, vision cleared, ambition inspired and success achieved." Helen Keller
11. Avoid conflict, contention, pettiness and revenge. They are counterproductive. They sap your energy and waste your time. They never produce positive results.
Our greatest president, Abraham Lincoln, was quick to make this point about life and success: "Quarrel not at all. No man resolved to make the most of himself can spare time for personal contention."
12. Empower others to be all that they can be. What you will remember most, when you get to be my age, are the times when you used your position, your talent and your experience to help someone succeed. I had a priceless moment yesterday. During a chance meeting with a former student, now a successful college professor she gave me a memory I will cherish forever:
"Without your help, I would be an unemployed high school teacher today."
13. Never stop learning.  Make time to learn at least one new thing every day.
"The only people who achieve much are those who want knowledge so badly that they seek it while the conditions are still unfavorable. Favorable conditions never come." C.S. Lewis
"The beautiful thing about learning is that nobody can take it away from you." B.B. King
"Learning is not child's play; we cannot learn without pain." Aristotle
14. Forgive yourself and forgive others.
"Forgiveness is not an occasional act, it is a constant attitude." Martin Luther King, Jr.
"Forgiveness is the key to action and freedom." Hannah Arendt
15. Build something that will last.
"Everyone must leave something behind when he dies, my grandfather said. A child or a book or a painting or a house or a wall built or a pair of shoes made, or a garden planted. Something your hand touched some way so your soul has somewhere to go when you die, and when people look at that tree or that flower you planted, you're there." Ray Bradbury  
A Lasting Memory
The thing I remember most about my high school graduation is the card I received from my parents. It contained a famous poem written by a poet for his son in 1909.

Yesterday, I asked Kitch to stop at the Hallmark Store to buy the card for you.  Unfortunately, she could not find the card there or in any of the other four stores she visited.  "We don't make that card anymore," she was told. "It's an old card and it's out of date."
Fortunately, we have the internet, and I found a copy of the poem. Please read it and judge for yourself. I think it was then and is now the blueprint for the two things every high school graduate is looking for: happiness and success.
If
If you can keep your head when all about you
Are losing theirs and blaming it on you;
If you can trust yourself when all men doubt you,
But make allowance for their doubting too:
If you can wait and not be tired by waiting,
Or, being lied about, don't deal in lies,
Or being hated don't give way to hating,
And yet don't look too good, nor talk too wise;

If you can dream—and not make dreams your master;
If you can think—and not make thoughts your aim,
If you can meet with Triumph and Disaster
And treat those two impostors just the same:.
If you can bear to hear the truth you've spoken
Twisted by knaves to make a trap for fools,
Or watch the things you gave your life to, broken,
And stoop and build'em up with worn-out tools;

If you can make one heap of all your winnings
And risk it on one turn of pitch-and-toss,
And lose, and start again at your beginnings,
And never breathe a word about your loss:
If you can force your heart and nerve and sinew
To serve your turn long after they are gone,
And so hold on when there is nothing in you
Except the Will which says to them: "Hold on!"

If you can talk with crowds and keep your virtue,
Or walk with Kings—nor lose the common touch,
If neither foes nor loving friends can hurt you,
If all men count with you, but none too much:
If you can fill the unforgiving minute
With sixty seconds' worth of distance run,
Yours is the Earth and everything that's in it,
And—which is more—you'll be a Man, my son!
Rudyard Kipling
Congratulations graduates, thanks Julie, best wishes James and may good fortune always be your friend.
Tony & Kitch Mussari
June 4, 2012
Please provide feedback to:
tony.mussari@gmail.com