Our Face of America Journey to the Fox Chase Cancer Center in Philadelphia.
Written by Tony Mussari
Copyright 2011
Mussari-Loftus Associates, LTD
Always expect the unexpected. James Patterson
With all due respect to "the man who transformed book publishing," James Patterson, some things in life are unexpected and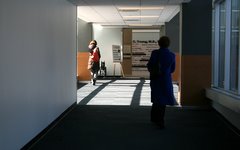 unwanted. They come without warning.  They test your strength. They sap your energy, and they turn your life upside down.
That's exactly what happened to Kitch and me on December 9, 2010, when Kitch was diagnosed with breast cancer.
Since that day, virtually all of our time and energy has been focused on a six letter word that no one wants to hear, and everyone wants to avoid.
According to the National Cancer Institute, breast cancer is the most common form of cancer in women other than skin cancer. In 2010, Kitch was one of the 207,090 women diagnosed with breast cancer.  That's the bad news.
The American Cancer Society estimates there are 2.5 million breast cancer survivors living in America. That's the good news.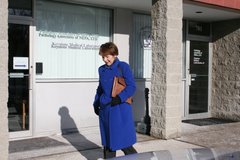 Our goal is to make sure that Kitch will become a member of that group. We have been blessed with excellent advice and care from Dr. Dan Kopen and his team of nurses and assistants. A recent visit with Dr. David Greenwald and members of his staff reassured us that improved methods of chemotherapy will give Kitch a higher probability of beating this cancer and avoiding the probability that other cancers might develop.
Both Dr. Kopen and Dr. Greenwald encouraged us to seek a second opinion, and we are very thankful they did.
On Wednesday, February 9, we packed our Prius with a folder of CD's containing all of the data from several medical tests and the glass slides containing the pathology of tissue samples taken during her biopsy and operation, and we drove to the Fox Chase Cancer Center in Philadelphia.
From our first contact with the attendant in the parking garage to our parting farewell to a young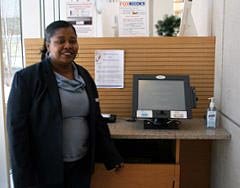 woman named Michelle, every experience at Fox Chase was positive, welcoming, comforting, helpful and reassuring.
Cancer patients and their caregivers are filled with anxiety and fear. There are so many unknowns and so many worries. It's not only the disease itself; it's the disruption it causes in one's life, the loss of privacy, the worry about the cost of care and the uncertainty about the future. At Fox Chase, everyone you meet is sensitive to these issues and much more. To them you are not a client. You are a patient who needs help.  You are not being treated by a provider.  You are visiting with and talking to a medical doctor who cares about you and the problems you are facing.
In all things big and small, Fox Chase is an example of patient care at its best. When you enter the facility, you are greeted by a personable and thoughtful attendant who helps you register. The young woman who worked with us was named Michelle. She was flexible and very accommodating. She made registration a pleasant and human experience not an exercise in robotics. When I made a mistake, she was understanding. She did not embarrass or scold me.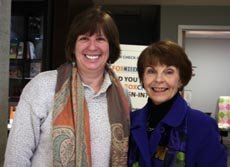 When we reached the registration desk adjacent to the waiting room, we were greeted again by a person, not a blaring television set or loud music.  At Fox Chase, there is no television set. In its place there are people who talk with you and help you. When I explained that I was writing an article about our experience, Nurse Navigator, Jessie Schol was more than willing to have her picture taken with Kitch.
Once inside the examining room, Kitch was greeted by a wonderful nurse, Jacqui Kelly, who explained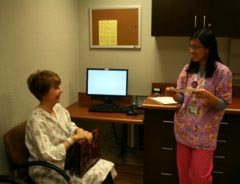 the procedure and then she gave her a surgical robe that was freshly ironed.
Dr. Saad Khan, a fellow in medical oncology, visited with us for almost 45 minutes.  He began our conversation with these words, "Good afternoon, I am Dr. Kahn. Let me see how I can help you." That set the tone for a very productive conversation about probabilities and possibilities. It helped us to put things into perspective. Dr. Khan has been working in medical oncology for 18 months.  He made a very favorable impression, because he made a human connection with us.
When Dr. Lori Goldstein entered the room, she greeted us with a smile and a handshake that radiated concern, compassion and competence. Dr. Goldstein was invited to become a member of the Fox Chase team 20 years ago. She is a woman of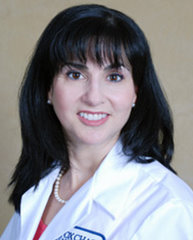 dignity, class and grace.  We did not know that she was recently selected as one of Philadelphia's top doctors, and she gave us no indication that she was anything but a very competent doctor concerned about Kitch's welfare.  
Dr. Goldstein spoke a language that we understood, because she has a gift for translating complex medical data into sentences her patients understand. During her conversation with us she made us feel comfortable with news we did not want to hear by reassuring us that the chemotherapy treatment Kitch needs is something she will be able to tolerate both physically and psychologically.
While we were with Dr. Goldstein, both Dr. Kahn and nurse Kelly were in the room. All three were focused on Kitch and her needs, and all three acted with kindness and respect. They were not rushed, they were not imperious. They were generous with their time and willing to answer any and all questions.
Obviously most of the moments were serious, but believe it or not, there were moments of humor and laughter.
For a cancer patient and a caregiver, there are no perfect scenarios, there are no perfect moments, but in my mind's eye our experience at Fox Chase with Dr. Lori Goldstein and her colleagues was about as close to perfection as one can get.
What made it that way is a very simple, but often neglected element. Fox Chase is dedicated to scientific research in its effort to prevail over cancer,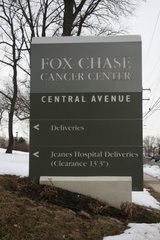 but it has not lost sight of the importance of the human connection. Battling cancer demands an effort of the heart as well as the mind. Everything we experienced during our visit provided the scientific answers to our questions, and the encouragement we needed to move forward. Our Fox Chase experience was a perfect blend of the heart and the mind.
When we arrived at Fox Chase we had great expectations and many apprehensions. When we left we had a better understanding of our situation, and a sense of confidence that we could meet the challenges of the next six months with confidence, hope and optimism.
To put it another way, the psychology and the physiology are now aligned, and we are ready to take the next step in our battle with cancer. We are prepared to experience the unexpected.
Thank you Dr. Lori Goldstein, Dr. Saad Khan, Jacqui Kelly, RN, Jessie Schol, RN, receptionist Pat and Michelle.
Thank you Dr. Dan Kopen, and Dr. David Greenwald.
You are the Face of America on its best day and we are blessed to know you     
Tony & Kitch Mussari
Producers
The Face of America Project
tmussari@gmail.com