Conscious of Our Treasures: Gettysburg 2012

Written by Tony Mussari
Photographs, Kitch Loftus-Mussari
Copyright 2012
Mussari-Loftus Associates
The Face of America Project
faceofamericawps.com
We can only be said to be alive in those moments when our hearts are conscious of our treasures. Thornton Wilder
Opportunity
If freedom is the heart of America, opportunity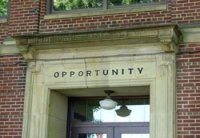 is the central nervous system of our country. Wherever we traveled during our Face of America journey we were reminded of the precious national asset and value called opportunity.
Americans believe that everyone should have a fair chance to achieve their full potential. We celebrate this value in a number of ways. We have an Opportunity Index, an Opportunity Agenda, and a Journal of Opportunity.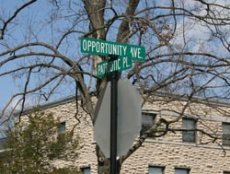 At the College of the Ozarks in Point Lookout, Missouri, one of the main streets on the campus is named Opportunity Avenue. In Mantua, Ohio, above the main entrance to a school built in 1929, one finds the word Opportunity carefully engraved in elegant letters. In the Spokane Valley, the Opportunity Elementary School is described as a place where children receive "the support they need to achieve and succeed."
On Mars, we have had an Opportunity Rover since 2004.
America on its best day is a land of opportunity for everyone.
On The Road
During the past two months, Kitch and I have been blessed with several wonderful opportunities.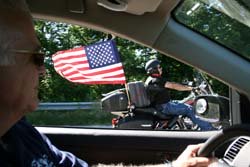 Our Face of America Journey has taken us to Maryland, Virginia, Southeastern Pennsylvania, and New Jersey.
We honored speaking engagements at the Community College of Baltimore, Marywood University, Wilkes University and North Plainfield High School in New Jersey. Our presentations focused on documentary filmmaking, ethics and corporate responsibility, experiential learning and our Gettysburg Project.
Each topic gave us an opportunity to learn something about America at its best, create something to illustrate the actions, behaviors and beliefs of Americans doing their best and interact with students and teachers who want to become the best edition of themselves.
Gettysburg's Holy Ground
During our Face of America journey, we have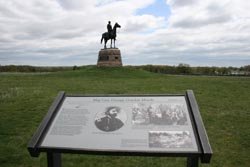 visited the Gettysburg National Military Park seven times. Two years ago we wrote a Face of America Commentary about our experience there. It began with these words:
I saw the Face of America today in a place that will always be forever young, forever sacred and forever a bridge from America's past to America's future.
It ended with this thought:
What I experienced here in this place of honor on a beautiful April afternoon, I will carry with me for all the Aprils that will follow, because once you visit Gettysburg you never go home the same.
Two months later, Kitch and I took our granddaughter to Gettysburg to introduce her to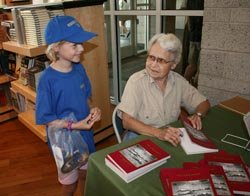 Abraham Lincoln, and to teach her something about compassion. During that visit we met Barbara Platt and we became fast friends.
Barbara is the author of This is Holy Ground, one of the classic books about the battlefield. For the next 18 months Barbara shared her knowledge and insight with us. She graciously agreed to do two interviews with us, and she became a compassionate and caring advisor to Kitch during her battle with cancer. In addition to writing, volunteering and being one of the most welcoming ambassadors for this sacred place, Barbara waged an heroic battle with cancer for seven years.
In November 2011, she talked at length about her struggle in a poignant interview. Three months later, the day I learned of her death, I wrote a eulogy to Barbara. It began with these words: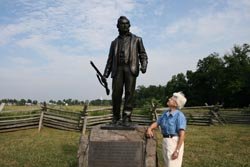 America lost one of its best this week.
Her name will not appear in the headlines of any newspaper. It will not be number one in a Google search of famous people. There will be no testimonials on the national news, and very few people will know of her passing.
That's exactly the way she would want it; no fuss, no fanfare, no fame, no public display of emotion.
The commentary ended with these words:
Her life gave truth to her words, "If you have love, you have a lot going for you."
The words of one of her heroes Abraham Lincoln apply to Barbara's courage, determination and perseverance, "Always bear in mind that your own resolution to succeed is more important than any one thing."
Thank you, Bobbie for showing us the way. You will be remembered with admiration, and you will be missed in all the ways that matter. May God have mercy on your soul.
The Gettysburg Project
Less than a week after this article was published in our Face of America blog, I proposed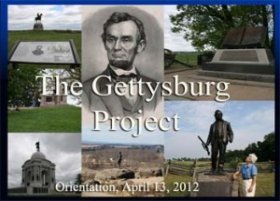 the idea for a Gettysburg project to Dr. Marilyn Birnbaum and Tom Mazur during a dinner meeting in North Plainfield, New Jersey. They liked the idea.
For the past three months, Tom and I have spent every available moment working to make this dream become a reality. It did not come easily. There were a number of bumps in the road. Nevertheless, we kept moving forward, and we found solutions.
The centerpiece of the Gettysburg project is a visit to the battlefield with 10 students and 8 adults. Thanks to wonderful cooperation from representatives of the National Park Service at Gettysburg and the Gettysburg Foundation, we will produce a documentary about this trip. It will be the foundation for a number of activities in the North Plainfield School District during the 150th anniversary of the battle.
Virtually everyone we asked for help went out of their way to do more than we expected. We are indebted to Mr. Jerard Stephenson, the principal of the high school, and the members of the North Plainfield PTO, whose generosity and belief in our work made this trip possible.
The students are enthusiastic. The officials in Gettysburg have created a welcoming environment. The adults are making wonderful sacrifices to guarantee the integrity of this unique experiential learning opportunity. We have a number of surprises planned for the students, and we intend to make the most of our visit to Gettysburg.
Expectations
Craig Lewis, one of the students who will visit
Gettysburg, put the trip and the experience in perspective with these words: "I hope to learn about the battle and grow as a person from the experience."
Jalynn Rivera wants to learn the causes and the consequences of the battle.
Tom De Meola hopes to get a better understanding of what the soldiers felt during the battle.
Adriana Miranda would like to know why there were so many casualties at Gettysburg.
Chelsea Blue believes this will be an amazing and life changing opportunity.
Max Torres hopes to learn life lessons in Gettysburg.
David Havrilla sees this as a once-in-a-lifetime opportunity
An adaptation of the words of Thornton Wilder accurately describes what all of the members of our Gettysburg team are feeling. We are energized by the enthusiasm of the moment, and we are conscious of this great opportunity and treasure.
Please provide feedback to:
tony.mussari@gmail.com