Dreams Do Come True When You Are Resilient and You Work Hard
Written by Tony Mussari, Sr.
Edited by Kitch Loftus-Mussari
Pictures by Kitch Loftus-Mussari &Tony Mussari, Sr.
Copyright Mussari-Loftus Associates, LTD 2016
All Rights Reserved
Real courage is holding on to a still voice in your head that says, 'I must keep going.'Senator Corey Booker
Our Face of America journey took us to the Arena in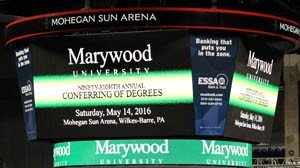 Wilkes-Barre Township to honor an invitation we received from a senior at Marywood University. A handwritten note on the inside of a formal invitation to Marywood University's Ninety-Eighth Annual Conferring of Degrees touched our hearts in a very special way.
The note was written by Abu Zahid, and it was addressed "To My Friends Tony & Kitch." It read, in part, "I would love to see you on my graduation day." The rest of the note was personal and private, and it will remain that way.
Needless to say, we accepted the invitation, and we designed a very special gift for the graduate.
Graduation Day
On Saturday, May 14, we drove to the Arena, and after we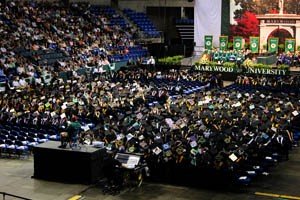 secured a parking place outside and a seat that would be easily accessible for Kitch inside, I returned to the area where the students were entering the building. I wanted to make sure I saw Zahid before the graduation ceremony.
This part of our plan worked out well. We met shortly after he arrived in the parking lot. We talked, and he introduced me to his friends he refers to as his American godmother and aunt, both of whom traveled long distances to be with him on his special day.
Before and during the graduation ceremony, my mind was focused on two things: Kitch's safety in this large crowd, and the compelling attributes of our friend Zahid.
Shortly after we met in 2015, Kitch and I posted an article about Zahid in our blog. It was titled An Unforgettable Example of Resilience at Marywood: http://faceofamericawps.com/news/an-unforgettable-example-of-resilience-at-marywood/
When the graduation speakers offered encouragement and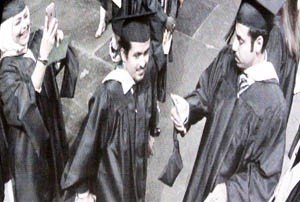 advice to the graduates, memories of experiences Kitch and I had with Zahid flashed through my mind. For example, his notes always included a sentence like this: "I promise you I will not let you down," or this: "I promise you I will achieve my dream and I wish you achieve yours."
One of his biggest dreams would be realized on this day. He wanted to come to America, and get a degree from an American university.
Another goal was to learn to speak and write English fluently. He was so committed to this goal that he moved out of a comfortable home where he lived with three other Saudi students. He moved in with only English speaking students so he could learn the language. That speaks volumes about his character and his commitment to learning.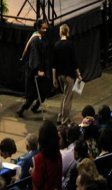 When speakers made reference to Marywood's core values, Zahid's interaction with people gave witness to three of those values: Respect, Service and Excellence. He honors the uniqueness and dignity of every person he meets. He is committed to promoting social responsibility and he reaches up to attain the highest level of achievement.
In another respect, he believes in empowerment. He wanted to get a good education so he could achieve his full potential.
Kipling's Canvas
When Rudyard Kipling wrote one of his most famous poems, "If," as a piece of advice for his son, in many ways, he was describing Abu Zahid:
If you can keep your head when all about you
Are losing theirs and blaming it on you;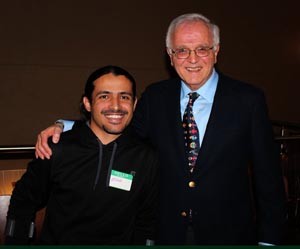 If you can trust yourself when all men doubt you,
But make allowance for their doubting too:
If you can wait and not be tired by waiting,
Or, being lied about, don't deal in lies,
Or being hated don't give way to hating,
And yet don't look too good, nor talk too wise;
If you can dream—and not make dreams your master;
If you can think—and not make thoughts your aim,
If you can meet with Triumph and Disaster
And treat those two impostors just the same:.
If you can bear to hear the truth you've spoken
Twisted by knaves to make a trap for fools,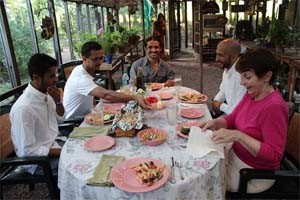 Or watch the things you gave your life to, broken,
And stoop and build'em up with worn-out tools;
If you can make one heap of all your winnings
And risk it on one turn of pitch-and-toss,
And lose, and start again at your beginnings,
And never breathe a word about your loss:
If you can force your heart and nerve and sinew
To serve your turn long after they are gone,
And so hold on when there is nothing in you
Except the Will which says to them: "Hold on!"
If you can talk with crowds and keep your virtue,
Or walk with Kings—nor lose the common touch,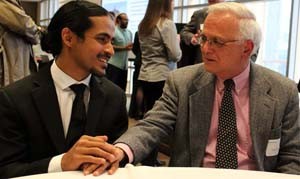 If neither foes nor loving friends can hurt you,
If all men count with you, but none too much:
If you can fill the unforgiving minute
With sixty seconds' worth of distance run,
Yours is the Earth and everything that's in it,
And—which is more—you'll be a Man, my son!
Zahid's young life is deeply rooted in courage, honesty, gentleness, gratitude, responsibility, resolution, respect and love.
Kitch and I were honored to be invited to his graduation. We are blessed by the memories of the moments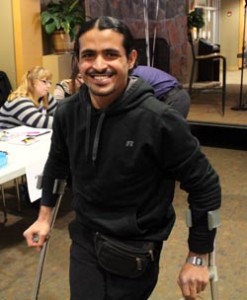 we shared with him and his friends. We are inspired by his persistence, and we are humbled by his courage and determination to "keep on keeping on" regardless of the challenges and difficulties he encounters.
In 2013, Cory Booker offered these words of encouragement during his commencement address at Yale University:
It's that voice that says nothing is a failure if it is not final. That voice that says to you, 'Get out of bed. Keep going. I will not quit.'
Every day of his life Abu Zahid is a living reminder of the power and wisdom of these words.
Congratulations Zahid on your big day. Always know that you have a special place in our hearts.
Please provide feedback to:
tony.mussari@gmail.com