Three Days with Steve Harrison in Philadelphia

Written By Tony Mussari
Copyright 2011
Mussari-Loftus Associates
The Face of America Project
faceofamericawps.com
So what do you do when you've finished writing your book, and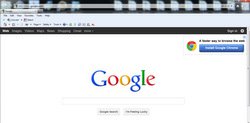 you're looking for someone to help you get the word out?  
You Google "Getting National Publicity for Your Book," and instantly the wizards at Google give you more than 4 million hits.
That's what I did a few years back, and that's how I discovered Steve Harrison. He was listed on the first page of the search with four separate opportunities. I willingly provided my contact information, and Steve obliged me with announcements and invitations to everything he has done since May 2009.
I participated in many of his internet events, and I have a file folder containing 4,080 marketing messages from Steve.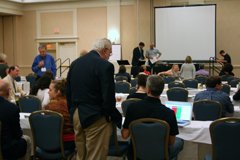 Recently, my best friend made it possible for me to attend Steve Harrison's "Publicity Workshop" in Philadelphia. It was a generous gift for two years of work during the first phase of our Face of America project.
Before the workshop began, many thoughts ran through my mind. What would the event be like? Who would attend?  What would I learn? Would I feel comfortable? Would Steve Harrison and his staff care about what I was doing, and would they be willing to help me?
Translated into more direct terms, as I approached the registration desk I was anxious, apprehensive and a little uneasy. My expectations were high. I was walking into the unknown, and that is always an uncomfortable experience. The staff members I met during registration were cheerful and pleasant.
Steve Harrison was waiting for attendees as we took our seats in the large conference room at the Marriott Hotel at the Philadelphia International Airport. He was impeccably dressed in a business suit and tie. He was engaging, professional, polite, respectful and welcoming.
Steve Harrison is an accomplished businessman, consultant, speaker,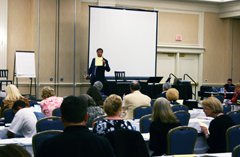 writer and advisor to many. For twenty years he has been at the top of his game in the information business. His style is corporate but relaxed. His temperament is patient but focused. His youthful looks and pleasant voice enable him to connect with his audience. He has the gift of teaching, and he is well organized. He is a good storyteller, and he knows his field.
More than once, I heard someone say, "He is moving at the right pace. I have no difficulty following him."
Halfway through the morning session, I had an impulse to record my thoughts about the workshop. I flipped the yellow pages in my Ampad to the very last page. Once there, I scribbled seven notes:
I like the person next to me; I like the tone of the conference; I like the atmosphere Steve Harrison is creating; I like his approach to the subject matter; I like the friendliness of his staff; I like the way Steve Harrison takes time to connect with people. He has a gift for reaching people.
These initial impressions were solidified and made stronger with each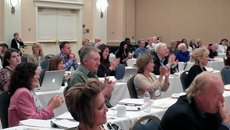 session. In a magical way in a place far from home, a group of strangers from all over the country and several parts of the world became a tightly knit community of learners. When given the opportunity to speak, people spoke with conviction and passion about their projects, their ideas and their books.
When given an opportunity to share, they volunteered to share what then knew openly and freely with others. I know this in very real ways because I was the beneficiary of generous and thoughtful acts of kindness from several people. When I reached out for help with our Face of America project the response was positive, beautiful and humbling.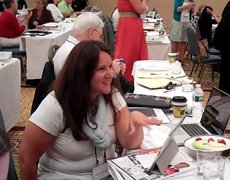 A woman from New Jersey offered help with social media.  A woman from California and another from South Carolina offered housing if we were ever in the area. A lawyer from Pennsylvania offered help in a very specialized way, and very pleasant person from Arizona offered to help us make connections in his city.
If truth be told, virtually everyone in the room was offering and receiving similar acts of help and kindness.
One of my new-found friends put it this way: "I like the way people are focused outward, not inward."
I like to think this is commonplace at Steve Harrison's events, because in a very real way he has a unique ability to bring out the best in
people.
Don't get me wrong, he is not some pie in the sky, feet off the ground Pollyanna. When all is said and done, Steve Harrison is a skillful businessman and as one of his employees said, "He is a great salesman." Yet that's not all he is. Both on and off stage, he is a man with a heart and soul. A man who wants to help others maximize their opportunities, and he has a proven track record of doing just that.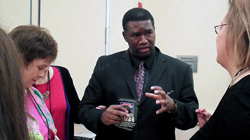 This was underscored in a powerful way when he shared the stage with Orrin Hudson. A former state policeman turned youth developer, Orrin is a chess master. He uses this skill to reach out to disadvantaged kids.  In his 16-week chess workshops, Hudson has taught more than 10,000 students ages 16-19 how to be someone. Orrin Hudson is a big man with a big heart and an important mission. He is giving students hope one chess move at a time. At Steve Harrison's publicity workshop, he reminded all of us what really is important in life, serving others.   
When I was a youngster, my mother taught me an invaluable lesson with these 14 words, "Tell me who your company is and I will tell you what you are."
For three days in July in one of the citadels of American liberty, I was in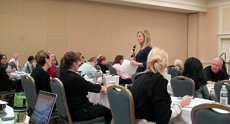 the company of Steve Harrison and people who believe in his work. I was in the company of Orrin Hudson and his chess board. I was in the company of inspirational people from every section of America and three foreign countries who came to learn how to tell their stories in a convincing way.
During our time together, we watched a master at work, and we formed connections that lifted our spirits and made us feel good about our dreams, our passion and our work.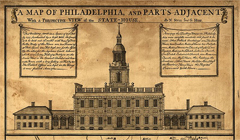 In the shadow of Independence Hall where our freedoms took flight, I was in the company of the Face of America on its best day. I was surrounded by people who gave testimony in action and deeds to what Cuban American Elisa Nelson expressed so beautifully, "America is a good place to be."
It doesn't get much better than that.
Thank you, Steve.
Thank you, Nancy, Dave, Geoffrey, Joe, Rich.
Thank you, fellow attendees, authors, entrepreneurs, project directors, teachers and friends.
Thank you, Mollie.
Thank you best friend, for making this magical experience possible.
Please provide feedback to:
tmussari@gmail.com