Catonsville Redux: One Day in October

Written by Tony Mussari
Edited by Kitch Loftus-Mussari
Copyright 2012
Mussari-Loftus Associates
All Rights Reserved
The Face of America Project
faceofamericawps.com
Fellowship is heaven, and lack of fellowship is hell; fellowship is life, and lack of fellowship is death; and the deeds that ye do upon the earth, it is for fellowship's sake ye do them. William Morris
Context
The Catonsville campus of the Community College of Baltimore is an impressive place. The buildings and grounds are immaculately kept. The hallways and classrooms are filled with students of all ages who want to improve their status in life.
Dr. Rick Ostopowicz is a thoughtful man. People respect him. He is a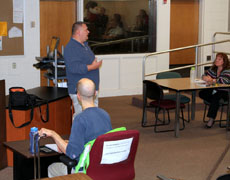 caring, competent, creative teacher. That being said, he is no pushover in the classroom. He has high expectations for his students, and virtually all of his students respond accordingly.
Many years ago, Rick and I had one of those teaching moments that, in my opinion, was necessary, but not necessarily pleasant for the student. It could have gone either way. Fortunately, Rick had then, as he does now, a desire to learn and grow. Consequently, the outcome was positive, productive, and professionally rewarding.
Fast forward 20 years. Rick is a devoted husband, a loving father, a successful new media manager, and an Adjunct Professor at Community College of Baltimore County. Every semester he invites me to give a guest lecture in one of his courses. It's something I look forward to with great anticipation.
One Day in October 1960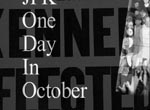 On this night, I screened a documentary Kitch and I produced almost a decade ago. It focused on one day of the 1960 presidential campaign of John F. Kennedy. It was designed to preserve the record of that day in October when Senator John F. Kennedy campaigned in Northeastern Pennsylvania. We used the day as the canvas for a painting about the man, the moment, and the magic of that time in our history.
The documentary is not a political polemic or an advertisement for a particular political party. On the contrary, it is about how the candidate made millions of young people look at themselves, their potential, and their responsibilities in a new way. One Day in October 1960 is a story about a campaign visit, but it is also a story about courage, conviction, and hope. It is an attempt to help the viewer better understand Kennedy's message that each of us, in our own way, can make a difference and public service is a noble profession.
To accomplish this, we take the viewer beyond the geographic confines of the Pennsylvania towns Senator Kennedy visited in 1960. We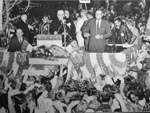 give them a glimpse of election evening, the inauguration, and how those events played in the hearts and minds of people who were there.
We take them into the White House during the CBS News production with Jacqueline Kennedy. We introduce them to the Civil Rights Movement and we take them to the famous speech President Kennedy made to Peace Corps volunteers. That enabled us to include Thomas Scanlon's "Waiting for the Snow" story.
As historian Dr. Michael MacDowell, President of Misericordia University, said toward the end of the film, Kennedy's message has relevance today.
I felt that way more than half a century ago, and I hoped the students in Dr. O's class would feel that way after they watched the documentary. I wasn't disappointed.
Feedback
During the Q&A after the film, students asked thoughtful questions, and they offered insights that I was delighted to hear. They liked the message. They related to the call to public service. They wanted to know more about the process of documentary filmmaking. One student asked about scheduling interviews. How do you find and select the people? Another student questioned the placement of a famous picture of Dr. Martin Luther King.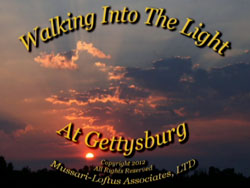 After the Q&A period, I showed the class a six minute trailer for our latest documentary, Walking Into the Light at Gettysburg. It was well received.
Before the class ended, everyone participated in a one minute drill. It's a device I used in every one of my classes to determine what, if anything, students learned in the class. The drill is very simple in design. Every student must stand and express in a minute or less what was learned during the class.
A student named Tricia and another student named Sara enthusiastically talked about how the film and the class discussion opened their eyes to the possibility that they could make a difference in the lives of the people they met. During the class, Tricia's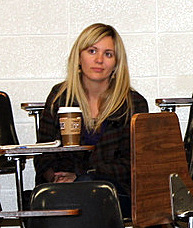 body language spoke to her total involvement in the class. Whenever I needed reinforcement, I made eye contact with Tricia.
A very tall young man named Joseph stood and proudly proclaimed that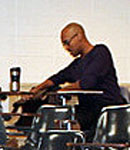 he was resolved to make a difference in his life by finishing his education. Joseph is the student who took the discussion of the film to a higher level with his questions about content and production values. He is a personable young man with a winning smile.
A soft spoken and youthful looking student named Matthew stood and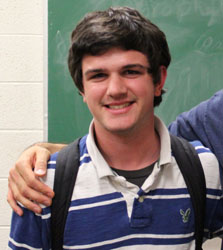 told the class about his successful battle with cancer, and how the values in the film reinforced his determination to move forward with his life.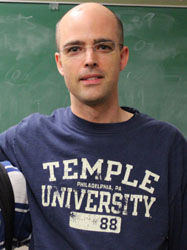 An adult student named Alex talked about the energy and inspiration he got from the people he saw in the film. Alex recently had successful knee surgery. He will have surgery for spinal stenosis in December, which he postponed so that he could finish the current semester in good standing.
The heartfelt comments of Matthew and Alex created one of the most beautiful moments I have ever experienced in a classroom.
All of the other students spoke. Unfortunately, I was so involved in the class and what was happening that I did not take notes.
At one point, I was unsuccessful in an attempt to point out the power of body language and the need for an open, receptive mind in learning situations.
I remember the student who wants to become a musician, and the young woman of faith who shared a biblical interpretation of her experience.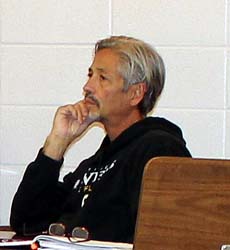 I was honored to be in the presence of a retired Army photographer who offered positive comments about his experience while he watched the film, and another student who is a career learner that had vivid memories of the 1960 presidential campaign.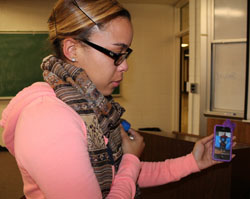 One of the last people to speak was a student named Rachel. She greeted me at the door with a picture she took the last time I was at the college. It was a great gift because it made me feel welcome. She addressed the ways she was inspired by the film and the class discussion. She told me privately she has every intention of finishing her education either in Maryland or New York.
Richard Morris is right, "Fellowship is heaven." It is central to community, and that's what learning is all about. It is as much about cultivating a spirit of fellowship as it is mastering material for a test. It is all about the genuine exchange of ideas. It is about open minds and open hearts. The classroom is a place where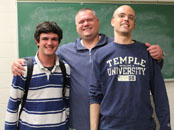 students can stretch their imagination and shrink their egos. It's a place where a young teacher and an old teacher can come together to offer students two different styles and one unified purpose.
In the end, America at its best is America learning, growing and thinking with discipline, empathy and understanding. Americans learn when teachers have the opportunity to be themselves, give of themselves, and share what they know in a community of learners. Content, knowledge, and the ability to transmit information are all important. There is however, another ingredient that is essential. It was best described by Teacher of the Year Rebecca Mieliwocki. Teachers must have infectious enthusiasm for students.
I would add that it helps when students have infectious enthusiasm for learning.
That's the atmosphere Dr. O and his students created when they gave an old teacher a new classroom for one night in October 2012.
Please provide feedback to:
tony.mussari@gmail.com