Living Prayers, Celebrations and Mother's Day 2011
By Tony Mussari
Copyright 2011
The Face of America Project
Mussari-Loftus Associates, LTD
The worst thing in your life may contain the seed of the best. Joe Kogel
Kitch's Journey: Pleasant Surprises
On Thursday Kitch had her second 280 mg Taxel treatment, and we had an eye opening experience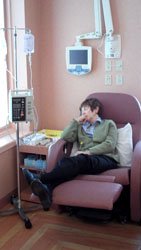 that will remain in our hearts forever.
To be perfectly honest, Kitch dreads going for chemotherapy. She fears the needles, the chemicals and the consequences of the drugs. Two days before the appointment you can see the dread in her eyes.
Nevertheless, she does not complain, and she musters all the positive energy she has to handle the situation with calm acceptance, courage and dignity.
Several friends old and new, some of our relatives like my daughter, my sister, my niece Theresa from Maryland and my cousin Kathy and her daughter  Susan from New York, help us get ready for the inevitable with encouraging  notes, calls and acts of kindness.
Friends we made in North Plainfield, New Jersey and at Fox Chase in Philadelphia are always there for us with positive words and helpful suggestions.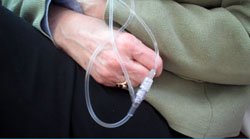 Two breast cancer survivors who we have never met, Pat and Kathy write thoughtful notes and our friends Janie, Jayne and Chuck from Shanksville, and Bill from Orwigsburg are there for us in meaningful ways.
Our friends Julie from California and Marilyn from Dallas and Tulsa respectfully, and Elisa from Long Island have been nothing short of inspirational in what they have done and continue to  do to lift our spirits.
Our friend Bob from Portland has shared every phase of his wife's experience  with us so we can be prepared for every eventuality.
Ann Marie, the mother of one of our formers students, has been very kind and  very helpful in all the ways that matter.
Our Neighbor Theresa, has baked delicious German pastry for Kitch, and another  neighbor who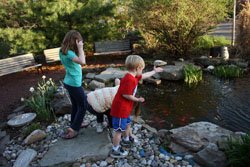 is dealing with a life threatening illness brought her daughter  and her grandchildren to the garden on one of the few sunny days of this otherwise  damp, dark, and very wet spring.
Nothing brings hope like the innocence of a child, and these children are wonderful in the questions they ask about the garden, the fish and the frog.
Marlene from Ashley and Gerry from Delaware baked the most delicious Irish  Soda Bread we have ever eaten.
Dr. Richard Loomis, my former teacher and chemotherapy patient, is sharing  his experience and showering Kitch with prayers for recovery.
If you ask kitch to describe these people, she will tell you they are the Face of America on its best day, and we are the beneficiaries of their kindness.
Living Prayers
There is no way we can repay these people and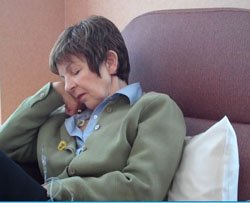 many others whose names we have not mentioned in this newsletter, but there is a way we can follow their example, and that is what we try to do.
Yesterday while Kitch was sleeping during the last phase of her treatment, I talked with one of the cancer patients who has been friendly to us. She is an older woman who is always alone.  Her only  companion is her walker. During our conversation she began to cry. She is suffering mightily, and she is in a very difficult circumstance. She needs additional medical care for the Neuropathy that has swelled her feet and her left arm, but she is reluctant to make additional appointments because her son works at night and he sleeps most of the day.
This is not a woman of wealth or connections. She is a widow living on a social security income who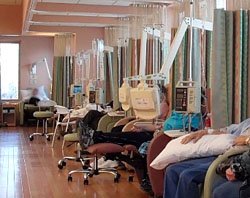 is waging her second battle against breast cancer. The painful and haunting look on her face touched my heart, and I promised her I would do something to help.
During her daily telephone call I mentioned the situation to Ellen Mondlak, our lifetime friend and cancer patient. Ellen connected me with a wonderful woman we met during the production of Windsor Park Stories, Brenda Lispi. Brenda works for the bureau of the aging. The result of these conversations was positive. 
Last evening, I called our fellow traveler on the dark gravel road, and I gave her the telephone numbers of the organizations that will help her find a  solution to her problem. The pain on her face enabled us to do something I learned in grade school at St. Mary's. "When you can't say a prayer, live the prayer with a kind deed or a thoughtful gesture." To be honest, I have found living prayers to be the best prayers.
To everyone who has been kind to Kitch during her walk along the dark gravel road called cancer, this prayer was for you.
Two Wonderful Events
Last Sunday, Our Face of America Journey took me Misericordia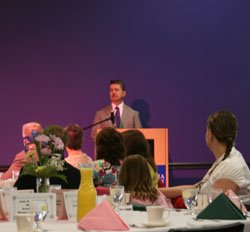 University in the morning, Wilkes University at night.
Scholarship recognition day at Misericordia is always a special event, and this year was no exception. In fact, it was extra special for me because the new director of development, Jim Bebla, is a former student of mine.  
Jim is a wonderful person and a consummate professional with a heart of gold. There is nothing more gratifying than watching a former student equal and surpass the teacher.
Congratulations Jim and best wishes for success.
Misericordia will always have a special place in my heart, and I know Kitch feels the very same way. We have only pleasant memories of the Sisters of Mercy and the members of the administration and staff. Dr. Michael MacDowell has been a very effective leader. He and the members of his faculty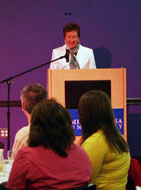 and staff have created innovative programs like the Women with Children Program that serve the needs of students who want to make a better life for themselves and their  children.
Jane Dessoye, Executive Director of Enrollment Management, summarized the event and the philosophy of a Misericordia education with the words of a confederate soldier Albert Pike:
"What we have done for ourselves dies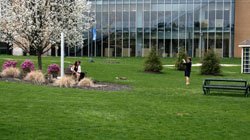 with us; what we have done for others and the world, remains and is immortal."
At the end of this visit, I took a picture that speaks to the essence of Misericordia. It reinforced something Jim said in his speech, "This scholarship brunch holds special meaning for all of us because it celebrates the wonderful caring spirit that is at the heart of the mission of the Sisters of Mercy.  And today, in this room, you can feel this joyous spirit that makes Misericordia so special."  
Our evening at Wilkes University was a celebration of the 30th Anniversary of the Max Rosenn Lecture in Law and Humanities.  It was quite an evening for a very dear friend, Joe Savitz. Joe is affectionately known as the "First Law Clerk," and everyone went out of their way to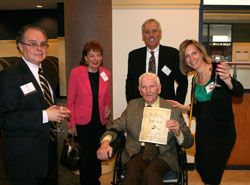 affirm and congratulate Joe on the work he has done to make the lecture series a success.
I was fortunate to capture one of the high points of the night for Joe, a reunion with Dr. Mollie Marti. Mollie has written a book about Judge Rosenn.  It is titled Walking with Justice. It will be published in January. This picture captures the moment when Mollie showed Joe a picture of the copy of the book cover. I think the facial expressions speak louder than any words I can write.
Congratulations Joe, you are a wonderful friend.
Congratulations, Mollie. I hope Walking with Justice is a huge success.
Writing Again
Speaking about books, after a two month hiatus while I devoted all of my time to Kitch's needs, I started to write again this week. At the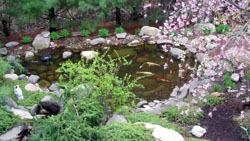 moment I am preparing material for our agent, and refining some of the chapters in the book about our Face of America Journey.
Writing is a very demanding master.  One must have patience, persistence, time and a quiet place to concentrate. In so many ways, it is an insecure and tedious process that involves writing and rewriting. On the days when the words just won't come I spend time cleaning up our garden.
Like writing, gardening it is challenging, creative and humbling.
Happy Mother's Day
Sunday will be the 103d time America celebrates Mother's Day. Thanks to the determination of Anna Jarvis and her devotion to her mother, this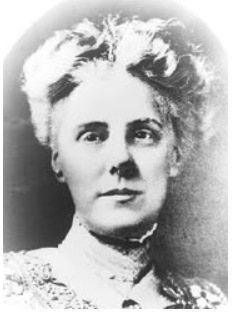 holiday has become the second most successful commercial  holiday in America. That is not what Anna Jarvis intended it to be.
The first Mother's Day was a day of prayer, and a celebration of peace and the virtues of motherhood.  It took place at the Andrews Methodist Church in Grafton, West Virginia.  Today this church is a central part of the International Mother's Day Shrine in Grafton.
On Mother's day, Kitch and I will be thinking about the many sacrifices our mothers made for us.  We will follow Anna Jarvis lead and give thanks for the blessings of our mothers.
We will remember the words of our greatest President:
I remember my mother's prayers and they have always followed me. They have clung to me all my life.
A mother understands what a child does not say.
I regard no man as poor who has a godly mother.
All I am or hope to be, I owe to my angel; mother. Abraham Lincoln
May your Mother's Day and every day be blessed with peace, good will and good health.
Tony & Kitch
This article was originally distributed as our Face of America Journey Newsletter for May.  
Please provide feedback to tmussari@gmail.com