Adriana Trigiani Shares Her Gift of Light
Mention Adriana Trigiani's name and Kitch's face lights up with a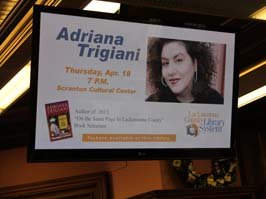 smile of admiration and satisfaction. Adriana is her favorite writer. Kitch gets great comfort from Adriana's stories about her parents and her grandmothers.
On a cold, overcast April day, Adriana Trigiani came to Scranton to tell her life story.
On the day of the lecture, we drove to Scranton to register for library cards at the Albright Memorial Library so we could attend Adriana's lecture. We skipped supper so we would be among the first in line at the Scranton Cultural Center. We were determined to get seats close to the stage, and we did, third row center aisle!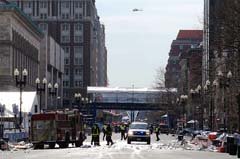 For us this was more than a night out.  It was an attempt to relieve the pain created by the heartbreaking and heroic events that were playing out in the aftermath of the Boston Marathon.
For almost 90 minutes we listened, laughed and cried during Adriana's dynamic presentation about immigrants who maximized the opportunities of their new life in the adopted country they loved.
Midnight in America is an expression of gratitude for an inspiring and rejuvenating evening with The Queen of the Big Time.  
To listen to our commentary about Adriana Trigiani, please click the arrow icon next to the title. It may take a few seconds for the file to load.
Midnight in America_Mussari_Loftus
Midnight in America is a production of Mussari-Loftus Associates, LTD, 2013, all rights reserved.
To learn more about Adriana Trigiani, please go to:
http:// www.adrianatrigiani.com/
The picture of the aftermath of the Boston Marathon explosions was taken by Aaron Tang on April 15, 2013.
Please provide feedback about the commentary to: